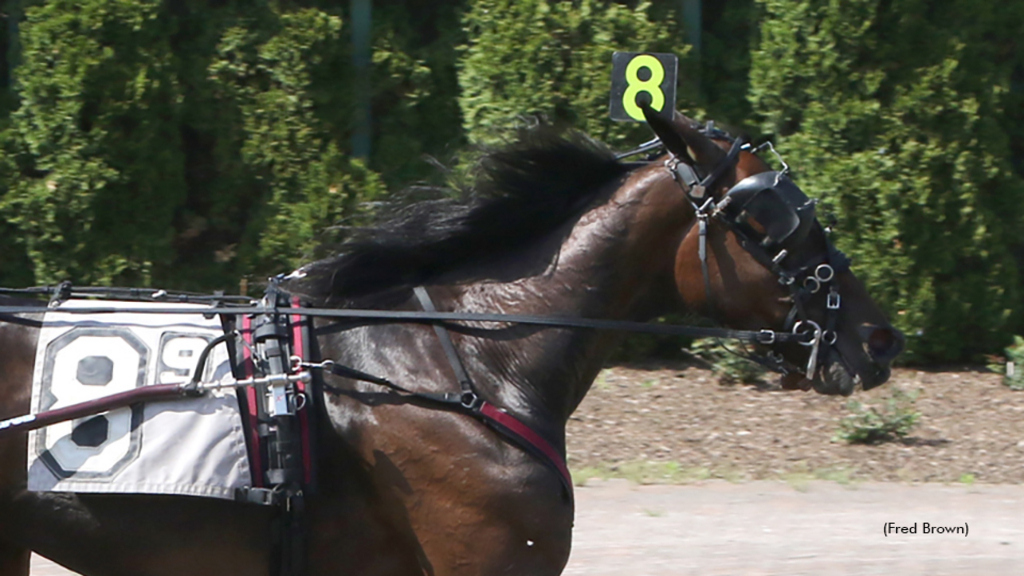 Published:
May 29, 2022 05:10 pm EDT
Tioga Downs played host to its first New York Sires Stakes (NYSS) event of the season on Sunday afternoon (May 29), when the three-year-old colt trotters wheeled into the Southern Tier for the second leg of the series.
The Sire Stakes split into a pair of divisions with eight going in the fifth race for a purse of $60,300. The post time odds identified Justice (Wally Hennessey) at 6-5 and World At War Deo (Jody Jamieson) at 8-5 as the main players, and the money was right.
Both colts were sent out from the gate for position, with the advantage going to Justice, who was posted slightly inside his rival resulting in a pocket ride, with things settled well before the :27.3 quarter mark and remaining so through the  57-second half. Leader World At War Deo faced mild pressure from the first-up By The Book through a :28.3 third panel, then Jamieson said "Go" on the final bend in an attempt to convert his length advantage into victory, but it was not to be as the wily Hennessey had Justice in gear and he edged past the leader in the shadow of the wire. Tanglewood Road closed to be third.
Post-race, Hennessey remarked "He's a push-button colt. He went out of there nice and was comfortable the whole way. We got a good trip following the horse to beat and Justice got by with something left."
Also on hand was Jeff Gural, owner of Tioga Downs and a partner on Justice via his Little E LLC stable.
"He started off gangbusters last year and was 3-5 in the NYSS final but came up sick and finished fifth," said Gural. "I thought he'd win his last start [in the Dexter Cup] at Freehold where he came second, so this was kind of a make-or-break race for him. I'm happy Wally took him, and he drove him perfectly."
The time of 1:53.2 (:27.4) was a career-best for the winner, who is trained in the Ake Svanstedt stable for his own interest along with partners Little E LLC, Torbjorn Swahn Inc., and Myfab, Inc. The Chapter Seven colt is a Diamond Creek-bred and was sold as a yearling in Lexington for $62,000.
Division two came in race nine and Cool Papa Bell was as smooth on the racetrack as his baseball Hall of Fame namesake was on the base paths. Legend has it that "Cool Papa" could flip the light switch to off and be in bed before the room went dark. That's kinda how it went for the other eight colts on Sunday as driver Brian Sears moved Cool Papa Bell to the front well before the 56-second half, waved off the backstretch brush of second choice Slay (Marcus Miller) and scored standing up in a new lifetime mark of 1:52.4.
Another son of New York's top trotting sire Chapter Seven, Cool Papa Bell was a $100,000 Lexington yearling purchase by Scott Farber as Runthetable Stables from breeder Belmar Racing & Breeding. He is trained by Jimmy Campbell, who is currently housing a fleet team of sophomore trotters at his home base in New Jersey.
Post-race questions by Tioga Handicapper Brett Risi were answered by driver Sears in his typically understated fashion: "He was really good in his first start, so I waited until Jody Jamieson driving the early leader Chapheart from post nine] cleared then moved him to the front. He gets through the turns so well, I asked him past the three-quarters and he took off."
The first of two $15,000 NY Excelsior divisions (race three) was won by Down The Pike Mike (Marcus Miller), who ground up uncovered from just past the 57-second half to wear down early leader Debs Price Hall and hold off the late bid of Jula Silver State for the 1:56.1 lifetime best score. The winner, a son of Credit Winner bred by Winbak Farm, is trained in the Erv Miller barn for owners Dr. Scott Leaf, Michael Ternisky and Gerald Fielding. He sold at the Standardbred Horse Sale as a yearling for $30,000.
Tote sparks flew in the seventh race, second division, when five of the eight starters broke before turn one, leaving Gale Force Benny and his owner, trainer and driver Kevin Gale alone on the lead through even fractions right to the wire for the 1:59.4 win over fellow longshot Brutus Beefcake, resulting a $100.50 win payoff and $1,641 exacta. It was a lifetime record for the sharp-looking black son of Devious Man, who was bred by Rebecca Burgess.
The trotting colts will next visit Vernon Downs for the third leg of the NYSS on June 10 then be right back there the following week for the $250,000 Empire Breeders Classic.
Visit the NYSS website for replays, results and point standings toward the $1.6 million championship held at Tioga Downs on the afternoon of Saturday, Sept. 10.
(With files from Tioga Downs)