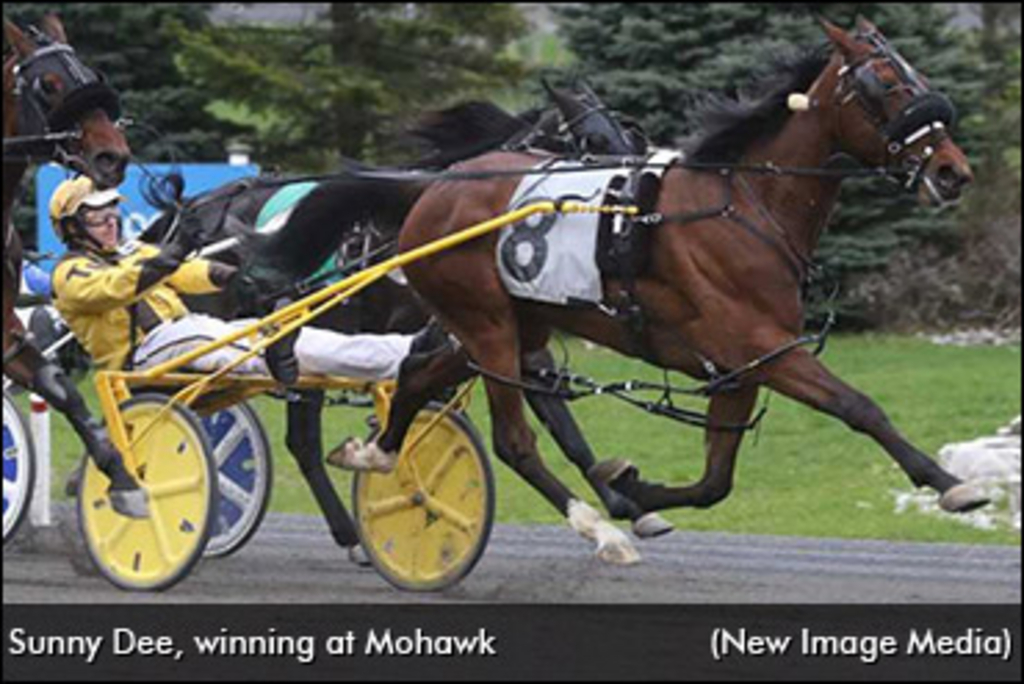 Published:
May 29, 2020 08:45 am EDT
One day after MacIntosh pupils stole the show during qualifiers at Woodbine Mohawk Park, horses from the stable of trainer Bob McIntosh showed they are ready to rumble with some impressive performances during the Friday (May 29) qualifying session.
McIntosh trainees captured four of the 11 qualifying races on Friday, a day of qualifiers that featured pacing fillies and mares. Trevor Henry was the driving partner on each of the winners.
Sex Appeal kicked off the four-bagger for Henry & McIntosh in the seventh qualifier. The homebred daughter of Bettors Delight - Lasting Appeal was a wire-to-wire winner by opens lengths in 1:55.3. Owned by Robert McIntosh Stables Inc., and Al McIntosh Holdings Inc., Sex Appeal went 2-for-9 as a rookie with both wins coming in the Ontario Harvest Series late in the year.
"I was really happy with her," Henry told Trot Insider after Friday's qualifiers. "I thought she was one of the most impressive to what she was last year."
Stablemate So Delightful was the winner of the next qualifier, employing similar on-the-engine tactics to win her test by three lengths in 1:53.4. Another homebred of Robert McIntosh Stables Inc., C S X Stables and Al McIntosh Holdings Inc., So Delightful (Bettors Delight - You See L A) was a two-time Ontario Sires Stakes Grassroots winner as a freshman and finished her season with a runner-up effort in the OSS Grassroots Final.
"That was a good mile as well," noted Henry. "The track today wasn't as fast because they'd got a lot of rain here yesterday. Those miles today were pretty good miles.
"Yesterday, it wasn't that fast either. It was a little cuppier yesterday ... it's going to take some time for that track to get some bounce back into it."
All eyes were to be set on O'Brien Award winner Alicorn in the ninth qualifier of the morning but that pacing filly was a scratch from that race. With the horse that many would have pegged as the class of the field not entered, Perfect Storm rose to the occasion for Henry and McIntosh. After clearing to the lead from third just before a :56.4 half, Perfect Storm sprinted home to win in 1:53.3.
"Something happened to her and she was late getting [to the races]," said Henry of Perfect Storm's late season surge. "She was good. They're all driving straight and going ahead and that's the biggest part."
Owned by Robert McIntosh Stables Inc. Dave Boyle and Mardon Stables, Perfect Storm (Somebeachsomewhere - Strike An Attitude) won two races in 2019 and finished a solid second to Dan Patch Award winner Lyons Sentinel in the Matron Final at Dover Downs.
The main event of the morning was the 10th qualifier, featuring divisional rivals Sunny Dee and Boadicea. Those two mares were one-two in the qualifier, with Boadicea (Doug McNair) carving out fractions of :27.4, :56.3 and 1:25.3 with Sunny Dee (Henry) sitting on her back in the pocket. Henry edged Sunny Dee to the outside for the stretch drive and the mares nearly hit the wire in unison. A photo was required to determine that Sunny Dee was a nose winner, with the mile timed in 1:53.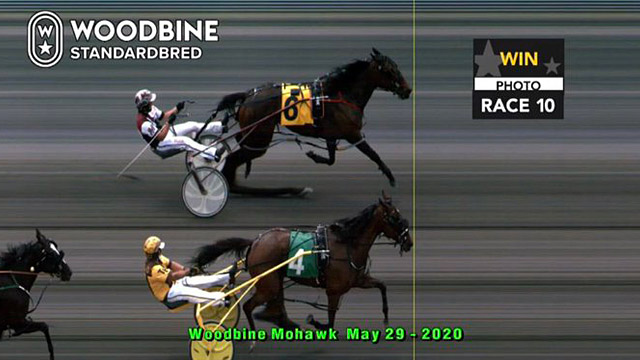 "She's the same as she was last year. Both of those fillies (Sunny Dee and Boadicea) are good fillies. I was glad to follow along with her, actually, and it was a good mile. They both finished well."
The 2019 O'Brien Award winner as Canada's Three-Year-Old Pacing Filly of the Year, Sunny Dee (Sunshine Beach - West Of L A) was a 13-time winner last year for breeders / owners Robert McIntosh Stables Inc., C S X Stables and Al McIntosh Holdings Inc.
Henry and his wife Shannon had six horses in training during the downtime in racing, but are down to four now. Those horses definitely helped fill the void of racing activity over the months of April and May, but the veteran driver is glad to be back at the track.
"It feels good to be back, no doubt. I don't mind having a little holiday but this one was a little too long," said Henry with a laugh. "I had stuff to do in the morning. That was one good thing about having [some horses] is that it kept me busy in the morning and gave me something to do."
Qualifiers continue at Woodbine Mohawk Park on Monday (June 1) with trotters taking centre stage on both Monday and Tuesday morning for qualifying sessions in advance of a return to live harness racing at Mohawk on Friday, June 5.
To view the results from Friday's qualifying session, click the following link: Friday Results - Woodbine Mohawk Park (Qualifiers).