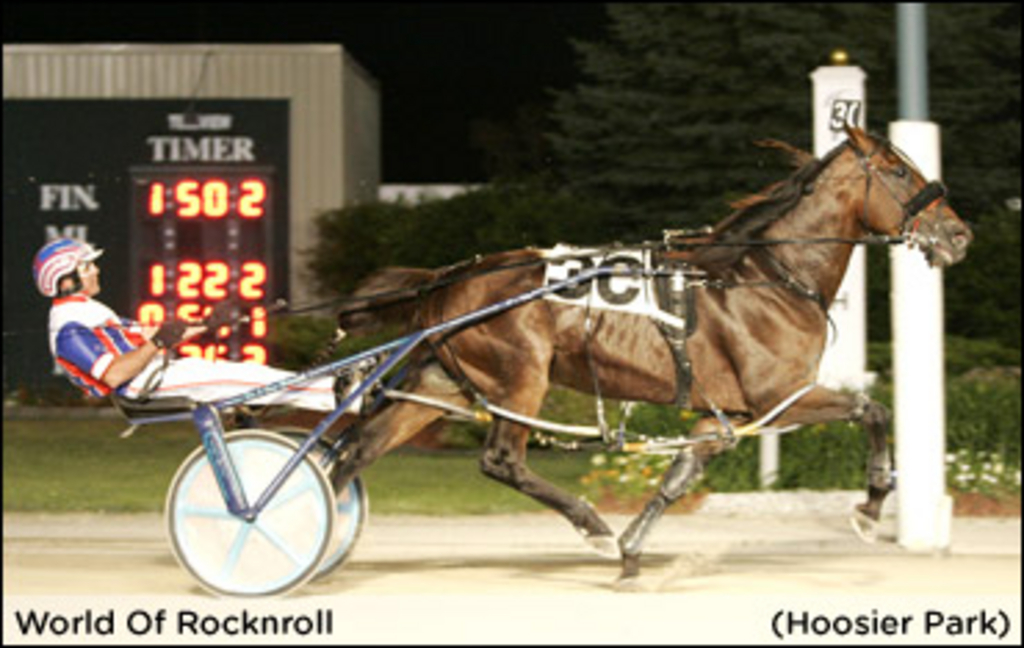 Published:
May 29, 2010 10:51 pm EDT

World of Rocknroll and Hall of Fame Driver Ron Pierce turned in a dominant performance to win the 14th edition of the $500,000 Hoosier Cup at Hoosier
Park Racing & Casino. The duo covered the one-mile event in a time of 1:50.3, winning by three lengths in front of a packed house.
Starting from the second tier in post 12, World Of Rocknroll floated out at the start surrounded by horses as Pierce kept his attention on finding a good spot to land in along the inside. He took advantage of a hole right behind Dave Magee and Allthatgltrsisgold, which placed them in ninth place at the quarter-mile marker in a time of :26.2.
"Starting from the second tier, I thought we would just take things as they came," said Pierce. "I looked over and saw an opening right behind Dave Magee's horse [Allthatgltrsisgold] and figured that was a good place to be."
Foreign Officer and Yannick Gingras was the third pair to make it to the lead, followed by Hoosier Park's leading driver Peter Wrenn guiding Windfall Blue Chip to the front spot at the half in :54.1. Trace Tetrick and Touch The Rock had hopes of being the fifth leader of the race, but Wrenn kept the duo to the outside around the final turn.
In the stretch, Magee had inched Allthatgltrsisgold up into second over form and tipped three-wide. Pierce followed suit, moving out as well and when World of Rocknroll had open space in front of him, he exploded. The royally bred son of Rocknroll Hanover and the great race mare Worldly Beauty was untouchable to the wire. Allthatglittrsisgold raced well for second followed by Aracache Hanover and John Campbell, who rounded out the trifecta with three Hall of Fame Drivers on the board.
World of Rocknroll is owned by a large conglomerate of people that make up World of Rocknroll Stable based in Flemington, New Jersey. Last week, the group got larger as a portion of the horse was sold to Alabar, Ltd., from New Zealand, who were on the phone listening to the race live.
"We actually bred this horse, sold him at Harrisburg, and then bought him back," said Mike Gulotta, one of the owners of World of Rocknroll. "This has been a great week for us in Indiana. Worldly Beauty's other son [Worldly Domination] actually won a maiden race here at Hoosier Park three days ago, so we've had a win for $5,000 and now a win for $500,000."
With career earnings of only $50,000 heading into the race, World of Rocknroll heads out of the race with more than $300,000 on his card. Gulotta commented that a portion of his earnings this year will be earmarked to assist the efforts in Haiti. The time of 1:50.3 is also a new career best for him and tied as the second fastest mark in the 14-year history of the Hoosier Cup. Richard "Nifty" Norman trains.
"He [World of Rocknroll] is a great horse to be around and a joy to work with," said Norman. "He's been pretty content since we arrived. I think he likes it out here in Indiana."
The win was the second in the Hoosier Cup for Pierce, who guided Dragon Again to victory in 1998. Although Pierce drove his father, Rocknroll Hanover, a few times as a two-year-old, it was the first time he had been assigned to drive World Of Rocknroll. Norman, who took over training duties this season, made his Hoosier Park debut a winning one behind World Of Rocknroll.
(Hoosier Park)