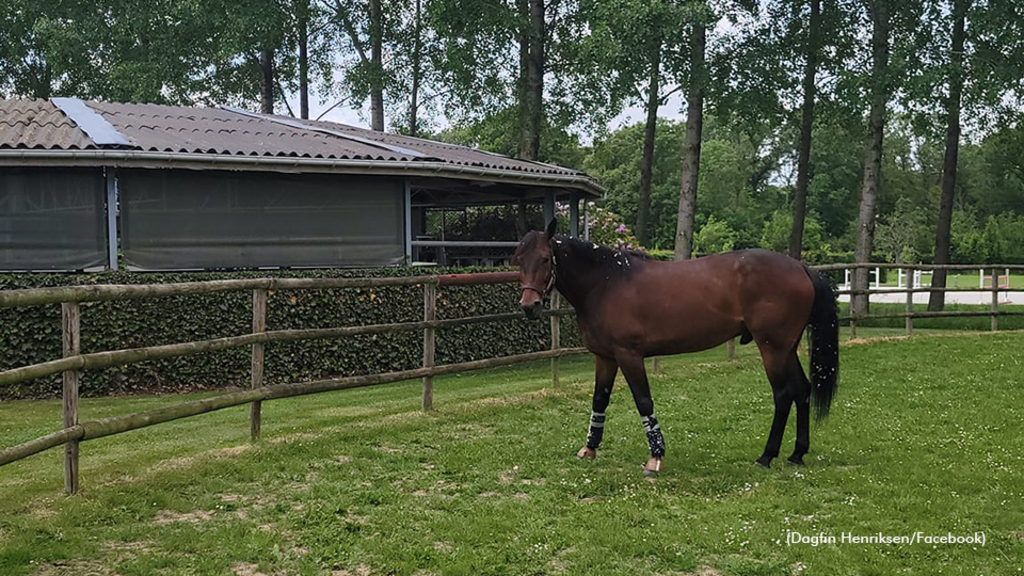 Published:
May 27, 2022 03:31 pm EDT
Canada's two-time defending champion male trotter Perfetto has landed in Europe and will take on the world this Sunday (May 29) in Sweden's famed Elitloppet.
Trainer/driver Dagfin Henriksen shared via social media that Perfetto, who has been garnering lots of media attention at home in advance of the race, made a quick stop in Belgium (pictured above) yesterday on his journey to Sweden.
Targeting a victory in the Elitloppet, the seven-year-old Ontario-sired son of Majestic Son could join elite company both on the international stage and at home. The list of winners dating back to 1952 includes popular trotting stars Mack Lobell, Moni Maker, Varenne, Nahar, Commander Crowe and Timoko, to name a few. Only two other Canadian representatives have won the race, both decades ago: Fresh Yankee in 1969 and Billyjojimbob in 1992.
For trainer/driver Dagfin Henriksen, who started his harness racing career in his native Norway at the age of 19 and moved to Canada in 2008, his first Elitloppet start will be memorable no matter the outcome.
"It's quite an honour to be invited to the Elitloppet," Henriksen was quoted as saying in a CBC News article. "Every trainer, especially in Europe, dreams of even making it to the race. If you have a horse that's good enough to go in that race, it's something special.
"It's so big, so I try to not think too hard about it because you almost get emotional," added Henriksen, who has made the trip himself to Sweden with fiancée Laura Trask, Perfetto's caretaker, and sons.
While Perfetto will be introduced to international travel, large crowds and a different racing style than he's used to in North America, Henriksen told the Toronto Sun he wasn't concerned with how his stable star would handle the new experience.
"The horse is strong, I'm not too concerned about that," he said. "I used to drive over there. I know the style. I think my horse can tackle it."
Owner Gerald Haggerty, with 30 years in the sport, believes Henriksen's experience will serve the globe-trotting racehorse well.
"Dagfin has a little bit of magic in his hands," Haggerty told CBC News. "I think he's the best trotting man in Canada and his methods are different than some Canadian or U.S. trainers."
Bred in New Brunswick by Seawind Amg Stbs 2005 Inc., Perfetto is a 25-time winner with nearly $730,000 banked in purses.
He has drawn post four in the first trial heat, scheduled as race six on Sunday at Solvalla Race Course with an approximate post time of 9:28 a.m. (EDT). The second heat is race seven, scheduled for 9:55 a.m. (EDT). The top four trotters from each trial will face off in the final of the Elitloppet in race 11 at 11:45 a.m. (EDT). With a major purse boost for the 2022 edition, a total of 11,350,000 Swedish Krona (approx. $1.47 million CAD) will be up for grabs. Click here to view the fields in post position order.
A program for Sunday's race card is available to download by clicking here. Live streaming of the race card will be available on the SC website on Sunday morning.
(With files from CBC News and Toronto Sun)