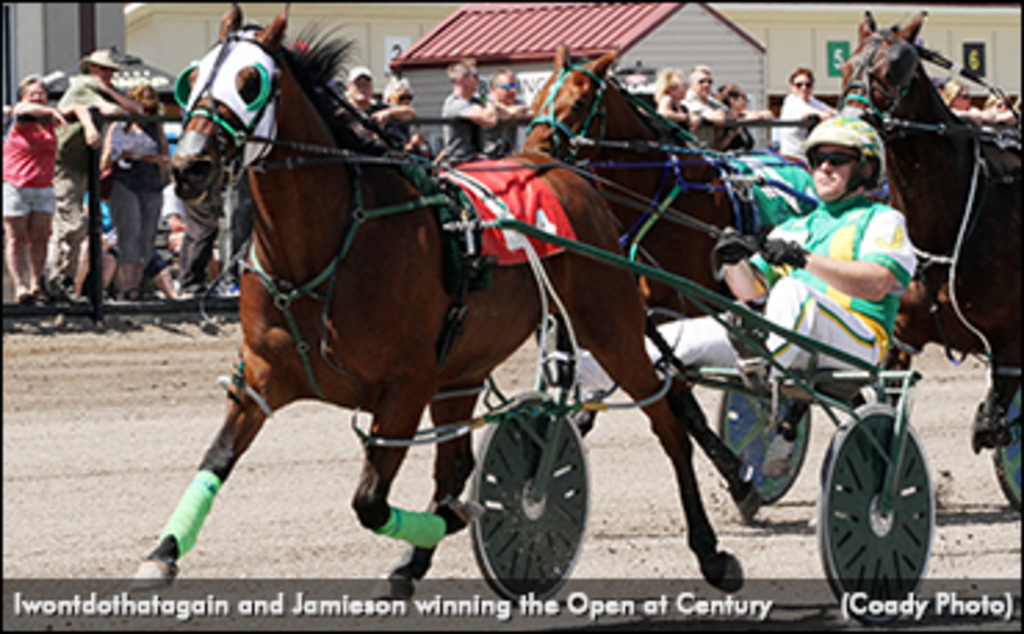 Published:
May 27, 2018 08:05 pm EDT
Century Downs hosted the third annual Pacing for Charity program Sunday, May 27, featuring world-champion James MacDonald, two-time world-driving champion Jody Jamieson and 2017 O'Brien Award Winner Doug McNair competing to raise money for their causes.
Last year, Jamieson, MacDonald and McNair teamed up to raise a total, along with donations from local horsemen, of $7,900 for their charities. This year the three won a total of five of the eight races in the event, with MacDonald winning three and Jamieson and McNair winning one each. MacDonald, racing for the Juvenile Diabetes Research Foundation, Jamieson, driving for Autism Canada, and McNair, competing for Perky In Pink, raised more than $1,300 through their drives on the afternoon. A full total of the funds raised will be noted when available.
"It was good. James stole the show...but he had all the favourites [while] me and Jody had to struggle to get our wins," said McNair with a laugh.
Jamieson took the afternoon feature, the $9,000 Open Pace, with Iwontdothatagain for trainer Kelly Hoerdt, who co-owns with Ed Keryliuk. The seven-year-old Stonebridge Regal gelding got off the gate second while McNair and Royal Renegade set the pace, leading through a :27 opening quarter and :56.4 half before retreating to last through the backside. Cool Cowboy took control as the field circumvented the fading road hazard approaching three quarters while Iwontdothatagain tracked Southwind Jaden in 1:25.4. Iwontdothatagain then tipped wide of Cool Cowboy in the stretch, sliding past to post a one-and-a-half length victory in 1:54, returning $5.80 to win.
"It was great to be able to give back to people who need the funds to help make life a bit easier. Hopefully we did that today. Pacing For Charity was a great success and I'm honoured to take part."
MacDonald's hat trick came with three favourites: No Mo Fo Joe in near wire-to-wire fashion, paying $4.20 in his 1:56 win in a $6,200 conditioned pace, Mortgage My Villa circling to a 1:57.1 in a $5,400 conditioned pace, paying $6.00 to win, and Johnny Gun rallying from off the pace to pay $5.30 in a 1:56 victory in a $4,900 claiming pace. McNair scored his lone win also with the favourite, winning a $6,200 conditioned pace on the lead with Cheddar Jack, a $3.30 winner in 1:57.3.
"It was great day...the weather was perfect, the track was in tip-top shape and they treated us great! Fortunately for me I had all the favourites and put a beating on Jody and Doug," said MacDonald with a smile. "We had fun and it's for a great cause."
To view Sunday's harness racing results, click on the following link: Sunday Results - Century Downs.