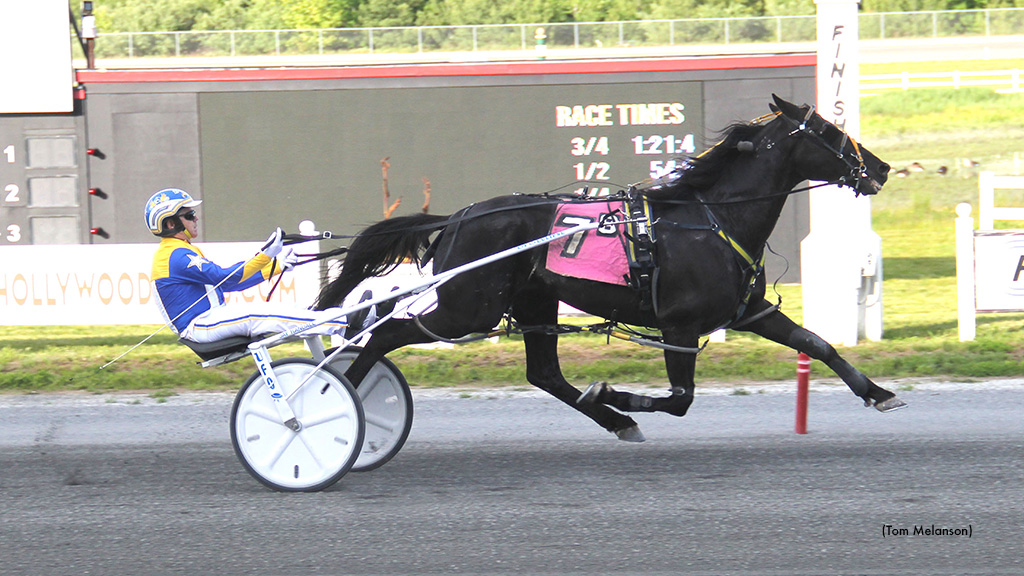 Published:
May 25, 2023 10:04 pm EDT
Moonshine Kisses shipped back into Massachusetts to make his first start at Plainridge this year and torched the oval with a dominating, 1:49 flat schooling of the seven other starters in the featured $25,000 Winners-Over pacing feature on Thursday (May 25).  
In August of last year, Moonshine Kisses had originally tied the track record for aged pacing horses at Plainridge Park with a lifetime best, 1:49.3 clocking that matched Givenupdreamings standard set in 2016.
Jay Randall was on a mission with Moonshine Kisses when the man said go, leaving three-wide from post six in the first turn to open up a two-length advantage at the :26.3 quarter. With the field stretched out heading to the half, an outer flow began to form with Rocknroll Runa A (Luke Hanners) leading the way while Lous Sweet Revenge (Greg Merton) trying to keep pace behind him. 
As they paced up the backside, Rocknroll Runa A was struggling to catch the leader in the breeze with a :27.1 third panel, but he finally drew even in the last turn and looked like he had a shot at that point. However, Moonshine Kisses had other plans as he dug in hard and paced away fast, opening up a full two lengths in deep stretch under a line-drive from Randall to complete the trip in 1:49. 
The time was a new lifetime mark for the winner, a new track record and also the fastest pacing mile of the year so far at Plainridge Park.  
It was the eighth win of the year for Moonshine Kisses ($7.20), who has now won six out of his last eight races, including a total of four Open class victories at Yonkers and Saratoga. The seven-year-old son of Sunshine Beach-Queens Character has amassed earnings of $125,620 to this point in 2023 and is heading towards a career year for wins and earnings for his owner Kellogg Racing Stables and trainer Jackie Greene. 
There were two very solid $20,000 paces carded on Thursday under the headliner where both winners took new lifetime marks as well. 
In the first, Bag Pipe Major (Greg Merton) sat second to the half before making a quick bolt at the five-eighths to take the lead from Justa Little Bit A (Nick Graffam) before three-quarters. After cruising around the last turn by a gapped margin, Bag Pipe Major turned for home and bolted to an uncontested 4-1/4 length victory in a career best 1:50.1. Bag Pipe Major ($10.20) is owned by Jan Donaway and is trained by Elisha Lefreniere. 
Then later, the 25-1 shot Vel Letsroll South (Nick Graffam) got a sluggish start and was 11 lengths off at the quarter behind the leading Odd On Blockchain (Luke Hanners). The field tightened up by the half and Vel Letsroll South found himself second-over behind Dp Realordeal (Bruce Ranger) until the top of the stretch where he fanned four-wide to barrel down the stretch and hit the light first by three-quarters of a length in 1:50, lowering his personal best by a full two seconds. It was the third win in the last four starts for Vel Letsroll South ($52.20), who is owned by Mo Coo and trained by Matty Medeiros. 
Graffam ended the day with two wins on the card as did trainer Mike Eaton. 
Brett Beckwith was the leading driver on Thursday, registering a grand slam during the afternoon. Beckwith won with Petipou (1:52.2, $10.80), Isitfridayyet (1:51.4, $7.40), Workin Them Angels (1:52.3, $6.30) and Beach Watch (1:54.2, $8). His efforts also pushed him into fourth place overall for dash wins during the meet, now with 15. He sits behind Bruce Ranger (29), Matty Athearn (28) and Kevin Switzer Jr. (25).
The Jackpot Wicked Hi-5 pentafecta was hit in race nine on Thursday and the payout lived up to the name. The combination of 5-4-6-2-7 returned $3,780.82 for a 20-cent wager. 
Live racing will resume at Plainridge Park on Monday, May 29 at 4 p.m.
(Standardbred Owners of Massachusetts)