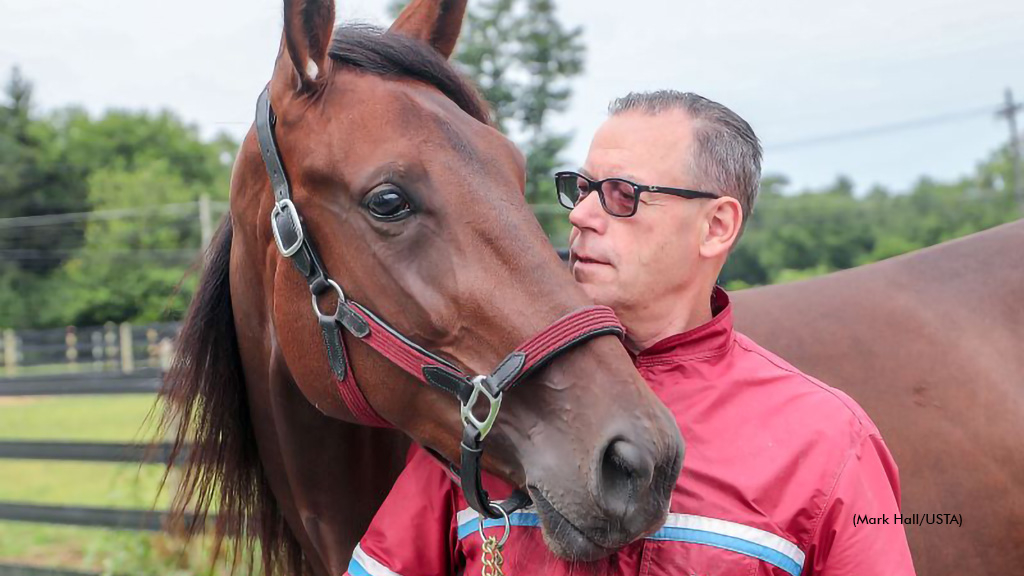 Published:
May 25, 2023 03:54 pm EDT
Take All Comers will make his seasonal debut in Sunday's $100,000 Maxie Lee Memorial Invitational for older trotters at Harrah's Philadelphia and the five-year-old gelding has already improved from last year in one regard. He will begin the race from a favourable starting point.
Last season, Take All Comers drew posts on the outer third of the starting gate, or in the second tier, in five of the eight most lucrative races he competed. He missed hitting the board in all five. In his remaining 11 starts, he hit the board every time, winning eight.
On Sunday, Take All Comers will leave from post one.
"That's a step forward," trainer Jim Campbell said with a laugh.
Take All Comers, who finished second in last season's Graduate Series final for four-year-old trotters and ended his campaign on a three-race winning streak, heads to the Maxie Lee off a 1:54 qualifier victory May 16 at Philly.
"He was really good qualifying," said Campbell. "This is a tough first start for any horse to make off one qualifier, in with that caliber of horse, but there are no easy spots in racing today. You've got to get started somewhere and he drew good, so hopefully he can pick up a good cheque from there."
Take All Comers has been adept at making money throughout his career, earning a paycheque in 32 of 38 career races. Lifetime, the homebred son of Creatine-Nantab has won 11 starts and earned $564,093 for owner Runthetable Stables.
"He may not win, but he gives you an honest effort every time you put him out there," said Campbell. "You just love to have horses like him in the barn. He's got a good attitude and he's a fun horse to be around. He feels good; he's got some play in him. You take him out to train and it's like he knows where he's supposed to go. He's a real cool horse."
Take All Comers, who last year won six of his eight starts that came after mid-August, is not staked to many Grand Circuit events in the summer but will have the opportunity to test those waters later in the campaign if all goes well.
"He went longer last year [racing until late November] so we didn't bring him back until sometime in mid-to-late February," said Campbell. "We're going to race him along in overnights and he's staked to some races in the fall. He seems to like the fall. We're just kind of playing it by ear with him."
Sunday's Maxie Lee field of eight includes 2022 winner Lovedbythemasses. Also among the group is former Dan Patch Award winner Amigo Volo, who has earned more than $2 million in his career.
The card at Philly also features the $100,000 Joseph Auger Memorial Invitational for older male pacers and the $100,000 Betsy Ross Invitational for older female pacers.
Hellabalou, the winner of the MGM Borgata Pacing Series final at Yonkers, is among the eight horses in the Auger Memorial, which is named after the longtime Philly race secretary who passed away last year.
In the Betsy Ross, Blue Chip Matchmaker Series champ Amazing Dream N is joined by former Dan Patch Award winners Niki Hill and Treacherous Dragon in the octet.
Racing begins at 12:40 p.m. (EDT) at Harrah's Philadelphia. For free past performances for Philly races from the Pennsylvania Harness Horsemen's Association, click here.
(USTA)