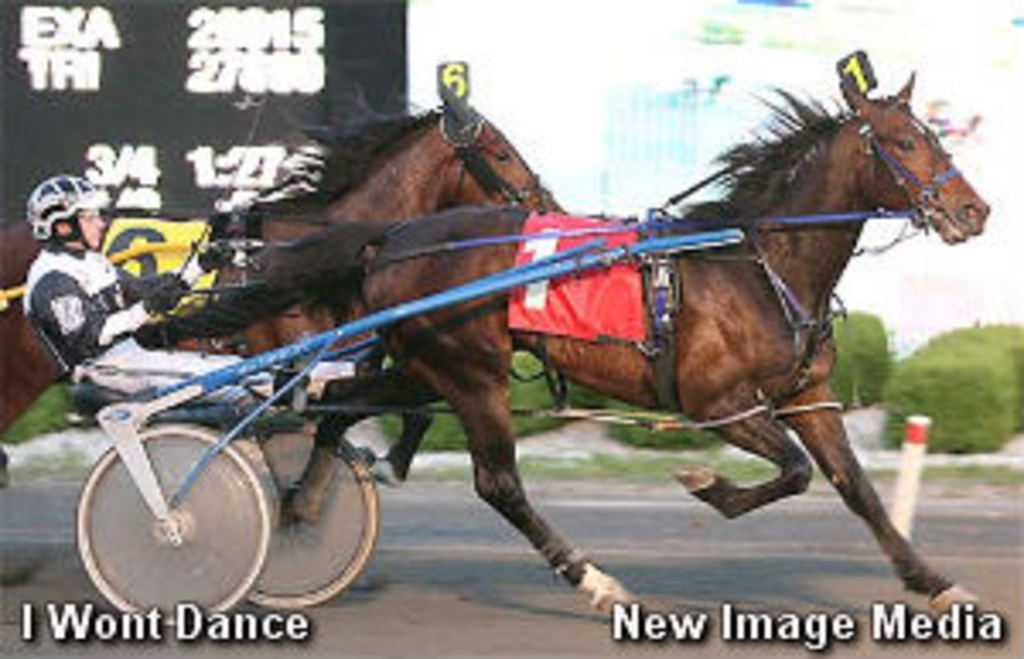 Published:
May 25, 2009 10:00 pm EDT
A two-hole trip proved to be just enough of an edge for I Wont Dance to extend his winning streak to three-in-a-row on Monday evening at Mohawk Racetrack
in the $130,000 OSS Gold Series final.
Unraced as a rookie, but making up for lost time, the three-year-old son of Angus Hall – Do Si Do Hanover rallied in the lane and posted a career-best clocking of 1:55.4 for driver Trevor Ritchie and trainer Per Henriksen.
Ritchie and I Wont Dance enjoyed the two-hole ride behind 2-1 favourite Zero Boundaries, who chopped out very sensible splits of :28 and :58.1 before feeling any kind of pressure. Senator Hall made a bold first-over brush around the final turn, and he actually showed a short lead over Zero Boundaries at the three-quarter pole in 1:27.
Despite being headed Zero Boundaries battled back for the lead once the field entered the stretch, but he couldn't fend off the late rush from I Wont Dance. The gelding angled out of the pocket in deep stretch and used a :28.1 closing kick to propel himself to the win by three-quarters of a length over Zero Boundaries. Taking home the show dough was Hitithard.
"I was following Paul [MacDonell driving Zero Boundaries] and I thought he was the horse to follow, and then when that other horse [Senator Hall and driver D.R. Ackerman] come I was caught in and I was hoping things would spring through the lane and I got lucky and they did," said driver Trevor Ritchie. "I really didn't have a plan, I just wanted to get him out of there and get him situated. If I had to cut it, that was fine because he raced well last week up front. But I was just as happy to follow Paul because Paul's horse is a pretty good horse."
"At this point this colt has done everything asked of him," Ritchie added. "He certainly wasn't tired tonight at the wire. Obviously if he's going to go with the bigger boys he's going to have to step it up some more. The way he felt tonight it wasn't the end of him, I can tell you that much."
Maurizio Biasuzzi [M Biasuzzi Stable Inc.] of Ft. Pierce, FL holds the papers on the lightly-raced youngster, who has banked $93,500 to date.
Georgian Downs will play host to the next OSS Gold Series event of the season. Eliminations are scheduled for July 4, with the final one week later on July 11.
To view Monday's results, click here.