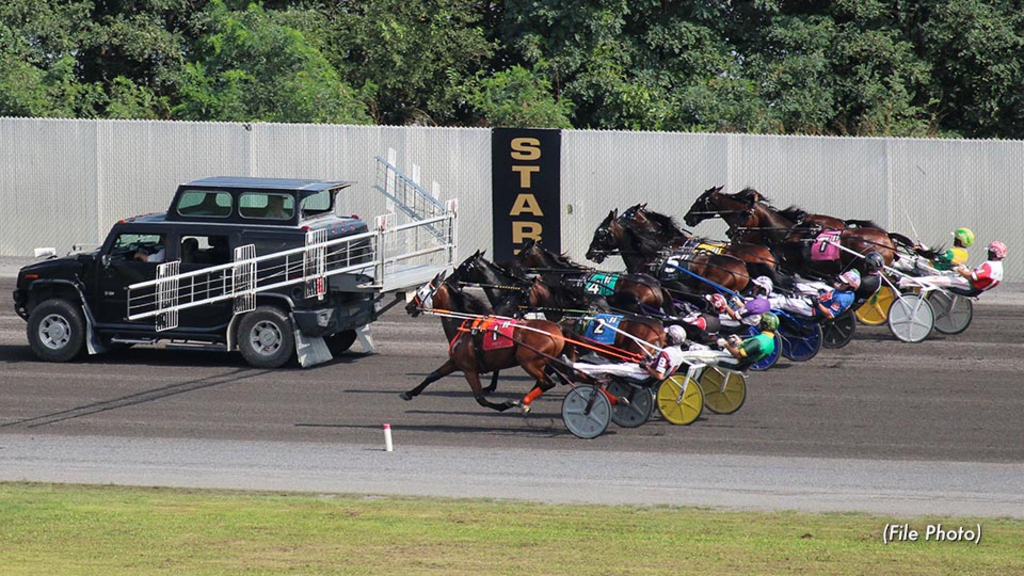 Published:
May 24, 2023 05:43 pm EDT
On Sunday afternoon, Harrah's Philadelphia will present what is one of the best cards so far in 2023 North American harness racing, with three $100,000 Invitationals, action in the Pennsylvania Sire Stakes and Stallion Series for the "glamour division" three-year-old pacing colts, and other top-class races offering a total bounty on the day of $636,549.
The following is a look at each Invitational, plus an overview of the three-year-old stakes and other events for Sunday, when the 15-race card begins at 12:40 p.m.
$100,000 Betsy Ross Invitational Mares Pace (Race 11)
This race matches the U.S. two-year-old filly champion of 2021, Niki Hill, against the U.S. three-year-old divisional leader of 2022, Treacherous Dragon. It was exactly 52 weeks to the day that Niki Hill had an incident on the far turn that resulted in the only finish worse than second in her entire 19-race career and resulted in her missing much of her sophomore campaign, while Treacherous Dragon's win in the other division of that Sire Stakes event launched her championship campaign.
The Niki Hill camp will certainly want a rebound from last year, but to achieve it, the Always B Miki mare will have to overcome the outside post eight for driver Todd McCarthy (regular driver Dexter Dunn will be in Sweden Sunday, driving in the prestigious Elitloppet), trainer Chris Ryder and owner Tom Hill. The Captaintreacherous mare Treacherous Dragon will start from post five for driver Scott Zeron, trainer Nancy Takter and Hot Lead Farm.
Amazing Dream N (post four, driver Yannick Gingras, trainer Linda Toscano), Racine Bell (post two, Jason Bartlett, David Dewhurst) and Drama Act (post six, George Brennan, Ron Burke) should also earn respect in this interesting and competitive contest.
$100,000 Maxie Lee Invitational Trot (Race 12)
The Muscle Mass gelding Lovedbythemasses won the 2022 edition of the Maxie Lee in 1:51, just three-fifths of a second off the all-time Philly track trot mark, so what kind of reception does he get as he returns to defend his crown? He gets to start on the outside of the gate, behind the dreaded eight-ball, but his best mile can still put him into the thick of this race for driver Tim Tetrick (who has won half of the Lee's 14 editions) and trainer Jeff Cullipher, who is also co-owner with Pollack Racing LLC.
Pappardelle (post five, driver Joe Bongiorno, trainer/sister Jenn Bongiorno) has won his last four starts, but today's race will be a real "acid test" for him as he faces opposition tougher than he is used to. Double millionaire Amigo Volo (post two, Todd McCarthy, Nifty Norman) has been racing the best of his class his whole career and continues to do so in his six-year-old campaign.
$100,000 Joseph Auger Invitational Pace (Race 13)
Named after the longtime Philly race secretary who passed away last year, the Auger features a match-up between the two hottest pacers in eastern Pennsylvania (Philly and Pocono) this season in Ruthless Hanover and South Beach Star, who will be starting side-by-side in posts four and five, respectively.
The Somebeachsomewhere gelding Ruthless Hanover is three-for-four this year for driver George Napolitano Jr. and Team Cancelliere -- trainer Tom and owner/brother John. He is the fastest winner of the year at Philly with a 1:48.3 triumph on April 21 and last week edged out South Beach Star by three-quarters of a length in a 1:49.3 mile with a last quarter of :26.4.
That race ended a four-race win skein for South Beach Star, another altered son of Somebeachsomewhere who is trained by Mark Silva for All Star Racing Inc. But South Beach Star has had a fine season already, working his way up through the class ranks, and his 1:48.2 win at Pocono (over a "good" track, no less) on May 7 still is the co-equal fastest mile of 2023 North American harness racing on any size track. David Miller is set for his usual perch behind South Beach Star.
Hellabalou posted a $96 upset in winning the $511,000 Borgata Series final at Yonkers on April 24 and no horse starting from post two for trainer Ron Burke and driver Yannick Gingras should ever be overlooked in any field.
Other Big Races On Sunday
There are three divisions of the $154,349 third preliminary leg of the Pennsylvania Sire Stakes for three-year-old colt pacers. Ken Hanover was the only sophomore to earn wins in the first two PASS legs, but in a common theme for the day, he's going to be another solid factor who will have to contend with an outside post eight draw for driver David Miller and trainer Polie Mallar. Other divisional stars, such as last year's Breeders Crown winner Ammo, will also be on display here and it's likely that many entrants will feature in the summer and fall's biggest races.
There are also five $20,000 Stallion Series divisions, with Lyons Surfing the only double winner so far. He'll be starting for driver Tim Tetrick and trainer Jim King Jr.
There is also a $40,000 #senditin Invitational Pace, in race 10, that starts a Pick 4 including the three Invitationals, a bet which will carry a $10,000 minimum pool guarantee. The horses in this field have collectively just a shade under $500,000 in less than five months of racing – and remember these are the ones who didn't quite make the Auger Invitational!
(PHHA/Harrah's Philadelphia)