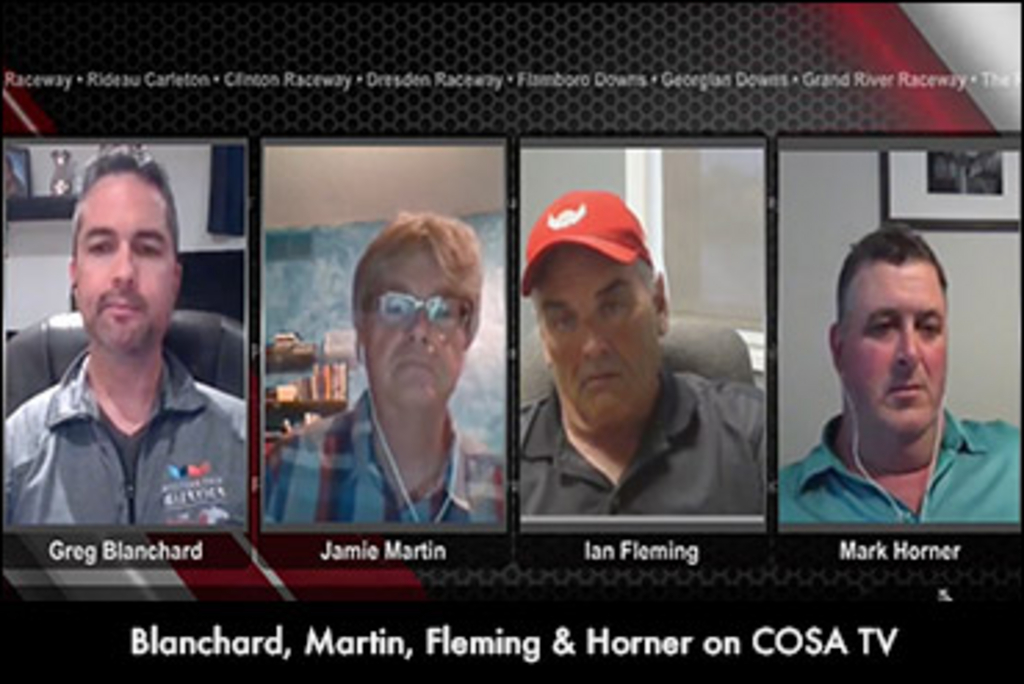 Published:
May 24, 2020 06:32 pm EDT
As the countdown to racing continues, there are many questions that still exist for horsepeople in Ontario as the harness racing community will have to adjust to a new normal. On tonight's (May 24) episode of COSA TV host Greg Blanchard interviewed horseman and COSA Director Mark Horner, General Manager and Race Secretary Ian Fleming and Jamie Martin, Grand River Raceway's Director of Operations.
Together the trio discussed new racetrack protocols, the importance of increasing racetrack handle and how the industry will have to adapt to a new normal of racing. Questions from viewers were also answered as well as trivia questions for fans and viewers to win a prize courtesy of COSA.
First to take the stand was Jamie Martin, who discussed recent expansions at the Elora oval.
"Last fall we started a $6 million expansion project of our backstretch, it was supposed to be finished on the 1st of June but construction has been halted due to the shutdowns. Normally we have our facility ready and open for training a month out to our opening race night. We added a 7,000 sq. ft. building in between the paddock and the grandstand, this will hold our offices and our simulcast. We also added a 5,000 sq. ft. addition to the back of the paddock that will include a maintenance shop and an open space for additional ship-in stalls. Because of all this construction is why we are not open and ready for training yet. Our track is in good shape and ready for opening."
Horseman Mark Horner discussed how he has managed his stable throughout the pandemic -- a similar approach that most horsemen have taken.
"We did back them off a bit, but schedules remained pretty on track. I didn't train my three-year-olds as much, I backed them up to about one trip a week and when things looked like we were going to get back up and going around the first of May then we started to up the training. We trained a few in the race bike yesterday and everyone is going good -- next week when we are ready to qualify, we will be ready to go."
A representative for horsemen, Horner also discussed the atmosphere throughout the industry during this unprecedented time and how participants are preparing to handle the new protocols put in place.
"I've talked to a variety of horsemen that race either on the WEG Circuit or the 'B' tracks, for the most part the horsemen understand what COSA has gone through and are appreciative of what Ontario Racing has been able to do to provide relief for the horsemen. It's very important that horsemen follow social distancing, racing is now going to be an in and out process, there will be no hanging around the paddock area, there will be no Lasix except for at Woodbine Mohawk Park. This will be a work in progress but a major part of getting through this pandemic successfully lies in a collaborative effort of racetracks and horsepeople. We need to show that we can wear masks, those who refuse too, will be removed from the paddock."
Following the same suit of adjusting to a new normal, Ian Fleming touched base on adjusting to a new normal of racing without spectators -- an adjustment that Clinton Raceway, a track with a strong community connection, is prepared to face.
"It's not ideal, we have people here from the community every day watching horses jog and train and to tell them in two weeks that they cannot come here and watch these horses race is very hard. I've talked to all of them and they understand why they are not able to come and watch the races but it's going to be very strange. It's also tough for the local groups that come to the track to fundraise. No matter where you go, it's going to be strange. For now, we will just have to see how things play out."
Fleming also discussed that although the race office will be taking entries, trainers are still advised to make use of Standardbred Canada's self-serve online entries. Fleming also credited the system and noted he believes it will be quite helpful in the future.
Jamie Martin informed viewers that Grand River Raceway fans will have access to HD streaming since fans will not be able to watch racing live. High-definition
video will be available through Grand River Raceway's website and HPI TV. Martin also noted that in-house handicapping contests will be moved online and that the racetrack still plans to engage fans with their product as much as possible.
Switching roles from a director to an owner/trainer/breeder, Horner provided an update on a few sensational mares that have called his stable home.
"Pinky Tuscadero is in foal to All Bets Off, she had a big heart and was a very nice mare to race around the small tracks."
From a similar perspective, Horner also touched on how yearling sales will be impacted by COVID-19 -- more specifically the London Selected Yearling Sale.
"We have been working very hard exploring different options as to how to conduct the sale, we have put every possible option on the table from a virtual sale and how it would look and have also looked at what other sales are going to do. Ann Straatman is working very hard on how we can successfully have our sale, but no decisions have been made yet.
"I don't think that after spending $1 million on turning the [Western Fair] Agriplex where the sale is conducted into a hospital, that they will be wanting to take it down anytime soon so I think we will have to take a serious look at taking care of the breeders and consignors and consider a virtual sale."
The very informative episode was produced by CUJO Entertainment and featured a mass amount of valuable information for owners, trainers, drivers and all those involved in the industry.
The episode is available for viewing below.