Published:
May 24, 2015 12:35 am EDT
Brian Sears was the man about town Saturday night, winning Yonkers Raceway's pair of $40,000 eliminations for the 25th Art Rooney Pace.
A total of 13 three-year-old pacers — 11 colts and two geldings — began the night, with the first four finishers in each elim getting a pass through the velvet robe into the stakes finale.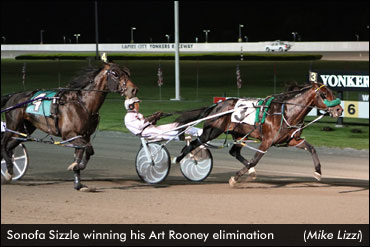 Sears took of the first event with a first-up Sonofa Sizzle ($9.90) in 1:52.1. He held off Betting Exchange (Dave Miller) by a neck after the front end folded.
The front end came in the form of 6-5 favourite Soto (Brett Miller), who worked around Arque Hanover (Jason Bartlett) and threw down intervals of :27.2, :56 and 1:24.1. Meanwhile, scourge of Delaware Sonaofa Sizzle, from post position No. 3, had engaged the leader before putting him away. He held off Betting Exchange, who was three-wide early before slipping out in the lane. Cartoon Daddy (catch-driver Dan Dube) was a never-threatening third, with Arque Hanover, despite breaking early in the lane, finished fourth to get into the final. A tiring Soto and an outrun A Bettor Hat (George Brennan) rounded out the order.
For second choice Sonofa Sizzle, a son of Life Sizzles owned by Michael White and trained by Josh Green, it was his fourth win in five seasonal starts. The exacta paid $81.50, with the triple returning $190.
"He did everything I asked of him," Sears said. "It helped that they mixed it up a bit early, but he was very sharp."
Let's not gloss over the "interesting" effort of Arque Hanover, who, in the words of his date, was a victim of too much pace and no place to go.
"I was overloaded," Bartlett said. "He was definitely a winner. He had so much pace, he started getting crooked on me and made a break. It's shows how good he was that he came back and made the final, anyway."
The second elimination saw odds-on choice In The Arsenal ($2.50), whose debutante effort came in last season's Lawrence B. Sheppard Pace at Yonkers, barely prevail.
Leaving from post No. 2, he gave the first lead to Rock N Roll World (Dube) before a :28-second opening quarter-mile. In The Arsenal then moved to the lead, completing his rounds (:57.2, 1:26, 1:53.1). Rock N World, now a runner-up in all four races this season, tried In The Arsenal in the passing lane by missed a head. National Seelester (Dave Miller) and Bet You (Brett Miller) also earned their invites to return, while Rolling Ring Afire (catch-driver Tyler Buter), Western Pioneer (Brennan) and a breaking Penji Hanover (Mark MacDonald) completed the order.
For In The Arsenal, a North America Cup eligible son of American Ideal trained by Kelvin Harrison for co-owners (breeder) White Birch Farm and In The Arsenal Racing, it was his second win in as many '15 tries. The exacta paid $10.20, with the triple returning $16.
"He's more mature mentally and physically than he was at two," Sears said. "In elimination races, you have to race a favourite as if he's the favourite, so I put him on the lead. He knows what he's doing out there."
The $300,000 final of the Rooney goes next Saturday night (May 30), along with the six-lass $117,724 Lismore (three-year-old pacing fillies). The open draw for both stakes takes place late Tuesday morning.
Saturday's $42,000 Open Handicaps were won by trotter Luminosity (Brennan, $6.50) in 1:54.4 and pacer Duc Dorleans (MacDonald, $16.60) in 1:51.3.
No one took down the Saturday Pick 5, so Monday's gimmick begins with a carryover of $4,501.50 and offers a $10,000 guaranteed pool (program pages available at yonkersraceway.com). The Pick 5 is a 50-cent base wager comprising races seven through 11 every racing program.
The Raceway's live season continues Memorial Day evening (7:10 p.m.), Tuesday (1 p.m., pair of finals in the Jackpot Next Door Claiming Series), then Thursday through Saturday (all at 7:10 p.m.). Note there is no live racing or evening simulcasting June 3-12, inclusive. Afternoon simulcasting is available daily, including the June 6th Belmont Stakes.
(With files from Yonkers Raceway)