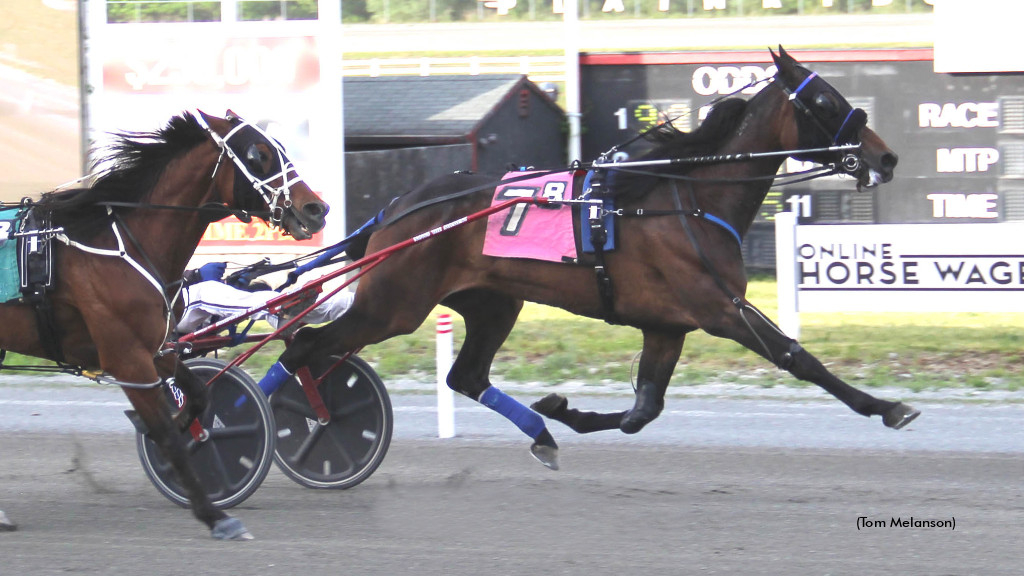 Published:
May 23, 2022 08:54 pm EDT
The feature race at Plainridge Park on Monday afternoon was the $20,000 Open Handicap Trot and despite being assigned the outside post seven, Nows The Moment scored his second straight win of the year in gate to wire fashion.
Kevin Switzer, Jr. put Nows The Moment right on the point and marched to the quarter in :28.1 while Make It A Double (Mark Athearn) and Malibu Kid (Jay Randall) followed intently. After backing the half down to :58.2, Switzer asked for more from Nows The Moment and accelerated the third panel to :28 seconds, hitting three-quarters in 1:26.2.
Nows The Moment had a comfortable lead coming off the last turn but that advantage grew appreciably when Make It A Double made a break turning for home. The gap instantly turned into four lengths and Nows The Moment was under a line drive. Malibu Kid made up ground down the stretch as did Blue Knight (Drew Monti), but Now's The Moment was clear and claimed the victory in 1:54.4.
It was the 27th career win for Nows The Moment ($4.40) who is owned by Sonya Mac Donald. Allison Mac Donald trains the winner.
Switzer also won with Rollin With BK (1:54.1, $16.40), King Royalty (1:53.1, $31.40) and Bettor Cat (1:52.3, $7.40) to complete his four-bagger.
The second top trot on the card was a $17,500 conditioned event where Four Under Par took a new lifetime mark.
Driver Bruce Ranger tucked Four Under Par in second behind the speed-minded Swan Fine Lady (Ron Cushing) who breezed to the half in :56.2. Four Under Par continued to follow until just before three-quarters where she vacated the pocket and started to run down the leader. By the top of the stretch Four Under Par drew even with Swan Fine Lady and in deep stretch she edged ahead and managed to hold off a late brush by Trix And Stones (Drew Monti) to win by three-quarters of a length in a career best 1:53.2.
It was the fifth win in the last six starts for Four Under Par ($5.40) and owner William Hartt. Lance Hudson trains the winner.
Ranger, Hudson and Hartt also teamed up to win the $15,000 conditioned trot with Chapolier, who turned a first-over move from sixth at the half into a three-length lifetime best win in 1:54.1. Chapolier ($3.80) now has three wins and $33,360 earned in 2022.
There is a large and growing carryover of $10,665 in the Wicked Hi-5 Pentafecta for race six on Tuesday (May 24) when live racing resumes at Plainridge Park at 4 p.m.
(Standardbred Owners of Massachusetts)