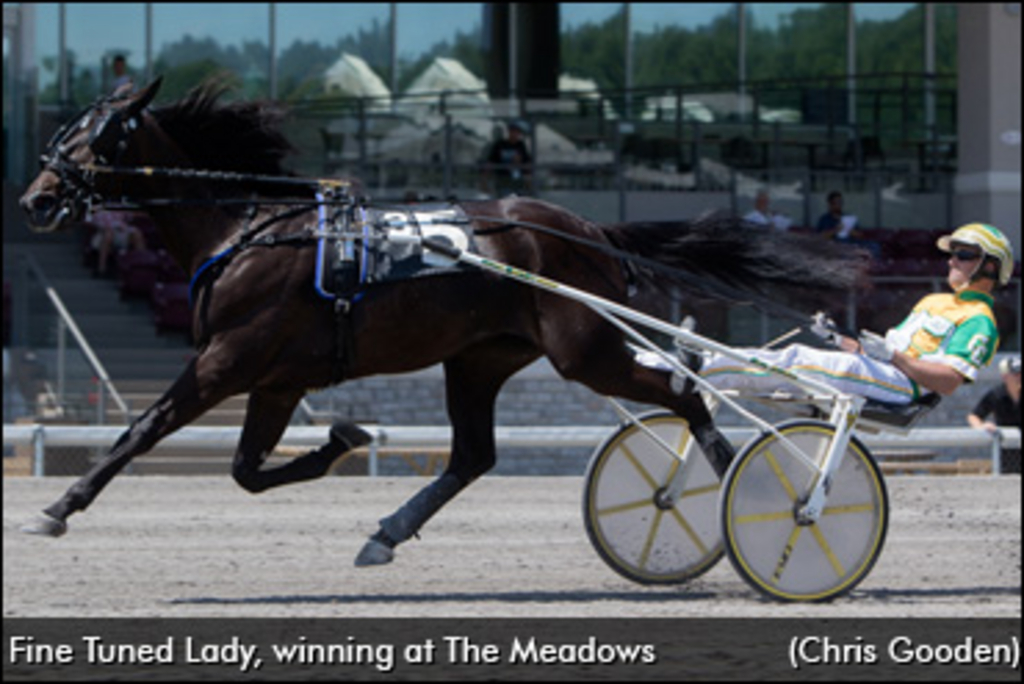 Published:
May 23, 2017 04:38 pm EDT
Fine Tuned Lady was "a model of consistency" last year. John Butenschoen is hoping for more of the same this season.
Butenschoen sends Fine Tuned Lady, a multiple stakes-winner last year, to Friday's Currier & Ives for three-year-old female trotters at The Meadows. The event attracted 21 horses, which were divided into three $24,000 divisions. Fine Tuned Lady is the 7-5 morning line favourite in the first division.
Sianna Hanover is the 2-1 choice in the second division and Treviso is the 7-5 pick in the third.
Last year Fine Tuned Lady won six times and finished second on five occasions in 12 starts. Her victories included the Kentuckiana Stallion Management Stakes, Matron Stakes, and Pennsylvania Sire Stakes championship. She earned $438,340 for owners Bill Wiswell and M And L of Delaware.
Fine Tuned Lady began this year by winning a division of the Pennsylvania Sire Stakes on May 13 at The Meadows.
"You always hold your breath when they're first coming back, but she did what she was supposed to do," Butenschoen said about Fine Tuned Lady's seasonal debut. "I was real pleased and I know that Corey (driver Callahan) was happy with how she raced. She's a nice filly. We'll see how she comes back this year; we'll see if she's improved any. I'm sure there are other ones out there that have improved, or that we didn't hear of, that will pop up. We'll find out.
"She had a great year (in 2016). She was just a model of consistency. She did everything you would have hoped for. If she would have earned half the money we would have been tickled to death. As it was, she got lucky in a few races where some favorites or co-favourites made breaks and she was able to take advantage and she put up a good chunk of change on her card."
Fine Tuned Lady's only off-the-board finish came in a division of the International Stallion Stakes at Lexington's Red Mile, where she was fourth but beaten by only 1-3/4 lengths.
"I don't know if she was getting tired at that time of year already, but she wasn't quite as sharp, or didn't stack up as well as those other ones on the bigger track," Butenschoen said. "She's a real good-gaited filly, a real handy filly, and I think she's going to be a lot more suited to the smaller tracks. But it'll be interesting to see what she can do against them with a fresh set of legs under her."
Fine Tuned Lady is a daughter of stallion Cantab Hall out of the stakes-winning mare Poster Princess and her second dam is Dan Patch Award-winner Me Maggie. Fine Tuned Lady was purchased for $27,000 at the 2015 Standardbred Horse Sale. Interestingly, her connections had their eyes on a filly that sold earlier in the auction, but were unsuccessful in acquiring her. If they had, it is unlikely they would have bid on Fine Tuned Lady.
"It comes down to luck at the sales," Butenschoen said. "You do your homework and hopefully things fall into place. That's kind of the fun of the game I guess."
Fine Tuned Lady is eligible to the Hambletonian Oaks in August at the Meadowlands. Other Oaks eligible horses in the Currier & Ives divisions are Sparkle Plenty, Monee Bank, Sheez On A Cruze, Caviart Wonder, Cool Cates, Sianna Hanover, Dangle Then Deke, Amuses, Broadway Idole, Treviso, Pennys N Dimes, and Temple Ruins.
In addition, Fine Tuned Lady is eligible to the Breeders Crown in late October at Hoosier Park.
"We'll keep our fingers crossed," Butenschoen said. "It's a long time between now and the end of October. We'll see if we can do things right."
Fine Tuned Lady is not the only highly regarded trotter trained by Butenschoen for Wiswell and M And L of Delaware. Bills Man, a three-year-old colt, was last year's third-fastest two-year-old trotter, posting a mark of 1:52.3, and is eligible to the Hambletonian among other top stakes.
Bills Man is expected to compete in Monday's first round of the New York Sire Stakes at Vernon Downs. He has a win and a second in two starts this season.
"They've got a nice pair there," Butenschoen said about his owners' trotters. "He's a very fast horse. He was just a big, long, leggy thing as a two-year-old and a little physically and mentally immature. He had a nice winter in Florida and, knock on wood, so far this year is putting everything down the way he's supposed to and acting right."
First race post time Friday is 5:00 p.m. and the first Currier & Ives division is race four.
---
This story courtesy of Harness Racing Communications, a division of the U.S. Trotting Association. For more information, visit www.ustrotting.com.