Published:
May 23, 2015 01:06 am EDT
Driver Jack Flanigen steamrolled his way to five victories while it was 'family night' for the Monti crew in sharing top honours at Buffalo Raceway on Friday evening (May 22).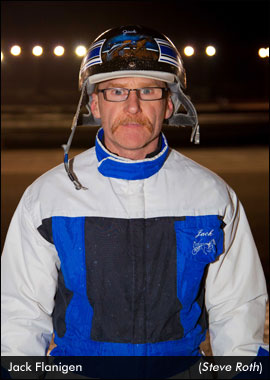 Flanigen posted wins aboard Dedalos ($5.40), Secluded Island ($5.90), Farmersixfournine ($4.80), Classic Camelot ($22.00) and Cracker Stoney ($14.80).
Driver Drew Monti picked up three victories while father Darrin had a pair of training wins on the 13-race program.
The Monti stable took the opener as Ooga Booga (co-owned by grandfather Carl Monti and Darrin) rolled to a popular $2.60 decision while later in the evening they saw Im The Cash Man (owned by Carl) go gate-to-wire for a paltry $2.60 return.
Drew Monti capped the 'hat-trick' with Sam Can, who found the winner's circle for a $14.00 payoff.
Buffalo Raceway's leading driver Kevin Cummings had three wins, all of which were for trainer Kirk Desmond.
Racing continues on Saturday night at Buffalo Raceway with a 13-race card slated for 6:35 p.m.
(Buffalo Raceway)