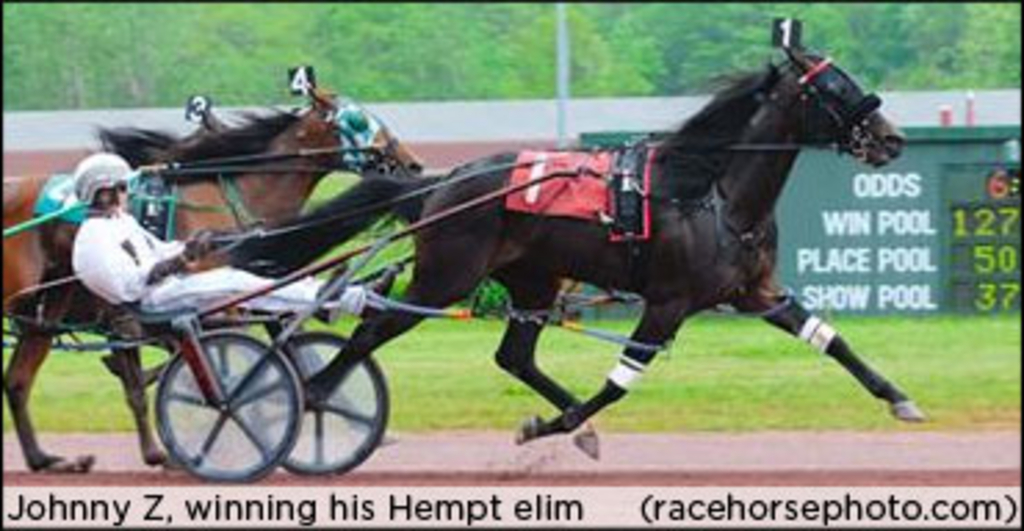 Published:
May 23, 2009 04:56 pm EDT
Johnny Z, driven by Brian Sears, scored a front end victory Saturday afternoon over a sloppy track in the $300,140 Max C. Hempt Memorial Pace
at Mohegan Sun at Pocono Downs. Time of the mile was 1:51.4.
Trained by George Teague Jr., Johnny Z was taken right to the front from the six post and battled Yannick Gingras and Gallant Yankee for the top spot as the opening split was clicked off in 27 seconds.
The race more than likely was won by the 2009 Hempt winner when Sears got away with a 29 second split, taking the nine-horse field to the half in 56 seconds before speeding it up down the backside.
It was still Johnny Z on the front end at the three-quarter pole followed by Gallant Yankee and Rustys All In (Tim Tetrick). Hempt field got to the three quarters in 1:23.4. Johnny Z won by a length and three-quarters over Rustys All In with Gallant Yankee finishing third.
Johnny Z - Max C. Hempt Memorial Pace
Sears said his horse left with ease to make it to the top with a decent opening quarter, noting he felt that was in his favour. He also noted that the 29 second quarter played a big role in the victory.
"The track was in great shape," said Sears, despite the rain that had fallen earlier but had stopped prior to the race.
Did Sears have any anxious moments in the race?
"I was glad to see the wire in the race," he offered in the winner's circle.
Teague Jr. stated Johnny Z was as good as any of his three-year-old colts in his barn.
"He was sick in the Matt's Scooter but we got the bleeding cleared up and the mucus out of his throat," said Teague Jr., who won his second straight Hempt. Last year, it was Sears and Badlands Nitro in a stakes record of 1:50.
Johnny Z was named by Pennsylvania breeder Earl Beal Jr. after John Zimich, the director of publicity at Mohegan Sun at Pocono Downs who was in the winner's circle with his namesake to interview Sears and Teague Jr.
Zimich kidded Teague Jr., if he was going to get some of the purse and Teague Jr. replied, "You're getting enough action with the name."
The Hoosier Cup, North America Cup and Meadowlands Pace are now some of the races Teague Jr. is pointing Johnny Z toward.
(Pocono Downs)