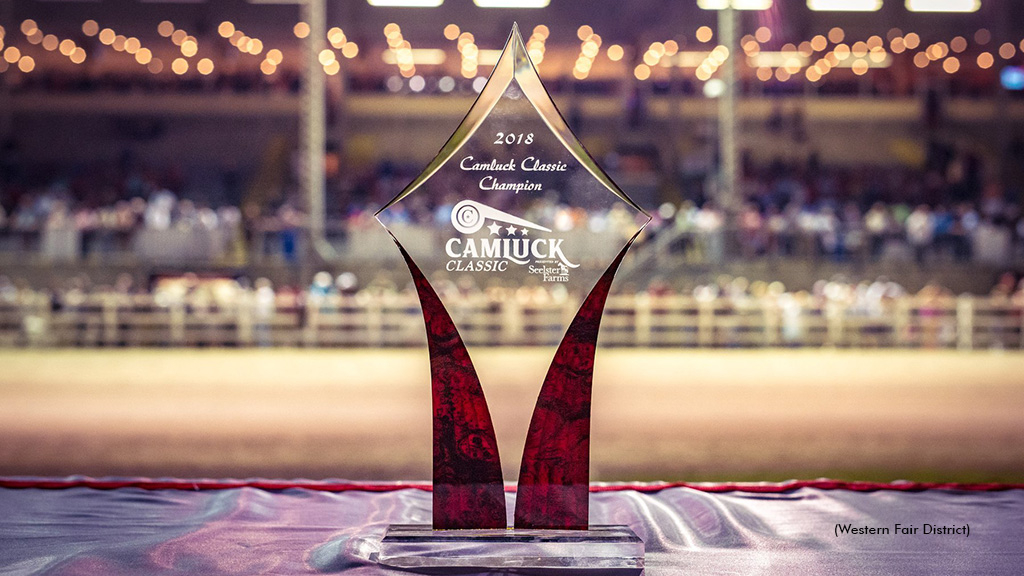 Published:
May 22, 2023 08:57 pm EDT
The Raceway at Western Fair District conducted the post position draws for its two signature events, the $150,000 Camluck Classic presented by Seelster Farms and the $50,000 Forest City Pace, earlier this evening during the track's pre-game show.
Triple millionaire This Is The Plan drew the coveted rail position for the Camluck Classic while red-hot pacers Whichwaytothebeach, Covered Bridge and American History, each winners of two straight, drew Posts 2, 4 and 5, respectively, in the field of eight.
Rounding out the star-studded field will be Roll With The Flow (Post 3), Nautical Hanover (Post 6), Idealsomemagic (Post 7) and Funatthebeach (Post 8).
The Forest City Pace has drawn an outstanding field of eight including multiple O'Brien Award winner So Much More, who has drawn post two in her second attempt to win London's premier race for pacing mares. The defending champion Gias Surreal will leave two doors down from Post 4 and local standout So Frisky has drawn the favourable rail post.
Rounding out the field for the Forest City Pace are Raptors Won (Post 3), Parisian Blue Chip (Post 5), Western Wish (Post 6), Shoot The Whiskey (Post 7) and Mystifying (Post 8).
First post for Friday night's program is 6:30 p.m. The powerful undercard will also feature Ontario Sires Stakes Grassroots divisions for three-year-old pacing fillies and a quartet of City Of London Series finals.
The doors open at 5:30 p.m. and the first 500 customers will receive a Camluck Classic swag giveaway with program purchase (while supplies last). The party on the patio has been expanded this year with live entertainment and food and beverage options available, including the specially labelled Bulldog Brew, an easy-drinking summer lager and the 'Bull' Dog, a fully-loaded foot long hot dog, both paying homage to the great Bulldog Hanover.
COSA TV will also be on hand, broadcasting live beginning at 8:30 p.m. with coverage that will include coverage of the stakes-laden late Pick-5 – one of two that evening with a guaranteed pool of $15,000. Both Pick-4s that night feature a $10,000 guaranteed pool.
Below are the fields and listed drivers for the Forest City Pace and Camluck Classic:
$50,000 Forest City Pace
Post - Horse - Listed Driver
1. So Frisky - Colin Kelly
2. So Much More - James MacDonald
3. Raptors Won - Sylvain Filion
4. Gias Surreal - Bob McClure
5. Parisian Blue Chip - James MacDonald
6. Western Wish - Tyler Borth
7. Shoot The Whiskey - Travis Cullen
8. Mystifying - Doug McNair
$150,000 Camluck Classic
Post - Horse - Listed Driver
1. This Is The Plan - Ronnie Wrenn
2. Whichwaytothebeach - James MacDonald
3. Roll With The Flow - Bob McClure
4. Covered Bridge - Jordan Stratton
5. American History - Trevor Henry
6. Nautical Hanover - James MacDonald
7. Idealsomemagic - Bob McClure
8. Funatthebeach - James MacDonald
(With files from The Raceway at Western Fair District)