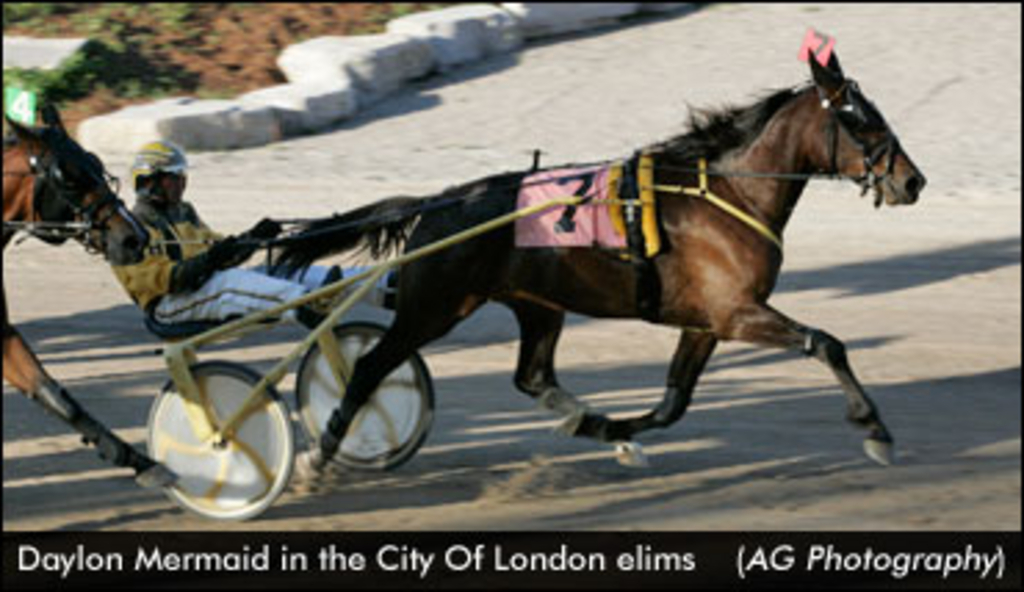 Published:
May 22, 2015 10:44 pm EDT
The trotters were in the spotlight on Friday night as the City Of London Series eliminations continued at The Raceway at the Western Fair District.
The City Of London Series is for Ontario-sired four-year-olds and younger that are non-winners of $10,000 lifetime as of midnight February 28, 2015.
The Henry Stable's sophomore Kadabra filly Daylon Mermaid, the 43-1 longshot in the first fillies and mares elimination, established the lead easily from post seven and led through opening fractions of :29.4 and 1:00.2 with trainer/driver Wayne Henry at the lines. Meanwhile, 3-2 favourite Tyrone Zoey (Scott Coulter) advanced first up and applied heavy pressure, eventually edging by as they headed down the backstretch for the final time. Daylon Mermaid fought back though and regained the lead by the 1:29.4 third quarter mark then drew clear down the stretch for the upset victory in a career-best clocking of 2:00.4. Tyrone Zoey settled for second-place one length behind while I Love Blue (Per Henriksen) finished third. A $2 win wager on Daylon Mermaid, who is a full-sister to the O'Brien Award winning millionaire Daylon Magician, returned a whopping $88.30.
In the next elimination, Celias Counsel Series runner-up Jls Too Hot Taj broke her maiden with Robert Shepherd driving for trainer Johnathan McKinnon and co-owners James MacDonald and Ron Gilbert. Oh My Magic (Per Henriksen) took the lead into the first turn and trotted the first quarter in :28.4 with Talbotcreek Suzie (Nick Steward) spoiling a pocket trip when she broke stride and a parked out Brinkers Dream (Matt Bax) subsequently filling that two-hole. Oh My Magic continued on to the half in :59 and three-quarters in 1:29.2 while turning back a challenge from Joyous Hall (Dave Boughton). However, 6-5 favourite Jls Too Hot Taj rallied wide and Brinkers Dream closed late with the former filly, a three-year-old daughter of Pilgrims Taj, getting by the latter for the quarter-length victory in 2:00.1. Oh My Magic settled for third over two lengths behind.
Andrea Lea Racing Stables' homebred filly Coloratura halted Magic Dancing's undefeated sophomore win streak at seven in the following fillies and mares elimination. Magic Dancing (Alfie Carroll), the 4-5 favourite, took the lead early on and carved out panels of :29, 1:00 and 1:31.1, but outside assignee Colortura came through between horses down the stretch to prevail by a neck in 2:02 for trainer/driver Per Henriksen. It was the first career win for the three-year-old daughter of Angus Hall, who returned $27.50 to her backers as a 12-1 shot. P C Tajalongwithme (Curtis Clements) finished third.
Century Bling and driver Nick Steward emerged with the lead after a four-across battle into a :29.4 first quarter in the final fillies and mares elimination. Misslarissa (Larry Small) advanced first over and edged ahead at the half in 1:02, but Century Bling regained the lead into the backstretch and her challenger was able to drop into the two-hole. Century Bling proceeded to three-quarters in 1:31.4 and held off Crown Classic (Alfie Carroll), who rallied late to make it a close call at the wire. Sent postward as the 7-2 third choice, Century Bling prevailed by a quarter-length over the 2-1 favourite in 2:02.3 and paid $9.40 to win. Whosgoingtocatchus (Keith Jones) advanced first over down the backstretch and finished a close third. James Morency owns the winning Holiday Road filly while Keith Cullen handles the training duties.
Driven by Robert Shepherd, Benvenuti pulled off a 17-1 upset in the first elimination for horses and geldings as the favourite faltered early on. The 1-5 bettor's choice, Guscrest (Scott Coulter), was out to a quick four-length lead off the gate, but broke stride in the first turn leaving Rory (Paul MacKenzie) to inherit the top spot into a :30.3 first quarter. The new leader cruised through middle splits of 1:01.3 and 1:31.2 while Guscrest reset and advanced first over. The early breaker couldn't keep up with Rory, but Benvenuti was right there tracking in the pocket and he managed to defeat the front-stepper by a head in a photo finish. The time of the mile was 2:02.4 and the upset winner returned $36.80 to his backers. The gelded sophomore son of Muscle Mass is trained by Davis Sinclair for owner John Sinclair. Murs Son (Alfie Carroll) finished four lengths behind in third with Guscrest back in fourth.
Jennifer Morrison's lightly raced, three-year-old Kadabra gelding Ja El Storm made his third career start a winning one in the second series split for the male trotters. With Paul MacKenzie picking up the catch-drive for trainer Carl Jamieson, the even-money favourite swept around insider Rubber Soul (Alfie Carroll) and carved out fractions of :29.2, :1:00.4 and 1:30.2 before drawing off around the final turn to an open-length victory in 1:59.3. Chuck In Charge (Scott Coulter) advanced first over to finish second ahead of Rubber Soul -- both over 11 lengths behind the winner.
Outside assignee Muscle Mack was on his best behaviour in the next elimination, earning his fourth win out of five starts for Team Holliday and owner/breeder Ronald Corbett. With a host of early leavers make breaks, insider J N Ryder (Travis Henry) took the lead. But 1-9 favourite Muscle Mack, driven by Ryan Holliday for trainer Dave Holliday, swept around that foe during the :30-second opener and led the field past the half in 1:00.4 and three-quarters in 1:31. Meanwhile, Perfect Road (Paul MacKenzie) advanced first up, but he also broke stride down the backstretch leaving the front-striding Muscle Mass gelding to cruise home for the five-length win in 2:00.1. J N Ryder stayed for second and Don Luigi (Lorne House) followed back in third.
The $30,000 (added) finals of the series -- divided by gait and sex -- will take place on Molson Pace Night next Friday, May 29. The top two finishers from each fillies and mares elimination will advance to their final. In the horses and geldings division, the top two finishers will also move on to their championship and the third-place finishers will draw for the final two spots. That draw will take place on Monday evening's pre-game show, which begins at 6:15 p.m. Post positions for the series finals and the Molson Pace will also be drawn at that time. First race post time on Monday is 6:45 p.m. (For recaps of the City Of London pacing eliminations, contested on Tuesday, click here.)
In other Friday night action, Lawmen Reign took top honours in the $8,300 Preferred 3 Pace as he defeated the front-stepping 6-5 favourite, My Man Charley (Alfie Carroll), by a neck with Button Up (Mike Horner) half a length back in a 1:57.3 mile. Ross and Margaret Battin's eight-year-old son of Rambaran paid $17.90 to win as the 7-1 fifth choice in the wagering. The win was his first in 14 starts this season and his 24th triumph overall.
To view Friday's harness racing results, click the following link: Friday Results – Western Fair District.