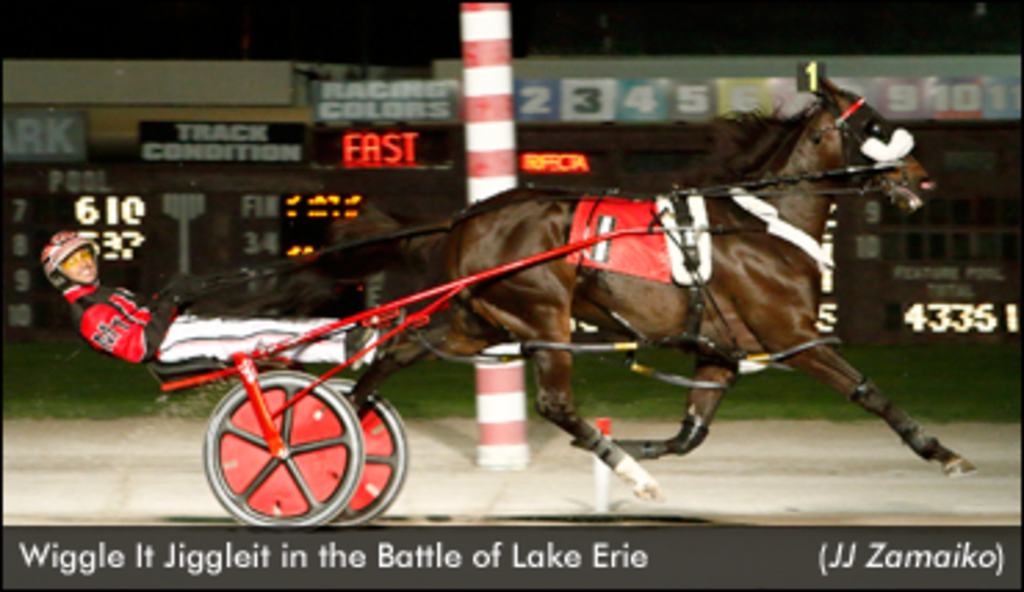 Published:
May 21, 2016 10:38 pm EDT

Wiggle It Jiggleit rebuffed Indiana rival Freaky Feet Pete in their first match-up of the year en route to setting another track record at Northfield Park in the 31st edition of the $200,000 Battle of Lake Erie on Saturday night (May 21).
Making just his second start at Northfield Park after setting a 1:49.3 track record for three-year-old pacing geldings in the 2015 Carl Milstein, reigning U.S. Horse of the Year Wiggle It Jiggleit etched his name in the local record books again with his speedy score in the 2016 Battle of Lake Erie.
Leaving from the inside post, 1-2 favourite Wiggle It Jiggleit took the lead off the gate and a stole a 28-second first quarter and reached the half in :55.4 before being confronted by 6-5 second choice Freaky Feet Pete (Trace Tetrick), who moved first over from an early four-hole. As Wiggle It Jiggleit raced to three-quarters in 1:23 with Freaky Feet Pete challenging to his outside, All Bets Off (Matt Kakaley), Northfield's 2014 Milstein champion, made a three-wide move sweeping up from the backfield. With Wiggle It Jiggleit pulling away on the lead turning for home, Freaky Feet Pete dropped in the pocket while All Bets Off continued to chase the favourite home. However, Wiggle It Jiggleit drew off to win by four and a quarter lengths in 1:49.4, establishing a new track record for four-year-old pacing geldings. All Bets Off finished second over Freaky Feet Pete.
After the race, winning driver Montrell Teague admitted that he was expecting a bigger opening quarter.
"I was thinking more would leave out of there, but my horse was unbelievably grabby and ready to roll so they probably wouldn't have had much of chance anyways because I had a hard time holding him.
"I saw :28 and I timed the gate as much as I could and it worked out good. And right about the half, I looked over and I saw Freaky Feet Pete so I knew it was going to be a war after that," said Montrell Teague, noting that Wiggle It Jiggleit has shown strong back halves at Yonkers Raceway in the Levy Series.
Clyde Francis trains Wiggle It Jiggleit for George Teague Jr. Inc. and Teague Racing Partnership. The Mr Wiggles gelding -- rebounding from his first back-to-back losses in Canada -- now has five wins from eight starts during his four-year-old campaign in which he's banked over $300,000 in purses.
"He's much better tonight than he was last weekend. He was much better last week than he was the week before," said George Teague, noting that his double millionaire pacer was battling sickness up at Mohawk Racetrack. "I'm not making up excuses, but he wasn't at his best [in Canada]."
Wiggle It Jiggleit is now headed to Harrah's Philadelphia next weekend for an Invitational, carded as part of the May 29 program with the Maxie Lee for older trotters and the Betsy Ross for older mare pacers.
Saturday's undercard produced a world record performance for four-year-old male trotters on a half-mile track as Ontario Sires Stakes graduate Muscle Up The Goal toured the 'Flying Turns' in 1:52.3.
After blasting to the lead from the outside post seven and carving out panels of :27.2, :56.2 and 1:24.1, heavy 1-2 favourite Muscle Up The Goal extended his leading margin in the final turn en route to the record-setting victory in the $20,000 Open I Trot. Aaron Merriman drove the son of Muscle Mass for trainer Chris Beaver and Toronto owner Synerco Ventures Inc. Sam Schillaci trainees completed the top three finish order with Pay The Winner (Ronnie Wrenn Jr.) following three and a half lengths behind in second and Blackwolf Run (Schillaci) third.
Visible Gold and driver Joe Bongiorno won the $20,000 Open George Verban Memorial Pace after looping 3-5 favourite Fireyourguns (Ronnie Wrenn Jr.) at the 1:22.3 third quarter mark and then holding off Classic Gent (Matt Kakaley) in a photo finish in 1:51.4. The eight-year-old Bettors Delight gelding is trained by Ron Burke for Burke Racing Stable LLC, Weaver Bruscemi LLC and Rtc Stables Inc.
William Sartin and Mark Salerno's Hidden Land went from last to first to notch her third straight victory in the $20,000 Mares Open Handicap Park at Northfield. The five-year-old daughter of Badlands Hanover, driven by Don Irvine Jr. and trained by Brad Irvine, won this week's distaff event in 1:53.4 by two and a quarter lengths over Zumba (Joe Bongiorno) and Lease Ness Monster (Ronnie Wrenn Jr.).