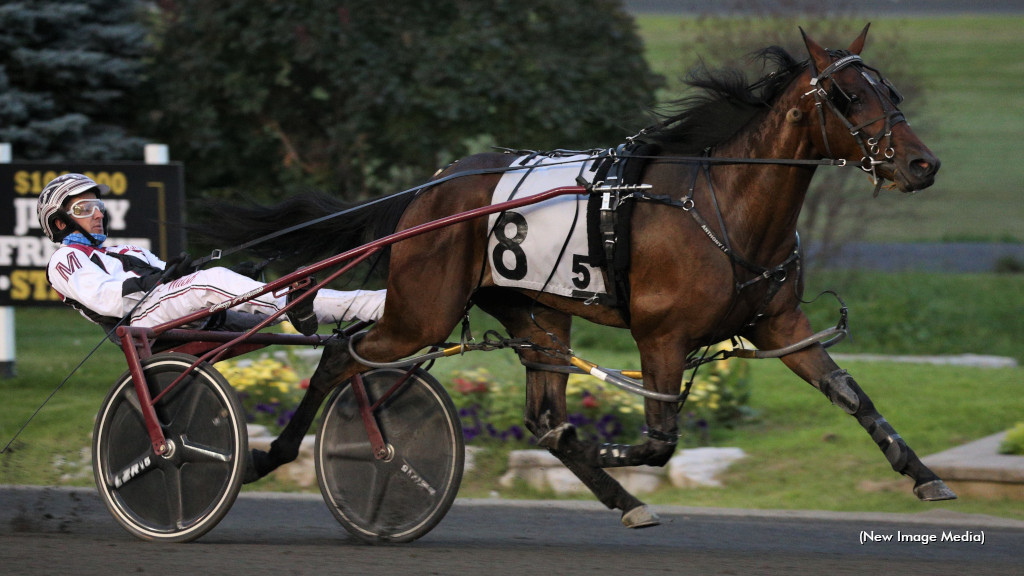 Published:
May 20, 2022 05:00 pm EDT
The 2022 Ontario Sires Stakes season begins Sunday, May 22 at Flamboro Downs as part of the $458,300 Charles Juravinski Memorial Cup card. 
It will be a busy evening for local trainer Anthony Beaton, who has starters in three of the four $22,000 Grassroots divisions for three-year-old pacing colts. Beaton, a resident of Waterdown, Ont., had a strong OSS season in 2021, with 10 horses making 42 starts to earn more than $245,000.
"We are definitely looking to have a good season with our young stock and I'm hopeful we can have some success in the OSS," said Beaton. "(The OSS) is a great program for us up here. We go for good money, and it is very competitive."
Coligny Hanover – Beaton's second highest OSS earner in 2021 – is part of the trio he is harnessing. The Sunshine Beach gelding raced at the Gold level last year, posting three top-five finishes in five starts. He has three starts in 2022 at Woodbine Mohawk Park, including the SBOA Eliminations last weekend. James MacDonald is in the bike Sunday night, drawing the rail position in Race 3.
"It's not that he didn't perform in the SBOAs, but he was pressed off the speed and it was too far to come," said Beaton. "I think James will get him away half decent on Sunday, and he'll be there to see who wins, or possibly win himself."
Stone Carver comes in off a May 12 performance at Mohawk where he paced a mile in 1:52.3 to finish second by a head. He won a Grassroots Leg at Mohawk in 2021 before a tough trip in the Battle of Waterloo Final knocked him off balance for the remainder of the year. He'll start from post two in the first race on Sunday.
"Towards end of year he was tired," said Beaton. "We're going to protect him and race him at smaller tracks this year to keep him fresher towards the end of the year, when the bigger money is available for the Grassroots."
Rounding out Beaton's trio is Lyons Pride, leaving from the seven post in the final $22,000 division carded as Race 8. The son of Bettors Delight had a 0-1-1 record in five 2021 Grassroots starts and earned a spot in the Semi-Finals. He will be looking to pick up some early season points from a tricky outside post position. 
The four $22,000 Grassroots divisions are carded as Races 1, 2, 6 and 8. Those four Grassroots divisions serve as the appetizer for the feature race on the card, the Charles Juravinski Memorial Cup.
Formerly the Confederation Cup, this year Flamboro Downs renamed the $273,500 race for four-year-old pacing colts after renowned Hamilton philanthropist and former owner/operator of the Dundas oval, Charles Juravinski, who passed away earlier this year.
Four Ontario Sired horses qualified for the final — 2021 O'Brien Award winning Horse of the Year Desperate Man, his OSS rival Bulldog Hanover, Armor Seelster, and Century Heineken.
Shadow Play sons Bulldog Hanover and Desperate Man won their respective eliminations, but Bulldog Hanover won the post position draw, and is the morning line favourite at 6-5 with post two for trainer Jack Darling.
"It should be a heck of a race and very competitive, it's a great bunch of four-year-olds," said Darling. "There are a lot of horses in there that have a shot, and we are happy to be a part of it.
Desperate Man drew the eight spot, and Century Heineken will leave from right beside him, lining up at number seven behind the gate. Armor Seelster lines up one more spot inside, at post six.
"It's nice to get rolling, it's been a long winter and it's nice to be back at the big races," said Darling.
Fans can watch and wager on HPIBet, and the SC website also will be carrying the COSA TV live broadcast of the Juraviski Memorial. To view the entries for Sunday, click the following link: Sunday Entries - Flamboro Downs.
(OSS)