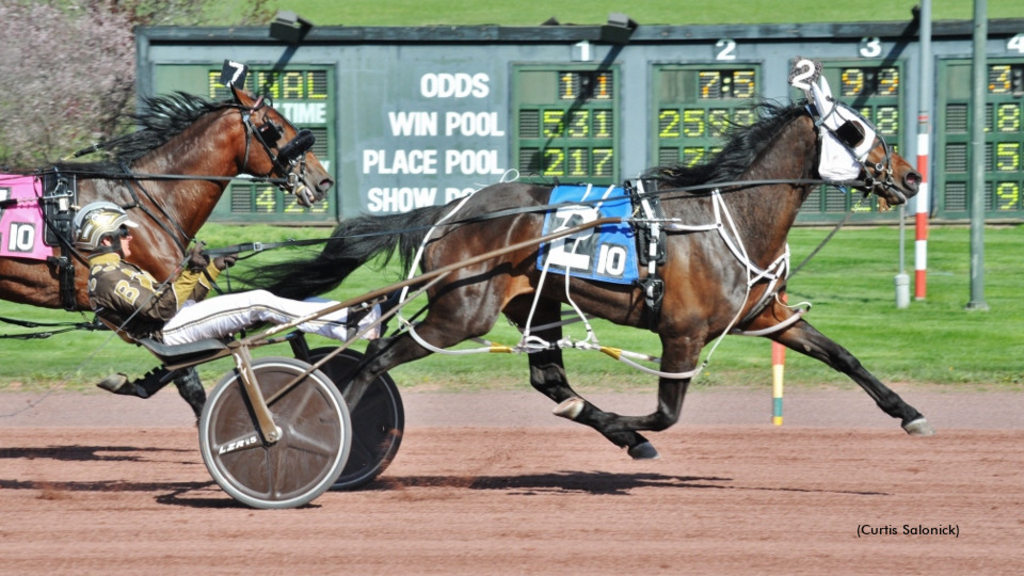 Published:
May 2, 2022 04:14 pm EDT
Lanjo Lee continues to provide thrills for owner Gordon Swift. This past weekend, the horse stretched his season-long winning streak to six with a victory in the Bobby Weiss Series championship for three-year-old male pacers at The Downs at Mohegan Sun Pocono. What happens next is uncertain, but Swift is enjoying the moment now.
"It's exciting, especially when it's your first one to be doing what he's doing," said Swift, an upstate New York resident, who owns a half-dozen horses. "He's six-and-oh and I never dreamed he would be that good.
"He's really impressed me with his attitude, his gameness, his true grit and his speed. I thought he would be a fast colt, but I didn't realize he was going to be this fast."
Lanjo Lee won the Weiss final in 1:50.3, a career-best clocking that ranks as the third-fastest mile of the season by a three-year-old pacer. His $64,000 in purses this year are second among all three-year-old pacers in North America and his six wins are tied for fourth.
For his career, the Jeff Sorenson-trained gelding has won eight of 12 races, finished second twice and earned $80,500. Lanjo Lee, by So Surreal out of My Drag Queen, is named after Swift's grandsons Landon and Jordan, who both have the middle name Lee.
Swift purchased the horse privately as a weanling. Lanjo Lee is a half-brother to Dragon Said, who won a division of this year's MGM Borgata Series and the 2021 M Life Rewards Gents Pacing Series final. Swift usually buys two weanlings a year.
"Usually, I get a better price," Swift said about the practice. "I wouldn't be able to afford some of these horses if they were yearlings and ready to go."
Last year, Lanjo Lee had two wins and two seconds in six races, with five of the starts coming in the New York Excelsior Series.
"We kind of protected him a little bit, just tried to teach him to be a horse, more than anything," said Sorenson. "We saw big changes in him [from age two to three]. He kind of grew up and got more mature, stuff like that. He's doing big-boy things. What we did last year really helped. It's really showed up this year so far.
"He's a pleasant horse to be around. He's always in a good mood and he always wants to work. He's been a nice horse for us."
This year, Lanjo Lee again is eligible to the Excelsior Series, which begins June 1, but is not staked to any other events.
"Right now, we're searching for some more series to race in," said Swift. "But we haven't made plans that far out yet. We're seeing what's out there."
While the future is up in the air, Swift knows what Lanjo Lee wants to do.
"This guy wants to race," said the owner, adding with a laugh, "All the time, I think."
(USTA)