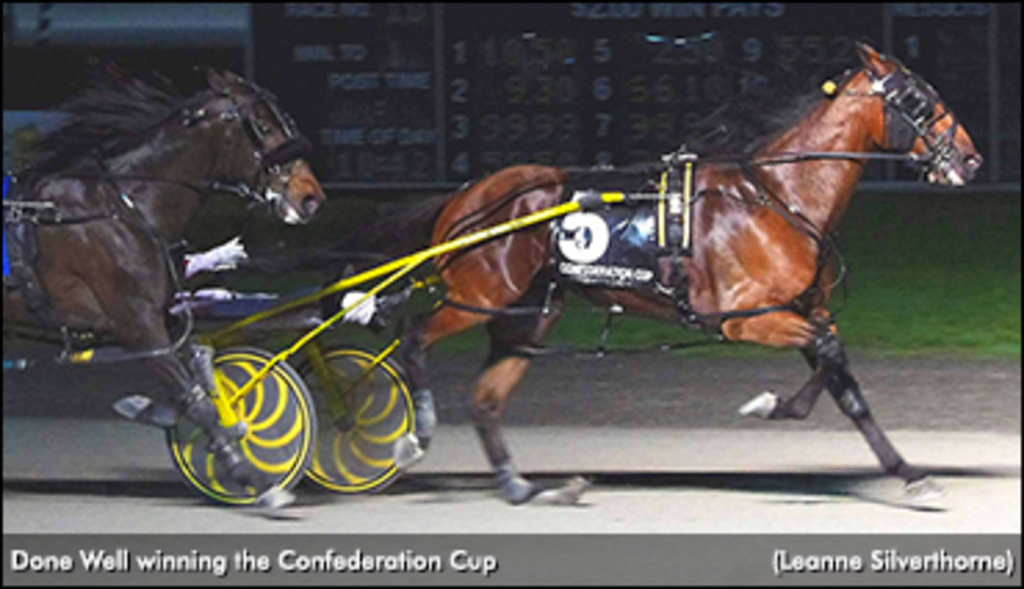 Published:
May 19, 2019 07:18 pm EDT
Elimination winner Done Well topped his performance a week ago with a 1:50.2 gate-to-wire score in the $188,500 41st edition of the Confederation Cup on Sunday, May 19 at Flamboro Downs.
A four-horse charge led the field into the first turn, with Dorsoduro Hanover yielding position from post one to Jimmy Freight while Done Well hustled towards the lead and Rockin Speed took back for a pocket. Jimmy Freight strung out Done Well to a :26.2 opening quarter before letting the Well Said gelding clear command moving to the second turn.
Dorsoduro Hanover tipped first over marching towards a :54.3 half and made steady gains on his stablemate as the speed continued into a 1:22.2 third quarter. Jimmy Freight remained close in the pocket turning into the stretch and mounted the only bid at Done Well heading to the finish but came less than a length from victory in the 1:50.2 mile. Dorsoduro Hanover held off Rockin Speed and The Downtown Bus, respectively, for third.
"[There was an anxious moment] a little bit late in the homestretch," driver Dexter Dunn said after the race. "It's never nice to have a horse like Jimmy Freight on your back with the speed he's got. But [Done Well] traveled great like he was here last week—ears pricked the whole way; he was liking his work. I was still pretty confident turning for home, but like I said—with a horse like Jimmy Freight on your back, ready to pounce off your helmet—he did a good job."
Competing for the Burke Racing Stable LLC, Weaver Bruscemi LLC, Jerry & Theresa Silva Stables, Purnel & Libby and Wingfield Brothers LLC, Done Well has now earned $583,779 from nine victories in 24 starts. The Ron Burke trainee returned $2.50 to win.
Alongside the featured event, the Ontario Sires Stakes (OSS) season kicked off with three Gold divisions for three-year-old trotting colts and geldings on the undercard.
Pushing from post one, Only For Justice parked 1-5 favourite Forbidden Trade to take the $72,267 first division of OSS in 1:56.3.
Driver Chris Christoforou slid the Dany Fontaine trainee through the inside to take command from Archway, launching from post 5, around the first turn. He held control through a :29.1 opening quarter and slowed the tempo towards a 1:00.2 half, which prompted Forbidden Trade to edge off the pylons on circuit two.
Judge Ken and Tymal Houdini both lost stride moving to the backstretch and the rest of the field lost contact to the dueling leaders marching to three-quarters. Only For Justice led Forbidden Trade by a neck past a 1:28.1 third quarter before the odds-on choice grew leg weary into the final turn. Only For Justice's lead opened turning for the wire as Forbidden Trade chased from second with Archway farther back in third.
"I knew my horse last year—I raced him in the Super Final—and I knew he was even better on a half-mile track," Christoforou said after the race. "I think he had the record for a two-year-old colt on a half at 3R. He can go quite a bit around the turns so I was pretty confident. I got a nice half and from there I thought I had a good chance. I could see Dan's horse was working pretty hard and mine was cruising along pretty comfortably, so I was pretty confident at the three-quarter pole."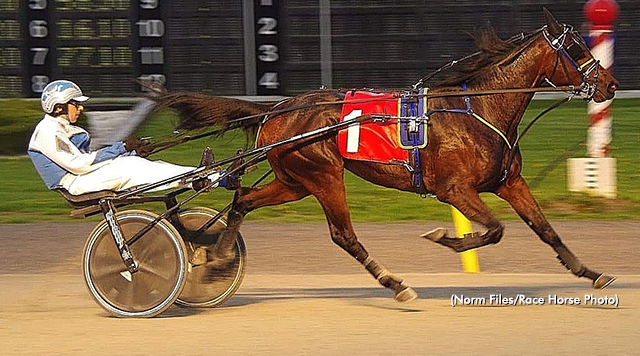 A homebred for Ecurie Gaetan Bono Inc., Only For Justice won his fourth race from 10 starts and has earned $137,500. The son of Justice Hall returned $9.20 to win.
A break from 1-5 favourite Dream Nation around the first turn set up Magical Journey for a 1:56.3 upset victory in the second OSS split.
With the public choice galloping into the first bend, Magical Journey cleared the front as Wings Of Speed ducked into the pocket before pulling outside and brushing to the lead past a :28.1 first quarter. He slowed to a :57.3 half while Northern Cavalier edged off the pegs moving to the backstretch and eventually forcing the hand of driver Steve Byron to pull Magical Journey out of the pocket.
Wings Of Speed maintained a narrowing lead passing a 1:26.4 third quarter and eventually dropped to second inside of Magical Journey cruising into the lane. Northern Cavalier gave chase and gained slight ground to finish second while Jumpshot, shooting through openings at the inside, rallied through the open stretch for third.
"You always need a little bit of luck," assistant trainer Matt Bax said after the race. "He can really leave off the wings and is really good in the turns. It worked out."
Trained by John Bax for owners Bax Stable, Gaelic Stable and Gordon Wright, Magical Journey won his second race from 13 starts, earning $85,547. He paid $16.50 to win.
Despite an outside draw, Southwind Avenger delivered as the 1-5 favourite and overpowered pacesetter Cool Clifford to take the final OSS division in 1:55.4.
Driver Trevor Henry floated the Richard "Nifty" Norman trainee off the wings while Cool Clifford cruised from post 4 to the lead. A break by Scarlett Raider placed Windsong Patriot second and pylon-starter Jmr Pinarello third past a :28 first quarter with Southwind Avenger gapped several lengths from the front in fourth.
The field tightened past a :57.4 half as Henry pulled Southwind Avenger first over and advanced towards the leader moving to the backstretch. Cool Clifford and the favourite kicked clear of the rest of the field passing a 1:27.1 third quarter, with Cool Clifford clinging to a slim lead around the final turn. Southwind Avenger straightened for the wire and edged past the begrudging temposetter to win by less than a length while Jmr Pinarello finished open lengths behind in third.
Owned by Melvin Hartman, David Mc Duffee and Little E LLC, Southwind Avenger won his fourth race from 13 starts, earning $443,688. He paid $2.30 to win.
The card also played host to three-year-old male pacers in five OSS Grassroots divisions. Sportsline made the biggest splash with a 1:51.4 mile for driver Trevor Henry and trainer/owner Jim Watt, who co-owns with Harry Parrott. Also winning Grassroots splits were Priceless Beach (1:54.3), Sugartown (1:52.2), Missile Seelster (1:55.4) and Better Than Cash (1:55.2).
To view Sunday's harness racing results, click on the following link: Sunday Results - Flamboro Downs.