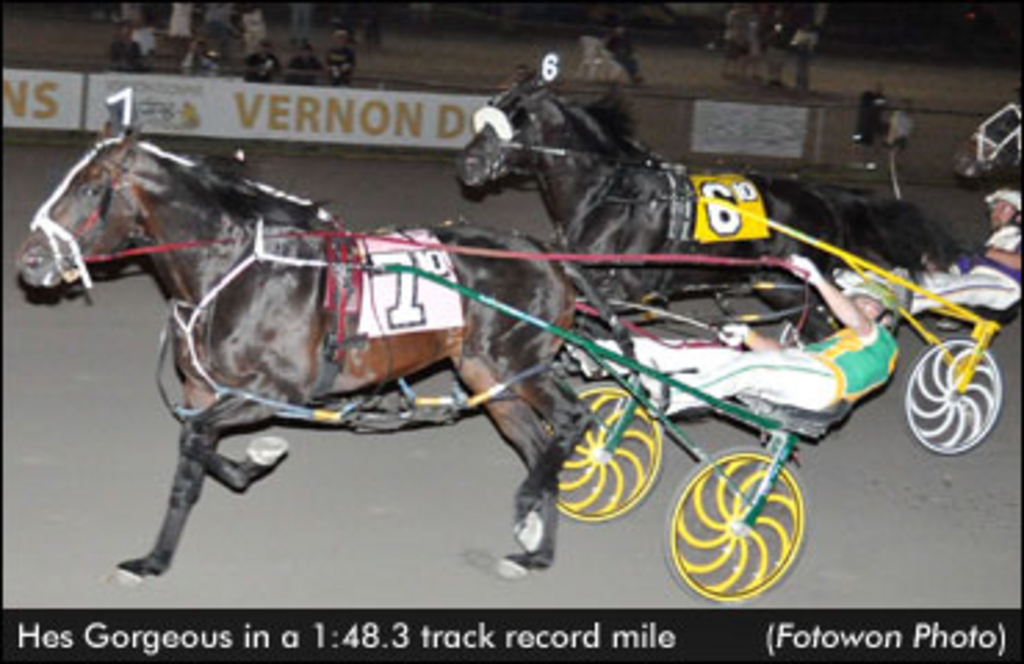 Published:
May 19, 2012 11:47 pm EDT

Eye-popping track record performances by Hes Gorgeous and Major Look highlighted Saturday night's lively 13-race program at Vernon Downs
.
Following up on his 1:50 effort at Vernon last week, Hes Gorgeous ($3.30) lowered the track's 59-year speed standard by one-and-one-fifth seconds with his 1:48.3 victory in Saturday's $9,500 Open Pace. Tim Tetrick did the driving for trainer Tracy Brainard and local owner Kenneth Jacobs as the swift-striding five-year-old son of Art Major-So Ravishing cut fractions of :25.4, :53.2, and 1:21 en route to a one and a quarter length triumph over two-time current Open winner Diamond Stick Pin. The spectacular showing in Saturday's 10th race by the former New York Sires Stakes standout raised his career earnings to $748,294.
Vernon's previous 1:49.4 all-time speed standard had been shared by the pacers My Little Dragon (2008), Stonebridge Wish (2010) and Go Go Solano (2011).
After Romantic Moment had lowered the Vernon all-time record for three-year-old pacing fillies to 1:51 in the opening division of Saturday's $134,564 NYSS feature for this age, sex and gait, Major Look ($31.80) won the second division in 1:50-flat. Jeff Gregory did the teaming for trainer Robert Riddle in race six as the quick-footed daughter of Art Major-Band Of Emeralds began her sophomore campaign in sensational fashion, defeating the favoured American Jewel by two and a quarter lengths. Major Look is shared in ownership by New Yorkers Joseph Balkunas and Mark Giordano.
See You At Peelers owned the former 1:51.1 record for three-year-old pacing fillies when Saturday's program began.
JK Fine Art captured Saturday's third top shelf NYSS segment in 1:52.4, before Jamie Sue and Brownsville Bomber finished in a 1:53.1 dead-heat for win in the final flight. The Toscano-trained JK Fine Art, who defeated the favourite Handsoffmycookie by a neck in race eight, now sports a 6-3-1 summary line after 10 trips to the racetrack.
Six divisions of the new Excelsior Series for NY-bred sophomore pacing fillies were also raced for purses totaling $76,900 on Saturday's card with top prize money going to Major Crush (1:53), Hepburn Blue Chip (1:53.3), Pansphobic (1:53.2), Table Games (1:53.1), Paltrow Blue Chip (1:54.2) and Winbak Speed (1:54.4).
Tetrick put on a driving clinic with six scores, while driver Jim Morrill Jr. and trainer Linda Toscano each visited the winner's enclosure on three occasions. Brainard, the track's leading trainer after 11 programs, harnessed a pair of first-place finishers.
There will be no live racing at the Downs next Thursday night (May 24) due to a special Memorial Day matinee offering at 1:15 p.m. on May 28. Live racing will resume at 6:55 p.m. on Friday (May 25)
(Vernon Downs)