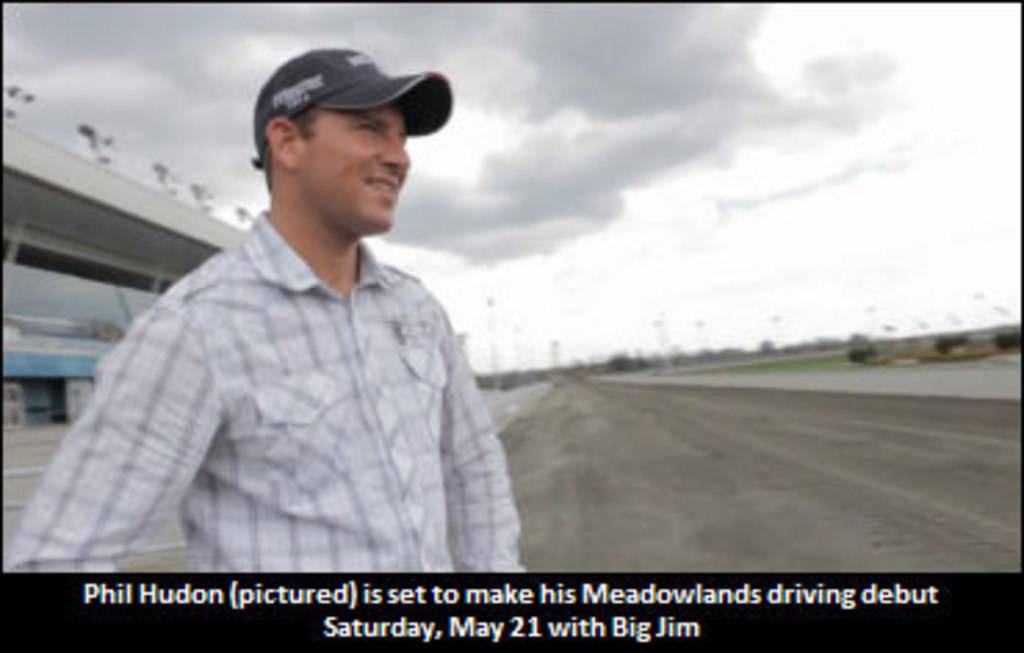 Published:
May 19, 2011 03:51 pm EDT
Phil Hudon and Big Jim, the 2010 Two-Year-Old Pacing Colt of the Year, have teamed for many memorable wins, including a World Record
.
The Canadian driver and divisional champ will try to add their first Meadowlands victory to that list of highlights in the $25,000 prep race for the Anthony Abbatiello New Jersey Classic on Saturday night. Hudon and Big Jim will leave from Post 8 in the prep, which will feature nine of the finalists for the $400,000 New Jersey Classic on May 28.
"I'm very excited and anxious to get Big Jim's first start [of the season] out of the way," Hudon said. "I'm really looking forward to driving at the Meadowlands for the first time. I was down there in New Jersey with my father, Joe Hudon, when he finished third in the 1994 Hambletonian with Bye Tsem. I've been there when Jody Jamieson was driving, but I was just watching the races."
Big Jim enters the New Jersey Classic off an impressive 1:52.3 qualifier at the Southern Oaks Training Center in Sorrento, Florida. Hudon and owner James Carr had hoped to give Big Jim a start in Canada before shipping down, but Hudon says the pacer is primed for his 2011 debut. He arrived May 16 at Ray Remmen's barn on the Meadowlands backstretch.
"I qualified him once in Florida and schooled him a couple of weeks ago in 1:53 and change, last quarter in :27," Hudon said. "I trained him lightly over a bad track on Saturday in 1:58. He's ready for Saturday.
"He's a big horse who's always been strong at the end of the mile," he continued. "It wouldn't surprise me if he turns into a great horse by the end of the season, but you can't compare him to anybody yet. I've driven some nice horses, but this one is in another league."
Big Jim won six of 10 starts and $834,080 last year. The son of Western Ideal capped his season with wins in the Breeders Crown and Governor's Cup, the latter in a 1:49.1 World Record. Hudon sat behind Big Jim in all of his starts, except the first.
"Sylvain Filion drove Big Jim in his first start and then took off him for a guy he drives regularly for," Hudon said. "Jim Carr approached me and told me he had a good horse for me to drive. I didn't know Mr. Carr from Adam, so I thanked him and things have just worked out ever since."
Almost immediately, Hudon knew Big Jim was a special horse.
"The first time I drove him, I came first up and he paced home in :26.1 and 1:52," he said. "I shut him down because I wasn't going to catch the winner, but he was very impressive. I told Jim Carr he wasn't kidding, this is a nice horse.
"After he won the Dream Maker Series (in a 1:51.1 stakes record at Mohawk Racetrack), I got the impression he was something special," he continued. "Every time there was an American horse that looked unbeatable on the program, he just continued to step up to the plate every time."
The only time Big Jim missed the board last season was the final of the Metro Pace, in which he made an uncharacteristic break in stride and finished sixth.
"The track was sloppy and very hard, and his feet were stinging him that night," Hudon noted. "It was like he was on egg shells. After that, they started working on his feet, and he got sounder as the year went on. Obviously, he's kind of grown out of that as he's matured."
Hudon could not distinguish between the Breeders Crown and Governor's Cup as Big Jim's best race last year.
"Both were really impressive," he said. "In the Breeders Crown, he didn't get up the passing lane until late, or he would have beaten that mark of 1:50.4. Jim Morrill, Jr. was driving Shadyshark Hanover, and he said right after the race he thought he had me beat. I told him 'once this colt sees daylight he just wants to beat a horse.' He's amazing.
"The Governor's Cup is the first time I really asked him down the lane all out," he continued. "I figured he deserved a good record, but I was kind of shocked when I saw 1:49.1."
Big Jim has thrust the Ontario-based driver into the international spotlight. Hudon won 129 races and $3.2 million in 2010, most of which was earned on the Woodbine Entertainment Group circuit. In addition to catch driving, he assists Big Jim's trainer, James 'Friday' Dean, and his father, Joe Hudon, with training their two-year-olds.
"I'm only 36, yet I realize this could be a horse of a lifetime and a real career builder," said the native of British Columbia. "People recognize you because you're associated with the horse. They respect you because you can drive in major stakes. You still have to drive them right, but great horses make you a better driver. Great drivers don't make great horses."
(Meadowlands)
Related Stories
• Big Jim To Jersey Classic Prep
• More Offers Coming In For Big Jim