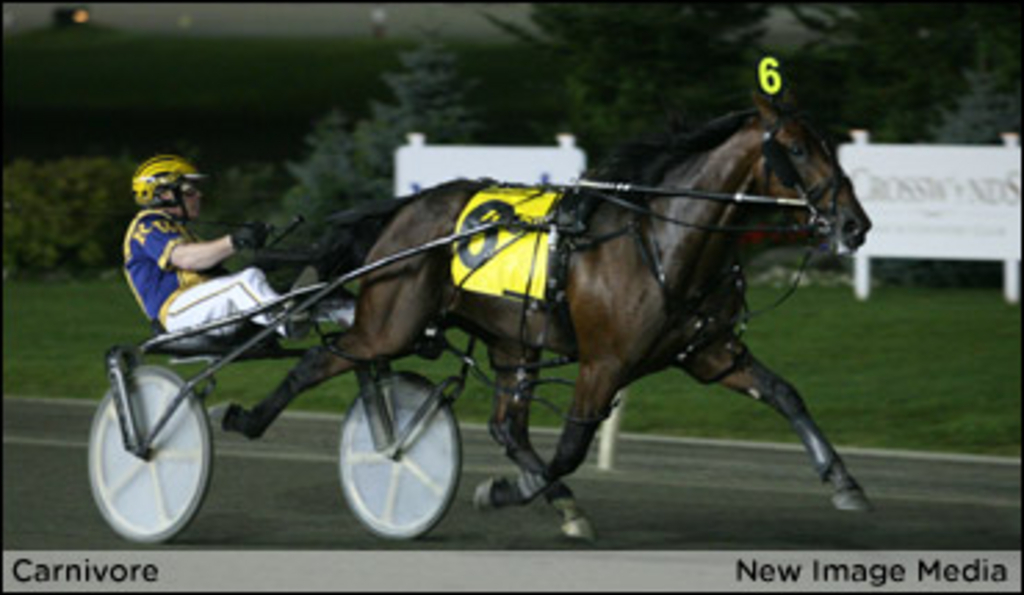 Published:
May 17, 2010 10:50 am EDT
Trot Insider has learned that multiple stakes winner Carnivore was recently sold to a group of owners based in the Maritimes with their sights set on a Gold Cup & Saucer victory
this summer.
Carnivore was purchased by Rene Allard and Windemere Farms of North Wiltshire, PE last week for an undisclosed amount. Windemere's Earl Watts, who will be training the four-year-old son of Real Desire-Party Animal when he heads out East in the coming weeks, told Trot Insider that Carnivore will make three or four starts in Ontario, including the Molson Pace at Western Fair Raceway, before he's shipped to the Maritimes to compete on the free for all circuit. The prestigious Gold Cup & Saucer at Charlottetown Driving Park in mid-August is one of the pacer's prime targets.
"We've been looking for a horse since Christmas," said Blaine MacPherson, one of Carnivore's seven owners, "and it's just difficult to find a horse that is going to compete down here for the Gold Cup & Saucer, and even the Governor's Plate at Summerside. And there's other stake races around the Maritimes that we'd like to compete in. It's very difficult to find a horse that's going to be competitive and in our price range.
"If there's some horses coming from Ontario, we were hoping to be competitive with them as well and that's why we paid a little extra for this horse, and he has a little better record than a lot of the horses that Maritimers buy, but we wanted to go one step further this time."
In their search for a free for aller, MacPherson said the owners looked over a number of horses but eventually worked out an arrangement to purchase Carnivore after the respected Dr. Ian Moore examined the horse and gave the group his approval.
"We have to look for something that can go around a half-mile track because they're all half-mile tracks down here," said MacPherson. "[Carnivore] is kind of a medium size horse and as I understand it he can leave pretty good so he should suit the half-mile tracks here in the Maritimes."
Carnivore, a career winner of $565,038, made his first start for his new connections on Saturday at Woodbine Racetrack and while he finished ninth after drawing the outside Post 10, he recorded his fastest final quarter of the season in :26.3 and clocked his mile in 1:52.2.
"I like him," said Rene Allard, the bay's conditioner while in Ontario who also shares ownership of other racehorses with Watts. "I'm going to make a few equipment changes and enter him as well as River Shark in the Molson Pace."
Looking a year or two down the road, MacPherson said they hope to stand Carnivore as a stallion in the Maritimes if he races well. "He's a well bred horse and he has a good mark and quite a bit of money made for this part of the world.
"We just want to be competitive and have some fun, that's what its all about," said MacPherson.