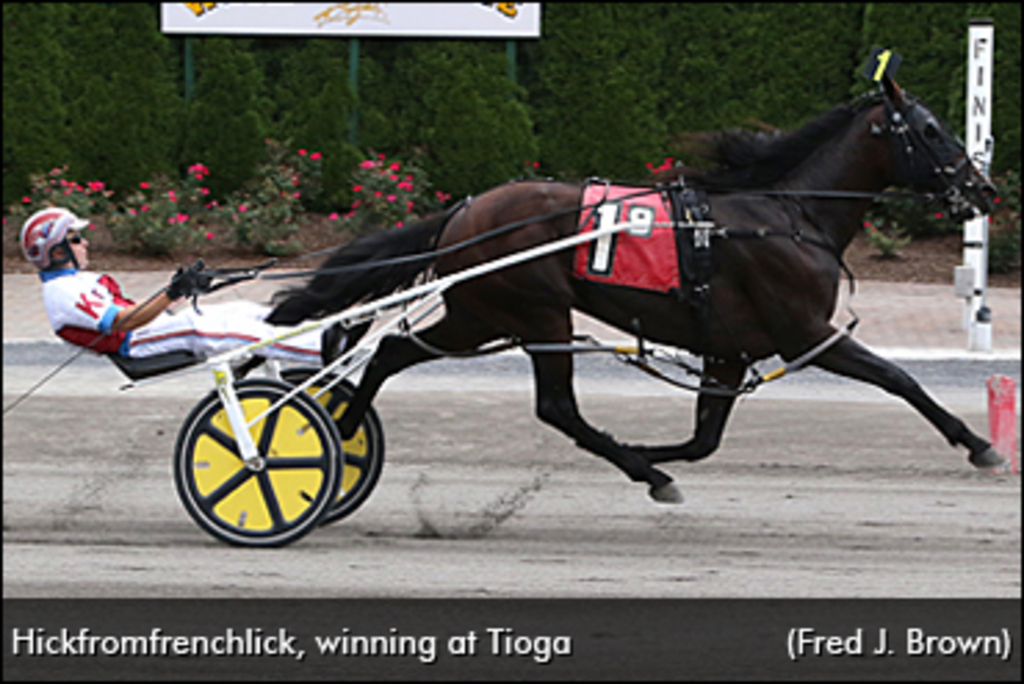 Published:
May 16, 2020 04:53 pm EDT
As harness racing starts to make plans to resume activity around North America, many top Standardbreds from 2019 will be making first appearances of the season at tracks across the continent.
One of those stars of last season to emerge for the first time in 2020 is New York Sire Stakes star Hickfromfrenchlick. The son of So Surreal - My Girls A Star was a winning machine for his connections in 2019 and he continued along that successful path with a sparkling debut during a six-race qualifying session at New York's Goshen Historic Track on Saturday (May 16).
With driver Matt Kakaley at the controls, Hickfromfrenchlick made every call a winning one in his Saturday afternoon test. Through fractions of :28.3, :57.4 and 1:26.2, the four-year-old pacer opened up on pocket-sitting Lake Charles turning for home and hit the wire nearly three lengths to the good in 1:54.1.
"It felt great to get back into action today; I really missed it," Kakaley told Trot Insider. "'Hick' was super today, he's come back great this year as a four-year-old. He went a good mile and felt strong."
A winner of more than $500,000 as a sophomore with a stellar summary of 11-3-1 in 15 starts, Hickfromfrenchlick is owned by trainer Ray Schnittker, Nolamaura Racing LLC and Thomas Spatorico.
"He's been training back very good, he's been very sound this year and he's gotten even bigger," stated Schnittker. "I'm hoping for some good things. Hopefully they stop cancelling all the races and we can get racing again."
Hickfromfrenchlick is eligible to all the four-year-old events as well as the open stakes races, and Schnittker feels he's ready to tackle all competition.
"I haven't even looked at his stakes schedule, because every day is like Groundhog Day. Wherever he's got to go...if I took him to The Meadowlands I think he'd go 1:48 right now, probably. I actually told [Matt] to go :54 so he was pretty close.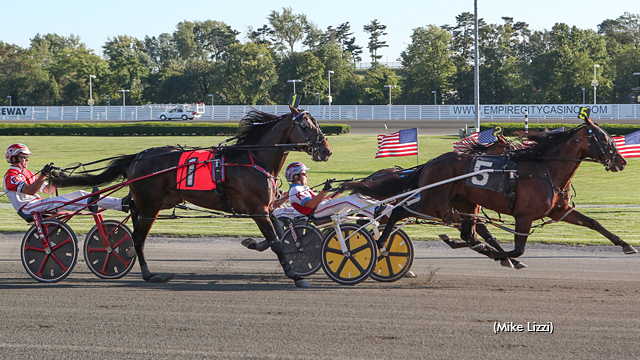 Hickfromfrenchlick winning at Yonkers Raceway in 2019
"We had a good day," noted Schnittker, whose stable sent out 18 horses and captured five of the six qualifiers. "Everything went very smooth, no hiccups. The Governor announced June 1st so hopefully we can get our asses in gear."
That call to action comes just hours after Gov. Andrew Cuomo gave New York the green light to resume racing sans spectators next month. Schnittker admitted the announcement caught him by surprise, but a surprise that was quite welcomed nonetheless.
"I was [surprised] too...I think everybody was."
Kakaley echoed the welcome news for harness racing in New York, with hopes that jurisdictions like New Jersey and Pennsylvania can safely follow suit in short order.
"Yeah, that was great news today. Pennsylvania might be a little tougher but I'm praying they give us good news soon."