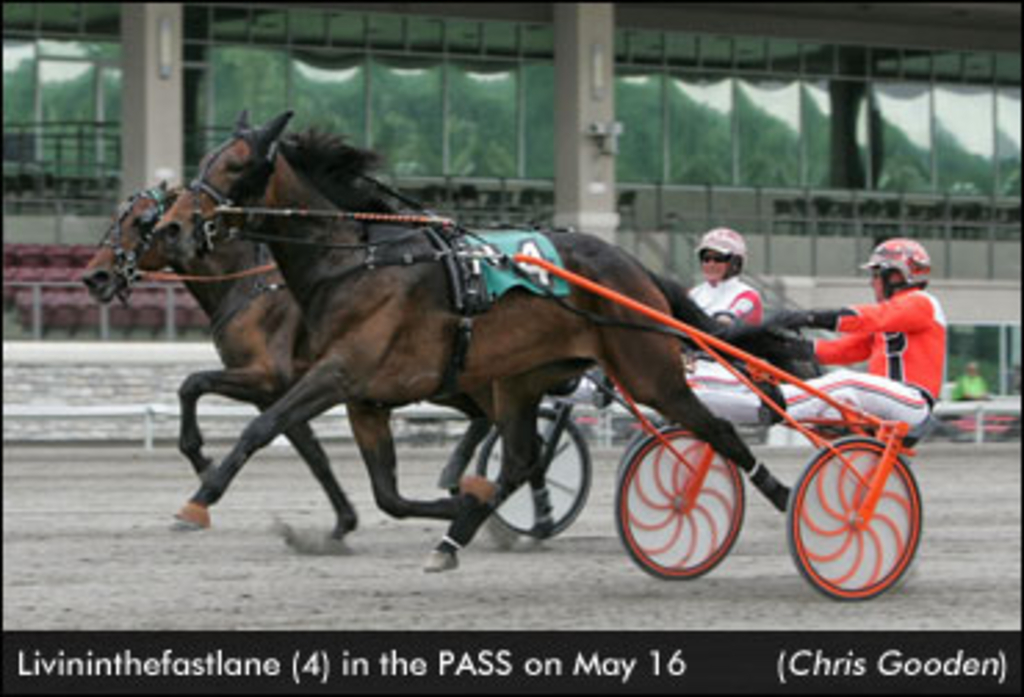 Published:
May 16, 2015 05:17 pm EDT
Livininthefastlane beat the field — and a raging thunderstorm — Saturday at The Meadows when she scored in a stakes record 1:53 in the $193,364 Pennsylvania Sires Stakes for three-year-old filly trotters.
The event, known as the Stenographer, was contested over four divisions, with Wild Honey, Sarcy and Magic Marker taking the other splits. Dave Palone and trainer Jimmy Takter teamed for a pair of stakes victories with Wild Honey and Sarcy.
Livininthefastlane's victory was hard earned. She was looped from the gate and had to step lively for Andy Miller to make the front in :27.2, then hold off the strong late challenge of Smexi to down her by a neck. Matter Hatter finished third. The time erased the old Stenographer mark of 1:53.4 established by Maven in 2012.
"I didn't want to use her quite that much early, but she responded. She's a good filly," Miller said. "She's grown up, and she's a lot easier to handle than she was last year. If she has a little luck, she could have a very big year."
Julie Miller trains Livininthefastlane, a daughter of Donato Hanover-Nicoles Promise who soared over $300,000 in lifetime earnings, for Ontario owners Marvin Katz, Al Libfeld and Sam Goldband.
Andy Miller said Livininthefastlane likely will take several weeks off before her next engagement.
Shortly after Livininthefastlane triumphed, a gully gusher inundated the track, forcing a brief delay in the program and costing Wild Honey any shot at breaking the new stakes record. Wild Honey, who won 10 of 12 starts and $439,703 at two, was sharp nevertheless, quarter-poling to the lead and winning geared down in 1:55.1. Sweet Thing was second, one and a half lengths back, while Smokinmombo earned show.
"She's awesome," Palone said. "I'm just trying to get it done as cheap as I can this early in the season. She finished well within herself — just a beautiful filly to drive. She's not a real big, stout filly, but she's as quick as a cat and so versatile."
Christina Takter, John Fielding, Herb Liverman and Jim Fielding campaign Wild Honey, a daughter of Cantab Hall-U Wanna Lindy.
Sarcy also quarter-poled to the front for Palone and needed all her determination to thwart the first-over bid of Sky Hanover, who fell a head short. Gatka Hanover completed the ticket. A daughter of Donato Hanover-Southwind Allaire, Sarcy triumphed in 1:54.4 for owners Christina Takter, Oakwood Farms, John Fielding and Jim Fielding.
"I had to use her twice," Palone said, "but I really felt the whole way through the stretch my filly would fight [Sky Hanover] off. I was happy with her. That's a good mile in these conditions."
(With files from The Meadows)