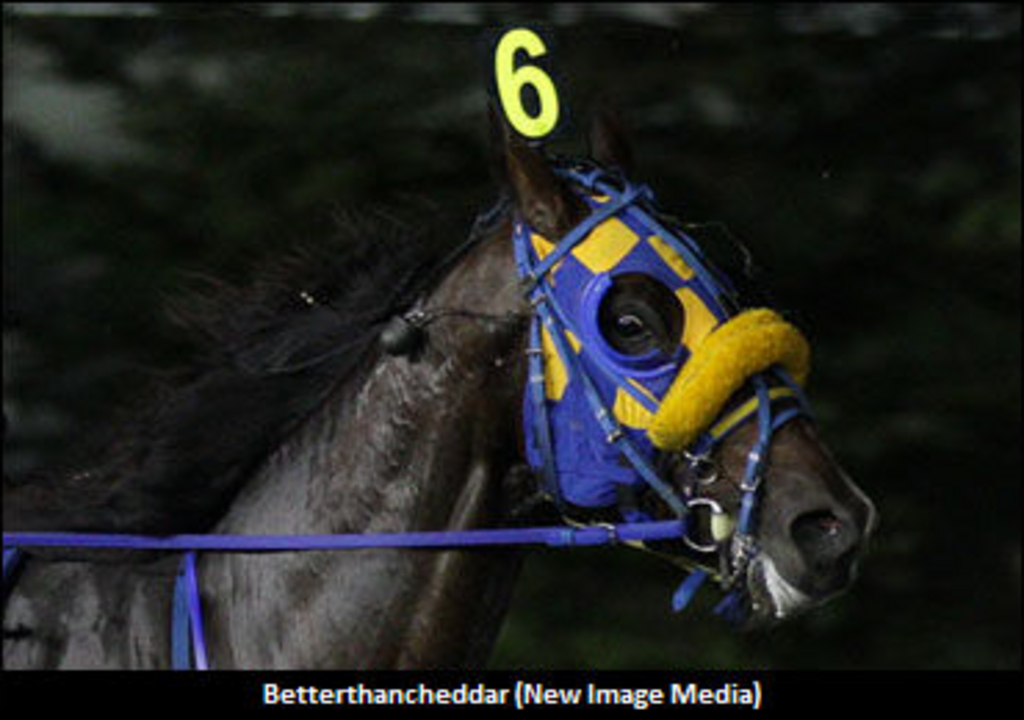 Published:
May 15, 2013 01:05 pm EDT
A pair of O'Brien Award winners squared off Wednesday morning during Mohawk Racetrack's mammoth qualifying session, as Betterthancheddar and Bigtime Ball headlined the 20-dash docket.
The pair locked horns in Race 12, as a field of six faced the gate under pristine conditions at the Campbellville, Ont. raceway.
After having lined up Post 6 for trainer Casie Coleman and driver Scott Zeron, Betterthancheddar was quickest off the gate, as the five-year-old son of Bettors Delight crossed over and spun the opening-quarter timer off in a pedestrian 29 seconds.
The Gord Irwin-trained and Paul MacDonell-driven Bigtime Ball opted to watch from third as 'Cheddar' sauntered down the backstretch towards the half-mile marker, which he passed in 57 seconds.
Betterthancheddar's lead was nine lengths at the 1:24.1 three-quarters of a mile marker. Bigtime Ball had moved into second by that point, but still had a good deal of real estate to gobble up if he hoped to rein in the pacesetter.
Driving right on, Betterthancheddar opened up a full 10-length lead by the head of the stretch. When all was said and done, he recorded a nine and a quarter-length victory over Bigtime Ball off a :28.1 final quarter. The win time was 1:52.2.
The mile was Betterthancheddar's second qualifying effort of the 2013 season, while it was Bigtime Ball's 2013 charted debut.
Earlier in the card --- Race 2, to be exact --- the North America Cup eligible Mach Pride recorded his second qualifying mile of the season.
The three-year-old Mach Three colt lined up in Post 4 in the seven-horse field this morning. With Anthony MacDonald driving for trainer Louie Eftimiadis, Mach Pride shot to the lead and clicked off the opening quarter in :28.3.
From there, Mach Pride made every call a winning one. He spun off the middle fractions in :57.1 and 1:24.4 before cruising home with a :29.1 final quarter. The win time was a solid 1:54 and the margin of victory was six and a half lengths.
Mach Pride has been gauged at odds of 25-1 in the 2013 edition of Trot Magazine's annual NA Cup Spring Book.
To view the charted results from the qualifying session, please click the following link: Wednesday Results: Mohawk Racetrack (Qualifiers).