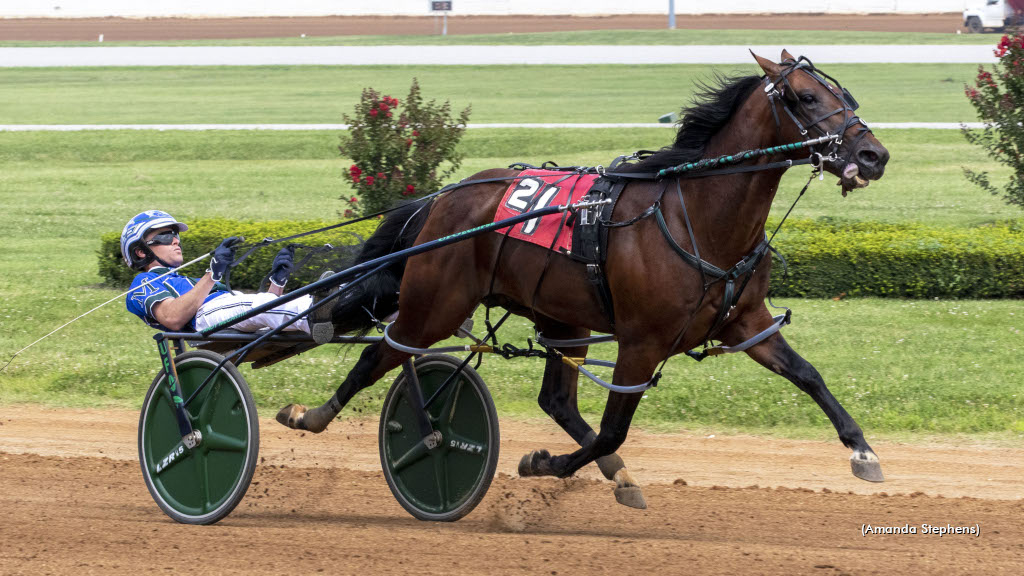 Published:
May 14, 2022 03:49 pm EDT
On paper, Pebble Beach and Back Of The Neck looked to be the two qualifiers at The Meadowlands on Saturday (May 14) that would attract the most attention. However, a pair of pacers did their part to steal some of that thunder.
The back half of the nine-race qualifying session had a bit more oomph to it, and that's taking nothing away from the twin 1:53.4 miles logged by trotting sophomores More Than Ever and Branded By Lindy. But the tune-up for Elitloppet-invited Back Of The Neck certainly gathered an international audience on Saturday morning. 
A five-horse field faced the gate in the fifth qualifier, with Back Of The Neck entered against a group of older rivals. After a returning Lindy The Great (Andy Miller) was cleared by Thankful No (Trond Smedshammer) past a :29.1 opening split, Ake Svanstedt moved Back Of The Neck to the front of the bus and posted middle panels of :57.4 and 1:27.3. Turning for home, Back Of The Neck appeared to have all of his foes in his wake, but Sermon spoke up from the back of the pack. Sitting fifth turning for home, the five-year-old and driver Kasper Foget scorched home in :26.1 to pick off Back Of The Neck by about a head in 1:54.3.
Per Engblom trains Sermon (Muscle Hill - Letsjustalkaboutme) for Consus Racing Stable Inc. and Longbridge Trotting Inc. of Florida.
Reports surfaced on Saturday afternoon that Svanstedt has told officials with Solvalla Racecourse that Back Of The Neck will not be making the trip to Sweden for the 2022 Elitlopp. This news was confirmed by Solvalla's sports director Anders Malmrot on Sweden's TV4.
Pebble Beach made his second appearance of the season during the qualifying session, and he has emerged victorious from each test. Todd McCarthy positioned the pacer in third as Danger Zone (Andy McCarthy) posted panels of :27.3, :55.3 and 1:24.2. Pebble Beach attacked on the outside down the stretch, and he powered away from the early pacesetter through a :26.2 final quarter for the 1:51.1 decision. Caviart Camden (Yannick Gingras) showed sharp late speed to finish a length and a half back.
Pebble Beach (Downbytheseaside - Santa Rosa) hit the board in all 11 of his rookie season appearances, sporting a record of 7-2-2 while accruing $361,250 in purses for trainer Noel Daley and owners Patricia Stable of Massapequa, N.Y., Joe Sbrocco of Brecksville, Oh., Country Club Acres Inc. of Findlay, Oh. and Laexpressfoderadeovolente of Chesterfield, N.J. The colt remains the highest ranked sophomore in the 2022 TROT Magazine Pepsi North America Cup Spring Book still pointed for the June 18 event.
While a 1:51.1 qualifier is certainly impressive, it definitely wasn't the most eye-catching mile of the morning. Five-year-old Ruthless Hanover came out one race later and uncorked a wire-to-wire 1:50.1 performance in his seasonal debut for driver Pat Lachance, trainer Tom Cancelliere and owner John Cancelliere. The son of Somebeachsomewhere - Rockaroundtheclock sports a record of 1:47.2 with a 10-4-4 summary from 27 starts and more than $232,000 in earnings.
Two dashes later, Lee Loo unleashed the fastest mile for a sophomore pacing filly this season with a wire-to-wire 1:50.2 lifetime best effort for driver Tim Tetrick, trainer Tony Alagna and owners Crawford Farms Racing, Heather Marshall, Pit Bull Stable LLC and Patrick o'Brien. The daughter of Huntsville - Taiya Hanover was one-for-six as a freshman but appears to have found her best stride as a three-year-old with the Alagna outfit.