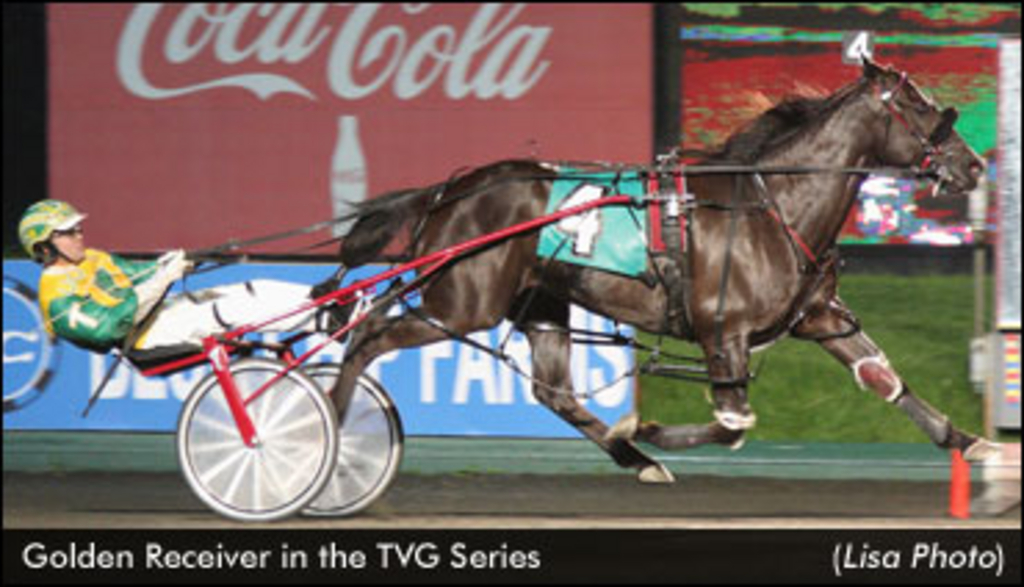 Published:
May 12, 2013 12:34 am EDT
Golden Receiver and Fred And Ginger captured the $50,000 TVG Free-For-All Open Pace while Wishing Stone and Modern Family won the eliminations for next week's $180,000 Arthur J. Cutler Memorial Trot to highlight an action-packed Saturday night at the Meadowlands Racetrack.
The TVG Opens and the $40,000 Cutler eliminations kicked off the road to the $500,000 TVG Championship Finals at The Meadowlands on Nov. 30, the culmination of the new season-long series for older trotters and pacers.
Both Golden Receiver and Fred And Ginger banked 35 points toward the final.
Golden Receiver chalked up another win at his favourite track. The eight-year-old gelding extended his Big M winning streak to eight in the usual fashion: on the lead.
Golden Receiver and driver Tim Tetrick blasted to the front, forcing Warrawee Needy to drop in second. Warrawee Needy never settled comfortably in the pocket, going off stride at the top of the lane. Jody Jamieson later stated via Twitter that Warrawee Needy "went sideways and grabbed a shoe, thus the reason for the break."
Meanwhile, Golden Receiver kept blazing along, fending off a challenge on the final turn from Levy winner Razzle Dazzle. Golden Receiver sprinted clear at the top of the lane, finishing one length better than Dancin Yankee. Sweet Lou kicked home strongly to get third in his season debut.
"He raced really good," Tetrick said. "The track is a little heavy and that doesn't always help him. He got out of the gate good, like he always does."
Golden Receiver, now 57 for 130 in his career, paid $4 to win. The time was 1:49.1, marking his 20th sub-1:50 winning performance, a harness racing record. The son of Village Jove is trained by Mark Harder for Our Horse Cents Stable and Nina Simmonds.
Fred And Ginger picked an ideal time to register his first win of the season. Dismissed at 10-1, Fred And Ginger reeled in the head-strong Hurrikane Kingcole in a lifetime-best 1:48.1. It wasn't without uncertainty as he had to survive a judge's inquiry into a first turn incident in which Fred And Ginger and Casimir Jitterbug, driven by Jamieson, appeared to lock wheels.
"Things got a little tight," said Ron Pierce, Fred And Ginger's driver. "Jody almost crossed over and I decided to put him behind me and we just kind of hooked up a little bit."
There was no holding off Hurrikane Kingcole when he breezed by on a bold backstretch brush. Pierce bided his time into the lane and Fred And Ginger rallied steadily past the tiring leader. Dial Or Nodial was third.
The six-year-old improved to one-for-seven on the season for trainer Ron Burke and owners J & T Silva, Howard Taylor, Edwin Gold and Robert Feldman. He paid $22.40 to win for the 21st time in 72 career starts.
The first five Cutler finishers advance to the final. As an added reward for the victories, the connections of Wishing Stone and Modern Family will choose their posts in the final.
The win also gave Wishing Stone 18 points toward the TVG Championship final; Modern Family is not eligible to the series. The winner of next week's Cutler final can pick up 35 points.
Wishing Stone shook loose in the nick of time, getting up in the final strides to nail the pacesetting Sevruga by a nose in the first elimination. Locked in traffic through most of the stretch battle, Wishing Stone uncorked an explosive finish once driver Yannick Gingras angled off the pylons into open space. The six-year-old, trained by Burke, posted a second straight Meadowlands win to loom a major factor heading into the final. The time was 1:52 with Wishing Stone paying $4 to win.
Wishing Stone, owned by Cowboyland Aalborg, T L P Stable, J & T Silva Stables and Deo Volente Farms, recorded his 16th win in 54 starts.
Opening Night was third followed by Guccio and Knows Nothing.
Modern Family had an ideal trip, sitting second as Googoo Gaagaa carved out the fractions in the second elimination. Modern Family and Tetrick collared the leader at the top of the lane, trotting home in a lifetime-best 1:51. Mister Herbie, last year's Cutler winner, came on to get second followed by Undercover Strike, My MVP and Googoo Gaagaa.
The consistent Modern Family is nine-for-12 after taking his elimination. Trainer Daryl Bier is a co-owner of the four-year-old along with Charles Dombeck and Richard Poillucci.
Domethatagain wore down Visible Gold to take the $58,000 Hudson River Series final with a game first-over effort with Corey Callahan at the lines.
"He's got a huge kick home," Callahan said. "First up is exactly where I wanted to be. That's how it worked out and horse put in a good effort."
The series, for New Jersey, New York and Pennsylvania bred pacers, had been a showcase for Visible Gold, who swept through the preliminary legs at The Meadowlands, Tioga Downs and Pocono Downs to extend his winning streak to nine. Not surprisingly, the entry of Visible Gold and Take It Back Terry were the 3-10 favourites.
A four-year-old trained by John Butenschoen, Domethatagain got up by a head in a lifetime best 1:49.2, paying $10 to win. He is owned by Mystical Marker Farms, Peggy C. Hood and Paymaq Racing.
For the 22nd time for the 2013 season, the total handle for the 14-race Saturday program was over $3 million at $3,023,867, which was $901,129 more than what was wagered on the same Saturday 12-race program in 2012. Overall, reflecting an increase of 42 per cent.
Racing returns on Friday with first post time at 7:15 p.m. featuring the New Jersey Sire Stakes for the three-year-old colt and filly trotters. Saturday features the final of the Arthur J. Cutler Memorial, the $100,000 Meadowlands Maturity for four-year-old pacers and the New Jersey Sire Stakes for three-year-old colt and filly pacers.
To view Saturday's harness racing results, click on the following link: Saturday Results - Meadowlands Racetrack.
(With files from Meadowlands Racetrack)