Published:
May 11, 2021 10:33 am EDT
Monday marked the kickoff of the eighth annual John Mongeon Sr. Memorial Trotting Series at Saratoga Casino Hotel. The series, which went on hiatus in 2020, is back this year and during Monday's matinee, there were three $10,000 divisions of the first leg.
Coming into the day, the clear horse to beat in the series was Dewey Arnold. The Dave Dewhurst-trained three-year-old was back in town following an overwhelmingly successful stint at Pocono that saw the sophomore rattle off three straight victories, including his most recent one which came in a career-best 1:53.2. Dewey Arnold had one thing going against him coming into the series though. He made breaks in each of his two starts at the Spa this spring which potentially made him vulnerable in the series. The betting public wasn't concerned about the breaks though and bet the talented trotter down to odds of 1-9 in the first division of the series contested on Monday. The bettors were proven correct as Jimmy Devaux guided Dewey Arnold to a decisive, wire-to-wire score in 1:57.2, a time that by far was the fastest among the leg one winners as he stamped himself as the big favourite in the series.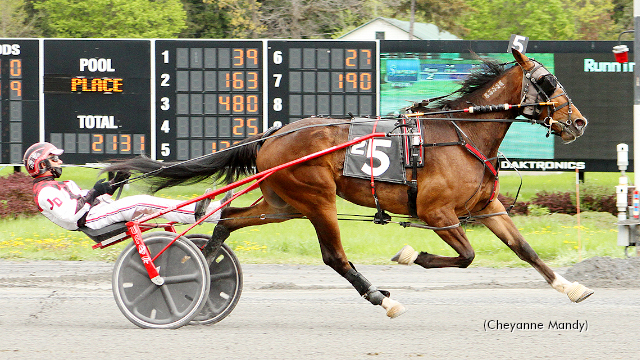 Notoutofthewoods picked a good time to put in a lifetime-best effort on Monday as the Cheryl Whitcroft-trained trotter stopped the timer in 2:00.2 to record her biggest career victory in leg one of the Mongeon Memorial Trot. Driver Mark Whitcroft got a pocket trip with the four-year-old, who moved off the rail around the final turn before coming on to prevail while at odds of 3-1.
The final leg of the first division went the way of another favourite, Cindy Michelle. The John Stark Jr.-trained and driven three-year-old won her fourth consecutive race on Monday and did it despite getting a tough first-over journey. Cindy Michelle stopped the timer in a career-best 1:59.3 in what was her fourth win in five lifetime starts.
There is one division of the series remaining, set to take place next Monday (May 17) leading up to the $30,000+ Final.
Live harness racing continues on Tuesday afternoon at Saratoga with a 12:00 p.m. first post.
(Saratoga)