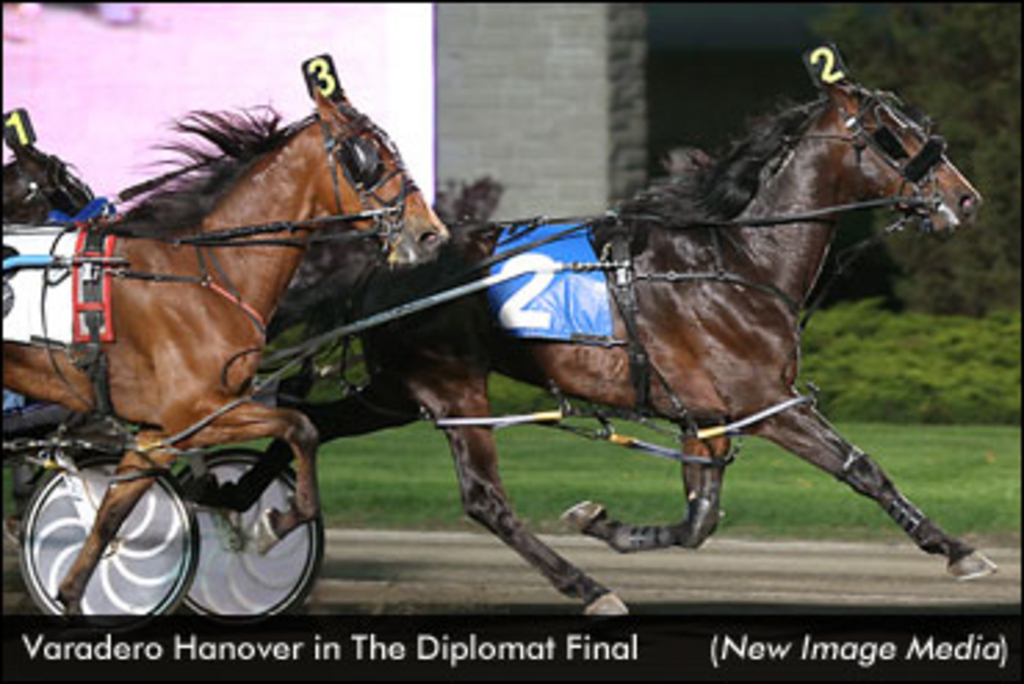 Published:
May 11, 2013 08:22 pm EDT

Heavy favourite Belle Boyd kicked home off cover to complete her second consecutive series sweep in the $55,600 Princess Final early Saturday night at Woodbine Racetrack.
The series is for three-year-old pacing fillies that are non-winners of $100,000 in 2012.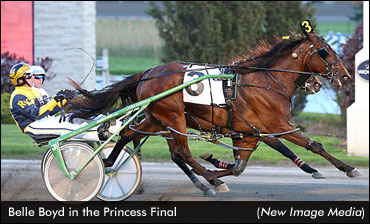 Leaving from post four in the evening's first series final, Wildcat Hanna (Anthony MacDonald) established the early lead over Marquise De Sarah (Phil Hudon) and Ok Feisty (Scott Zeron) with Notalkingback (Rick Zeron) parked and pressing.
Notalkingback finally cleared to command past the :27.2 opening quarter and led the way to the half in :56.1 while Marquise De Sarah made a break in stride when attempting to launch a first over attack.
As the field raced down the backstretch, Super Soph (Doug McNair) inherited fourth-place and began to roll with Belle Boyd and catch-driver Randy Waples following her cover past the 1:24.4 third quarter mark.
Looking for a 48-1 upset, Notalkingback began to open up on the field into the stretch, but Belle Boyd rallied home in :27.1 to pick her off late for the 1:53.1 victory, coming within one-fifth of a second of her lifetime mark set in the May 2 second leg. Ok Feisty finished third over four lengths behind.
Belle Boyd paid $2.50 to win as the 1-5 favourite.
The Art Major-Yankee Luck filly only won one of her 11 starts as a freshman, but is now seven-for-seven in her sophomore year and boasts series titles in the Blossom and Princess for Rockwood, Ont. trainer Carl Jamieson, who co-owns with Joanne Morrison of Beeton, Ont. and Thomas Kyron of Toronto.
"She was super when she trained down in Florida last year and when she got home she started to grow and was so growthy she couldn't put it all together, but still had ability," explained Larry Morrison, husband of co-owner Joanne Morrison, in a post-race interview. "She raced in Lexington and finished second to [O'Brien Award winner] I Luv The Nitelife. We thought she was in good shape for the Breeders Crown, but she hurt herself when she was turned out and that put an end to her campign as a two-year-old."
Morrison said the filly's perfect start to her sophomore campaign has only been a bit of a surprise.
"We were expecting a lot better three-year-old season than her two-year-old season, but you never know until you get there. We're very happy with her obviously."
Varadero Hanover later earned the biggest paycheque of his young career with a first over victory in the $55,800 final of The Diplomat Series for three-year-old colts and geldings that are non-winners of $100,000 in 2012.
Favourite Rockin Wizard (Randy Waples) fired to command from the outside post seven starting spot and posted a :27.2 opening quarter while Slight Touch (Sylvain Filion) broke stride into the first turn from third.
Urbanite Hanover (James MacDonald) pulled the pocket into the backstretch, but aborted that move as they neared the :56 half-mile marker.
Varadero Hanover and driver Scott Zeron committed first over from fourth during the third panel with Scott Rocks (Chris Christoforou) following his cover.
Rockin Wizard continued to lead the way to three-quarters in 1:24.2, but Varadero Hanover was closing in. The latter edged by the former into the stretch and held off the on-coming Scott Rocks to win by half a length in 1:53 flat. Orillia Joe (Paul MacDonell) finished third.
Sent postward at odds of 6-1, Varadero Hanover paid $14.70 to win.
After winning a first leg division of the series on April 22 in 1:52.1, the Somebeachsomewhere-Vaudeville Margie colt was fifth by one and three-quarter lengths in round two on May 2.
"I didn't want to be first up after that trip last week, but things unfolded that way," commented Zeron after the race. "He's just a big, strong colt and proved that tonight.
"I was happy to see where I got away. Sylvain's horse made a break so that changed things up and Randy's horse put mine away last week so I was happy to mow him down this week."
Varadero Hanover is trained by Stephen Mahar for Reginald and Louise Petitpas of Shediac Bridge, N.B. and Geoffrey Lauzon and Dr. Ruth Irving of Russell, Ont. The Youthful Series runner-up is now three-for-five this year.
He is eligible to the Pepsi North America Cup and is ranked 14th at odds of 28-1 in Trot Magazine's Spring Book.
"He's a real big horse and has a big stride on him so let's just hope he can learn to race a bit faster," said Zeron.
Zeron also won with Cup eligible Fool Me Once, assessed at odds of 35-1 in the Spring Book. The Art Major-Fool That I Am colt overcame a post 10 start and turned back all challengers for his second consecutive win this season in a conditioning assignment. The odds-on favourite stopped the clock in 1:51.2, winning by one and a half lengths over four-year-olds Autumn Gottem (Doug McNair) and Savannah Splendor (James MacDonald) for Mark Austin Stables Inc. of Fergus and Daniel Smith of London, Ont.
Millionaire pacer Up The Credit earned the first victory since his North America Cup winning season in 2011, going wire-to-wire in 1:50.3 in a conditioned event. Billy Davis Jr. catch-drove the race favourite for Jamieson, Morrison, Kyron and Quebec's Brian Paquet. Odysseus Bluechip (Randy Waples) and Mystician (Scott Zeron) finished second and third.
This week's $34,000 Preferred Pace went to second choice Aracache Hanover, who carved out fractions of :27, :56.3 and 1:23.3 en route to his 23rd career win in 1:50.3. Favourite Upfront Hoosierboy (Randy Waples) closed well for second one length behind while pocket-sitter Mach Dreamer (Sylvain Filion) rounded out the top three finishers.
Driven by Doug McNair, the six-year-old son of Dragon Again followed up a pair of runner-up performances in an Open at Pompano Park and another Preferred at Woodbine for the first win of his 2013 campaign. Gregg McNair trains the $1.5 million earner for New York owners William Switala and James Martin.
Also among Saturday's highlights, Bax Of Life delivered on her pari-mutuel promise in a $25,000 Fillies & Mares Trot for driver Chris Christoforou and trainer Jerry Duford, who co-owns with Joanne Wray of Campbellville, Ont.
The leading Kendra Hanover (James MacDonald) gave way down the lane as the Bax Of Life rallied off Sheer Glide's (Rick Zeron) cover to prevail in 1:56.1 by one and a quarter lengths. Sheer Glide finished second while Intense America (Luc Ouellette) scooted up the pylons to edge out early leader Majestic Taglet (Mike Saftic) for third. Co-favourite China Pearls (Randy Waples) finished fifth in her first start since her 2012 season was cut short due to an injury.
To view Saturday's harness racing results, click on the folloing link: Saturday Results - Woodbine Racetrack.