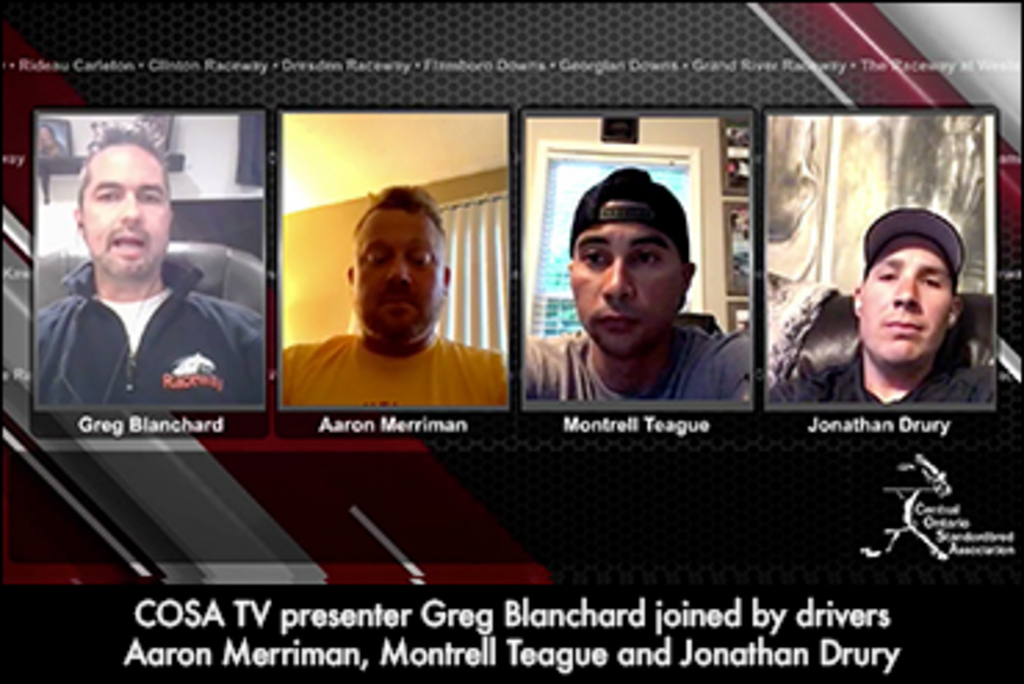 Published:
May 10, 2020 06:41 pm EDT

While they may be a degree removed from the limelight most days, drivers Aaron Merriman, Montrell Teague and Jonathan Drury had their share of stories to tell in Sunday night's (May 10) edition of COSA TV.
After being forced to settle for a runner-up finish with Wiggle It Jiggleit in his first Pepsi North America Cup appearance, the Delaware-based Teague relished the chance to come back to the Toronto suburbs in 2018 with Lather Up — and he made the most of the opportunity.
"It was definitely redemption, because I was pretty sour about finishing second (with Wiggle It Jiggleit)," Teague related to COSA TV presenter Greg Blanchard. "Getting the opportunity to do it with Lather Up was definitely redemption."
The redemption was paired with vindication, as Teague silenced scores of doubters in his ability in the sulky.
"It felt great," Teague continued. "I literally went through it with Wiggles and Lather Up — it was always the talk that if Brian Sears, Yannick, Tim Tetrick, Aaron Merriman were driving the horse, he would do much better. I proved them all wrong; that was the best feeling."
The next year, Lather Up and Teague teamed up for a pair of world record efforts at The Meadowlands — a 1:46 mile in the Graduate and the first nine-furlong race faster than 2:00 in the Sam McKee Memorial.
Like Teague, Merriman makes the most of his handful of Grand Circuit appearances, but finds the bulk of his perennial success close to home.
"I've had the opportunity to drive Grand Circuit races, but never the best horse," said Merriman. "Everybody's got a niche in this business, and I'm very happy with where mine is. I had to think of my children first, and (Ohio) was the best place to raise them."
Merriman, a home-grown Ohioan who learned the ropes of harness racing from his father, Lanny, has blossomed from humble beginnings racing for $1,200 purses at Raceway Park in Toledo into one of the sport's top drivers — and the only one to ever record three consecutive 1,000-win seasons.
"It's a lot of work and it's a lot of luck, to be able to get from track to track and have the opportunity to drive nice horses," said Merriman, who shuttles back and forth on Interstate 76 between Northfield Park and The Meadows. "The second time I did it (reached 1,000 wins in a season) actually meant so much. Last year, I didn't think I had a shot, and to get it on the last night of racing made it special."
That fateful thousandth win came in his last drive of the season — aboard The Spinster N in a late-closing series final at The Meadows on Dec. 30.
While primarily a half-mile track driver, Merriman credits the addition of The Meadows to his schedule as having improved his depth as a driver.
"I'm so absent-minded a lot of times when I drive," Merriman admits of driving at Northfield, where he has been a mainstay for the past two decades. "You know the drivers' tendencies; you know a lot of the horses. Northfield's a fast track; it's got a lot of speed and it does overcompensate my driving some.
"Going to The Meadows has made me a better driver — definitely a lot more thinking and a lot more tripping horses out."
Drury may fly under the radar more so than Teague and Merriman, but his experience as one of Betting Line's two regular drivers in 2016 served to put him on the map in Canada's premier driving colony.
"He was a lot of fun to drive," Drury said of dual classic winner Betting Line, with whom he teamed up for a 1:50.1 win in the Somebeachsomewhere and a trio of Ontario Sires Stakes Gold divisions.
"He had just an unbelievable turn of foot to him. He never felt like he was out of place when you were sitting behind him; he just picked off horses so easily.
"Horses like that make your job really easy. They can take care of you when you make a little mistake."
Before gaining the trust of Casie Coleman to drive Betting Line, Drury worked his way to the Woodbine Entertainment circuit by way of a couple Signature tracks in Ontario — and a brief detour south of the 49th parallel, too.
"I started out driving a lot at Kawartha and Georgian, and I got hooked up driving for Carmen Auciello quite a bit," Drury recounted. "He actually gave me a chance to go down and drive a little bit in the States when he had some horses first go there. Once I came back home, I drove a vast majority of his stable, and it took off from there."
The entire broadcast, which aired on the Central Ontario Standardbred Association's Facebook page, appears below.