Published:
May 10, 2019 01:24 pm EDT

State and local officials visited Deo Volente Farms in Flemington, N.J. on May 8 and were provided a tour of the facility as well as an update regarding the benefits already realized from the state's five-year $100 million investment in New Jersey's horse racing and breeding industries.
Deo Volente Farms CEO Mike Gulotta, who also is treasurer of the Standardbred Breeders and Owners Association of New Jersey, offered welcoming remarks and gave officials information detailing the resurgence of racing and breeding in the short time since Gov. Phil Murphy approved the funding early this year.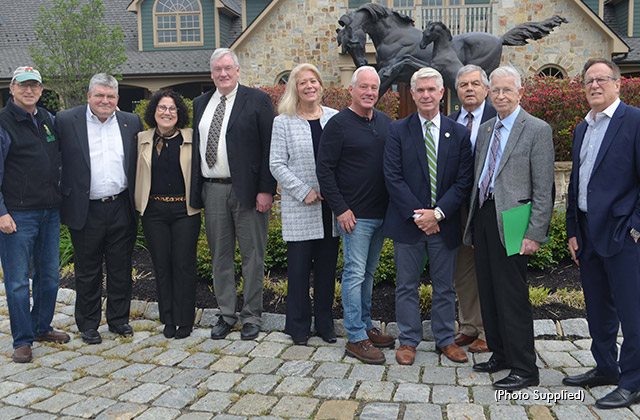 Gulotta detailed how increased breeders' awards, purse bonuses to owners of New Jersey-sired horses, and purses for the Sire Stakes program encourage more broodmare owners to breed to New Jersey stallions or send their mares to the state, as well as revitalize interest and increase sales prices for New Jersey-sired horses.
The number of stallions standing in New Jersey already has increased from six in 2018 to 15 in 2019. In addition, it is estimated that more than 700 mares will be bred to New Jersey stallions this year, up from 435 in 2018.
On the racing side, increased purses have attracted a greater number of horses to the tracks. The Meadowlands saw a 36-percent increase in horses competing in April 2019 compared to April 2018. Pari-mutuel handle jumped 22 percent, from $18.3 million in April 2018 to $22.3 million in April 2019.
Among the event's attendees were New Jersey Secretary of Agriculture Douglas Fisher, State Senators Steven Oroho and Sam Thompson, State Assemblymen Kevin Rooney and Matthew Milam, Hunterdon County Freeholder Susan Soloway, New Jersey Sire Stakes Executive Director Christopher Castens, and SBOANJ Executive Administrator Al Ochsner.
The equine industry in New Jersey preserves 222,000 acres in farmland, employs more than 10,000 people, and contributes $110 million annually in state and local taxes.
(SBOANJ)