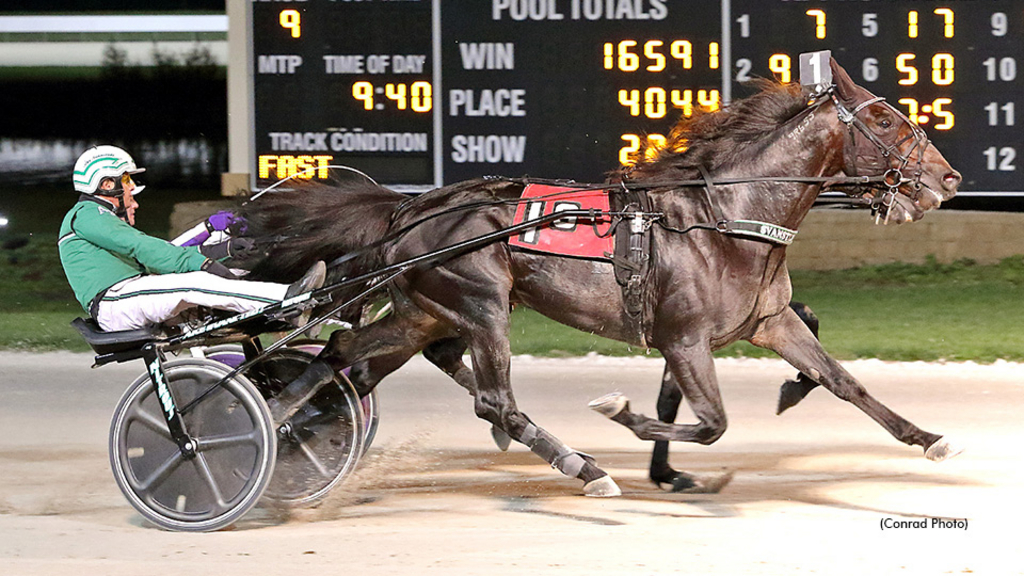 Published:
April 9, 2022 12:33 pm EDT
The first confirmed North American-based starter for the 2022 Elitlopp, trotting stallion Back Of The Neck showed up and showed off during the Saturday (April 9) session of qualifiers at The Meadowlands.
With trainer and co-owner Åke Svanstedt at the controls, Back Of The Neck faced off against a group of four trotters in his five-year-old debut. Svanstedt pointed his pupil to the front, and Back Of The Neck was never closer to his rivals than he was at that point of the mile. With moderate first fractions of :29.2 and :59.1, Back Of The Neck began to edge away from his competition through that third quarter while opening up a three-length cushion as the third station was reached in 1:27.1. A motionless Svanstedt allowed Back Of The Neck to sprint home under a hand drive in :26.3 to trip the timer in 1:53.4 over a track listed as 'good' with an allowance of one second. Sophomore trotting colt Pretender (Yannick Gingras) closed well for second, nearly five lengths back.
Back Of The Neck (Ready Cash - Big Barb) sports a mark of 1:51.3 taken at The Red Mile as a sophomore, a summary of 11-5-5 from 32 starts and more than $828,000 in earnings for Svanstedt and his co-owners Howard & Judith Taylor of Pennsylvania and Sweden's Order By Stable. As of press time, he's one of four confirmed starters in Sweden's elite race, slated for May 29 at Solvalla Racecourse.