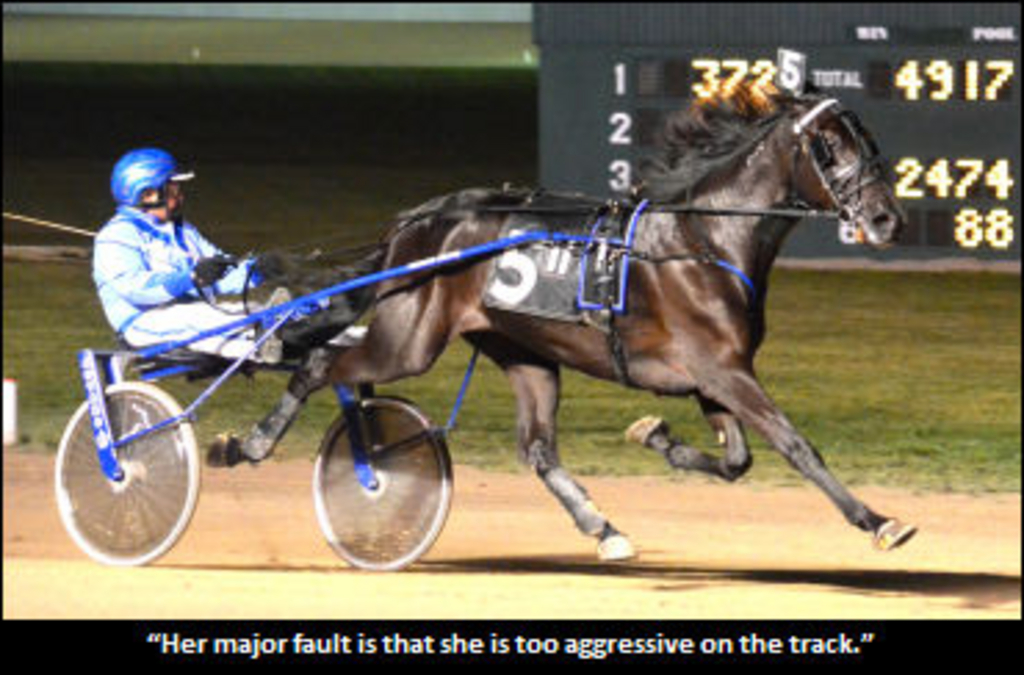 Published:
April 9, 2013 11:01 am EDT
"[She is] a pretty normal horse and nothing really makes her stand out from the rest until you send her down the track."
Contessa Leigh is practically a member of the family for Marty Wollam.
The 63-year-old Ohio horseman trained and raced both her sire, Full Count, and her grandsire, Striking Sahbra, as well as her dam, Howl. He also trained her older brother, Count Me In, a top Ohio Sires Stakes performer in recent years.
Certainly Contessa Leigh's ability is not in question. Last year as a two-year-old, the bay trotter won five of her seven starts, including a romping win in the $100,000 Ohio Sires Stakes final at Scioto Downs in early September.
Wollam was familiar enough with her family to know that she'd likely be an aggressive filly when placed in a race. And Wollam's fear was well-founded.
"Her major fault is that she is too aggressive on the track," said Wollam. Although, the Circleville native is a master at training trotters and he's encountered this problem previously and knows how to solve it for the upcoming campaign.
"I keep making equipment changes with the hope that she will learn to relax," he said.
Wollam is pointing Contessa Leigh for the first leg of the Ohio Sires Stakes competition in 2013 on May 3 at Lebanon Raceway in southwest Ohio.
"She is training back good and should be qualifying this week at Northfield Park if the weather is good," he said. "I have a few weeks to get a couple of qualifiers in her before the Ohio Sires Stakes starts at Lebanon."
Contessa Leigh was bred by Patricia Wollam, who passed away last year. The filly's ownership was assumed by Marty, who now owns the filly in partnership with G and B Racing. Last year the filly banked $93,616 for her owners, and this year has a chance to pad her bankroll considerably.
Two decades ago, Wollam developed the precocious trotting colt Striking Sahbra, a winner of 10 races in 11 starts as a two-year-old. He later went on to a very successful breeding career.
One of his best sons was Full Count, a winner of almost a quarter-million over three seasons. Contessa Leigh is the fourth foal (and first filly) by Full Count out of Wollams' mare, Howl. Wollam had trained and raced Howl, but she suffered two fractures in her knees that curtailed her career.
Wollam wasn't surprised that Contessa Leigh was headstrong on the track, as he knows the foals of Full Count have that tendency.
To counter that flaw, Wollam points out that Full Count's offspring have the good gait and willingness of both their sire and grandsire Striking Sahbra.
Wollam brought Contessa Leigh along carefully and she ended the season with five consecutive wins. Her biggest score was a six and three-quarter-length score on Ohio Super Night. In that race, she was a heavy 3-5 favourite in the betting and Wollam let her seize control right after the start. He eased her back during the middle half-mile of the track and she had plenty left to leave her pursuers in the dust.
Last year, Contessa Leigh posted two wins over the tight turns on the half-mile track at Northfield Park, so Wollam is confident that she will fare well on the half-mile track at Lebanon where the Ohio Sires Stakes season gets underway.
"'Contessa' is a little handier on the half-mile track than her [brother] Full Count was as a three-year-old, but they are alike in manners and gait," said Wollam.
Wollam, one of Ohio's most respected trainers with a history of champions to his credit, says, "Contessa Leigh is a pretty normal horse and nothing really makes her stand out from the rest until you send her down the track."
(Ohio State Racing Commission)