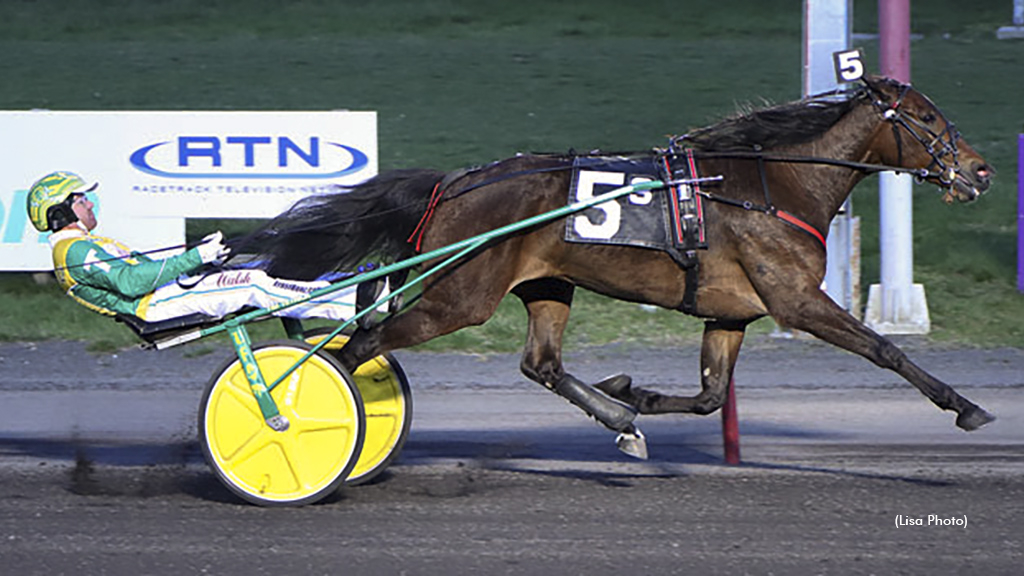 Published:
April 8, 2023 12:46 am EDT
The big man on campus Friday night (April 7) at The Meadowlands was Tim Tetrick.
"The Bionic Man" registered his first win of the night behind The Empress Ice, who took the $20,000 division of the second leg of the Standardbred Retirement Foundation Series for three-year-old fillies on the trot.
The Empress Ice stopped the clock in 1:55.3 to register her first-ever win from seven career outings for trainer Nifty Norman, taking down heavy favourite Sheer Faith, who lost a second straight start as the 1-5 public choice.
A daughter of Muscle Hill-The Ice Queen, The Empress Ice returned $7.20 to her backers as the 5-2 second choice in the betting, winning by an easy two lengths. Sheer Faith settled for second for a second consecutive start.
"I really didn't want to leave with her, but I was afraid if I didn't, the pace would be too slow [to come from off the pace]," said Tetrick.
The 41-year-old Hall of Fame driver recorded four victories on the 14-race card. Tetrick was actually four out of 11 on the night, as three of the dashes were exclusively for members of the Meadowlands Amateur Drivers Club. He has now won nine races over the last three Big M cards.
The remainder of Tetrick's big night came with winner's circle visits guiding Horoscope ($4.60 to win as the 6-5 favourite) in the seventh race, Platinum As ($3 as the 1-2 public choice) in the 10th and Unstoppable Hall ($5.40 as the 8-5 second choice) in the 11th.
Super Girl (Downbytheseaside-Symphony In Motion) followed up a narrow head victory a week ago with a dominant 5-1/2-length walk in the park in another $20,000 SRF Series dash, this one the second leg division for three-year-old fillies on the pace.
The Mark Harder student was driven by Todd McCarthy to her third win in eight career starts in 1:51.1, in this, her first year on the track.
Super Girl returned $3 as the 1-2 favourite.
All-source wagering totalled $3,070,369, keeping an impressive Big M betting streak alive. There have been 26 Friday and Saturday night programs contested at The Meadowlands during 2023, and each one has seen betting bust the $3-million barrier. During 2022, there were a total of 85 race cards contested at the mile oval, and betting went past the $3-million plateau on 23 occasions.
Only three favourites hit victory lane on the program, serving as the catalyst for big payouts in the 20-cent Pick-5 ($10,958), Early 50-cent Pick-4 ($1,789.30), 20-cent Survivor Pick-7 ($9,881.68) and 20-cent Pick-6 ($2,954.86).
Racing resumes Saturday at 6:20 p.m.
(With files from The Meadowlands)