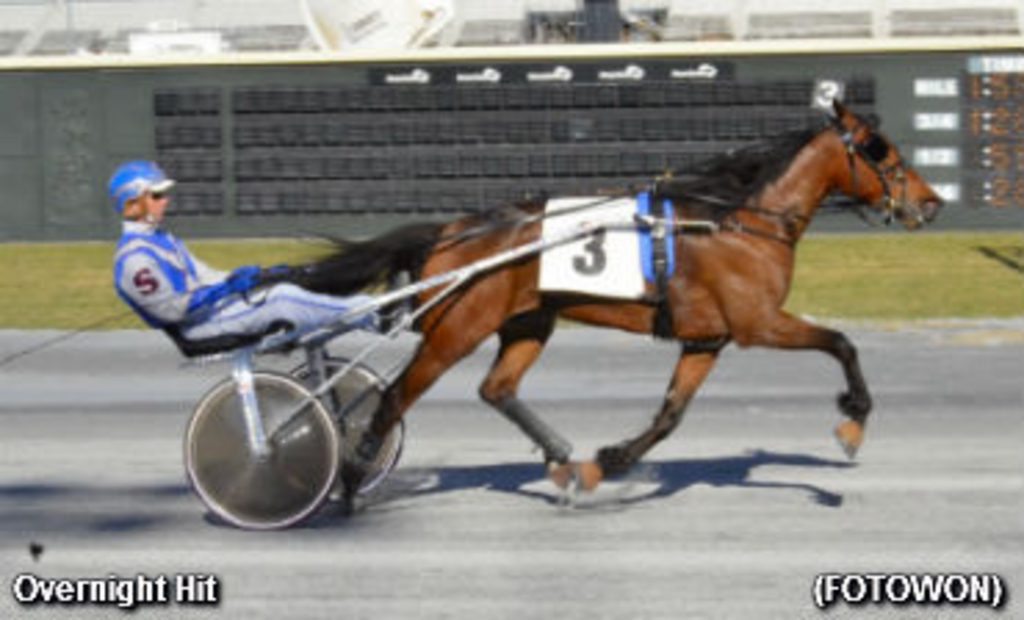 Published:
April 8, 2014 09:43 pm EDT
Overnight Hit overtook front trotting Kelseys Commando on the final turn and then sped to a 1:59 victory in Tuesday's Delaware Standardbred Breeders Fund final for three-year-old trotting fillies at Dover Downs.
Art Stafford Jr., trains, drives and co-owns Overnight Hit with Wyatt Starkey. The Giant Hit-Overnight Rail bay won for the second straight time in three starts this season. Kelseys Commando (Vic Kirby), winner of both $100,000 frosh filly finals had the early lead before Stafford moved his filly up on the outside and quickly overtook the leader. Overnight Hit was all alone at the finish line with Even Brighter (Bret Brittingham) getting past Kelseys Commando nearing the wire for second money.
Overnight Hit has now won four of nine lifetime races with two second and two thirds. She has banked $189,210 in her short career.
In the $20,000 DSBF consolation, Jim Morand moved Linbo Love out of second after stalking Canterbury Girl (Wayde Marsh) for three quarters and soon took over and opened up a big lead on the way to a 2:03.3 victory over Canterbury Girl and Some Sweet Lady (Les Givens).
It was the first win in 10 starts for Linbo Love, a chestnut daughter of Linbo-Just Lips trained by Les Givens for Nanticoke Racing and its breeders Charles and Diane Coursey.
(Dover Downs)