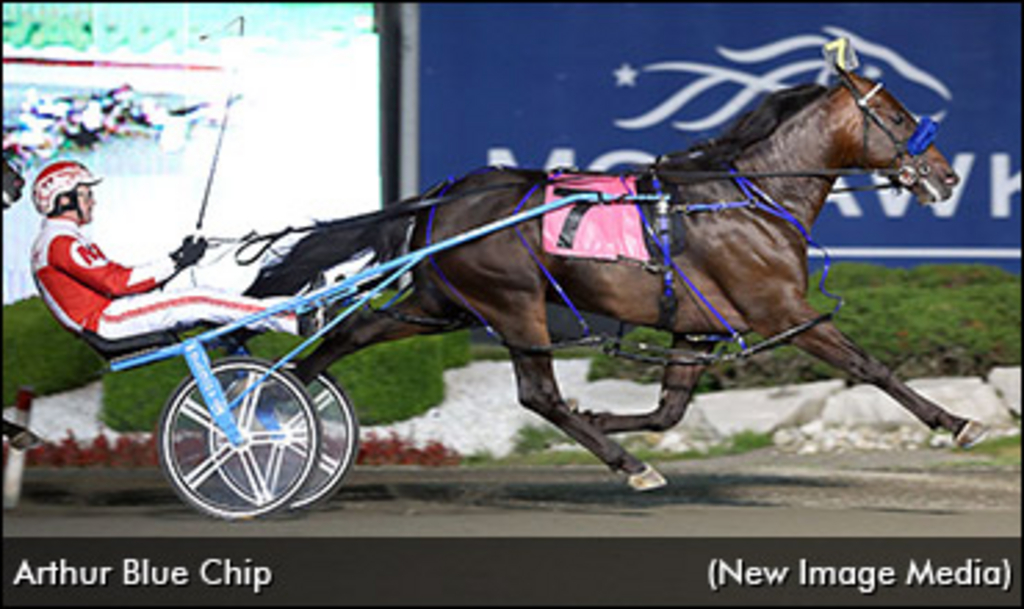 Published:
April 8, 2014 08:56 am EDT

Last year's O'Brien Award winning two-year-old colt pacer Arthur Blue Chip has been sidelined and will miss the 2014 Pepsi North America Cup.
In a conversation with Trot Insider on Monday, the colt's trainer and co-owner Dr. Ian Moore reported from Florida that the son of Shadow Play suffered an unspecified stall injury a few weeks back, and that injury will keep Arthur Blue Chip off the track for an undetermined amount of time.
"He incurred a stall injury and he's off the track for a little while right now. The prognosis is pretty good for full recovery."
Arthur Blue Chip, who scored six wins in 11 starts and bankrolled $400,120 for his connections, Shadow One Stable of Guelph, Ont. The son of Shadow Play took a mark of 1:51.2 in his Metro Pace elimination at Mohawk before being scratched 'sick' from the final. His most lucrative payday was a runner-up finish in the Governor's Cup. He also won a handful of Ontario Sires Stakes races, an elimination of the Battle of Waterloo and a division of the Nassagaweya Stakes.
"It's kind of knocked us a little bit, all of us," said Moore with a clearly dejected tone. "There are a lot of expectations there so it's been quite devastating. It's just one of those deals of how in the horse business you can be so high one minute and down the next."
Moore noted that the colt will miss a "significant part of the year" but could return to the track later in 2014.
"Hopefully we'll be around towards the end of the year, and maybe the rest will get tired."
Arthur Blue Chip was rated at #4 in Trot's 2014 Pepsi North America Cup Spring Book at odds of 10-1. Trot Insider will resume the N.A. Cup Spring Book countdown on Wednesday.