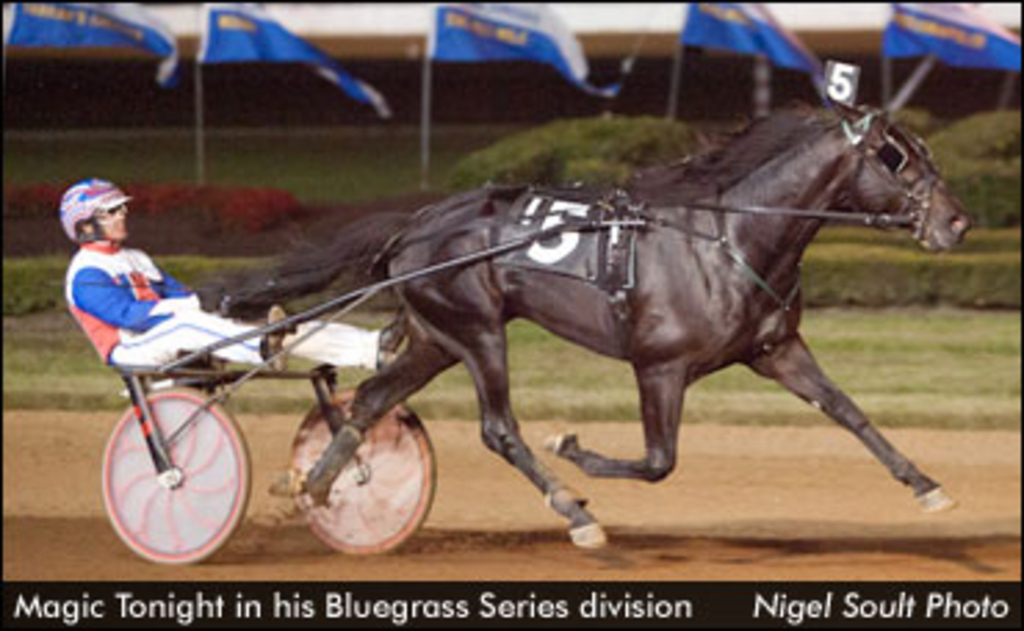 Published:
April 8, 2012 07:15 pm EDT
When it comes to three-year-old trotters, trainer Noel Daley entered the spring with plenty of horsepower
.
Daley, who won last year's Hambletonian with Broad Bahn, had three horses in March's Hoof Beats/TrackMaster Predictive Rankings for three-year-old trotters and another -- purchased in November for $450,000 -- that failed to crack the list.
Whether the group develops into a fearsome foursome remains to be seen, but Daley is happy with the quartet of Magic Tonight, Beer Summit, Gym Tan Laundry and newcomer Royal Shyster right now.
Magic Tonight was Daley's top-rated horse according to the Predictive Rankings, which attempt to determine this year's fastest performers, hitting the rankings at No. 10. Fillies Win Missy B and Check Me Out topped the list, followed by Possess The Will, Stormin Normand and Prestidigitator.
Last year, Magic Tonight (Andover Hall-Miss Possessed) won three of seven races and $100,151 for owner Adam Victor & Son Stable. He won divisions of the Bluegrass and International Stallion Stakes at Lexington's Red Mile before ending his season by going off stride and finishing eighth in the Breeders Crown at Woodbine.
His best win time of 1:55.1, set in capturing the Bluegrass by eight lengths over American Gangster, was tied for the 12th fastest record by a two-year-old trotter in 2011.
Daley expects Magic Tonight to qualify near the end of April, probably a week after the other trotters in the group. Magic Tonight and Royal Shyster are being pointed toward the Earl Beal Jr. Memorial in June at Mohegan Sun at Pocono Downs as their first major test.
Magic Tonight was purchased as a yearling for $55,000 at the Lexington Selected Sale. His third dam, Higher Love, is the mother of 1995 Hambletonian Oaks winner Lookout Victory.
"He's a nice horse," Daley said about Magic Tonight. "He had some soreness issues at the end of the year, so we had to put him away. He's got plenty of ability; it will just be a matter of managing his starts."
Beer Summit (Cantab Hall-Prime Mistress), rated No. 12 in the Predictive Rankings, won only once in eight starts last year, but it was a memorable performance as he motored to a stakes-record 1:56.1 victory in a division of the Standardbred Stakes at the Delaware County Fairgrounds in Ohio. The clocking missed the world record for a two-year-old trotter on a half-mile track by one-fifth of a second.
Following the win, Beer Summit became sick and was turned out for the rest of the year.
Purchased by Daley for $7,000 as a yearling, Beer Summit is now owned by Sharlene Vanderkemp and Mark Bogucki. He is a half-brother to 2009 Hambletonian finalist The Chancellor and his second dam, Me Maggie, won the 1990 Dan Patch Award as best tree-year-old filly trotter.
"He's probably at this stage the least troublesome of the bunch," Daley said. "He's a great gaited little horse. He was probably the unluckiest of the group last year, but he's got a lot of talent. I'm really happy with him. He's the best of all of them right now."
Gym Tan Laundry, another horse owned by the Adam Victor & Son Stable, was No. 13 in the Predictive Rankings following a year in which he won four of nine races and earned $165,892. He won the Kindergarten Classic final at Vernon Downs with a track-record 1:55.3 mile.
A son of Yankee Glide-Fresh Face, Gym Tan Laundry was purchased for $35,000 as a yearling. His mom is a half-sister to 1999 Delvin Miller Memorial winner Lovelytobehold.
"He's not the prettiest going of horses, but he's OK," Daley said. "He is the one that might need to step up the most to get to the top level."
The newcomer in the Daley Stable, Royal Shyster, also is regarded highly. Last year, the colt won nine of 14 races and earned $259,540 for trainer Dan Daley (no relation to Noel) and owners Albert Crawford, Ann-Mari Daley, Richard Lombardo and Robert Pergament.
Royal Shyster (RC Royalty-Spin The Planet) won the New York Sire Stakes championship for two-year-old male trotters and was fifth in the Breeders Crown. He was found to be sick after the Breeders Crown and did not race again. Royal Shyster held the track record (1:57.1) at Tioga Downs after winning a division of the New York Sire Stakes, but the mark was dropped to 1:55.2 by Delano later during the card.
William Weaver and Jim Winske bought Royal Shyster for $450,000 at auction in November.
"He was a dominant horse on the New York circuit and is a high-speed horse," Daley said. "It's nice to have a group of them like this. It's a good group training down because you can get an idea where you're at."
Daley expects Ray Schnittker's filly Check Me Out, who won 14 of 16 races last season, to be the toughest trotter in the three-year-old ranks.
"Ray's filly was head and shoulders above the rest, so if she comes back well she's going to be tough," Daley said. "On the colt side, it's pretty wide open. I've got four [horses] that can step it up. It wouldn't take much for them to move up to the top bracket, but it also wouldn't take much to take them out of it.
"We'll see what happens, but I'm happy with the four I've got."
---
This story courtesy of Harness Racing Communications, a division of the U.S. Trotting Association. For more information, visit www.ustrotting.com.