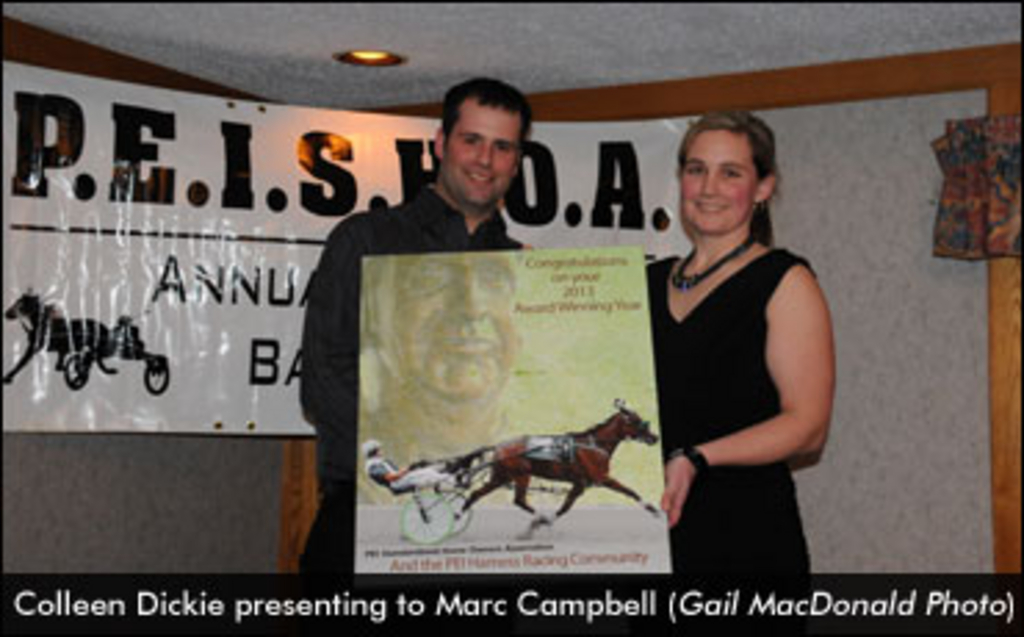 Published:
April 6, 2013 09:52 pm EDT
Buntainwood Farms' pacing star Malabrigo and veteran industry leader Doug Roloson were among the honourees at this year's Prince Edward Island Standardbred Horse Owners Association (PEISHOA) awards banquet on Saturday, April 6 at the Howard Johnson's Dutch Inn in Cornwall, P.E.I.
Malabrigo, who was undefeated in 2012 and earned over $82,000 in her sophomore campaign, was named Three-Year-Old Pacing Filly and Pacer of The Year. Doug Roloson was named Horseman Of The Year in recognition of his five decades of involvement as a breeder, owner, and industry volunteer. Sweetwater Rukkus, owned by Ralph Annear, won Trotter of the Year.
Earl Smith was named Active Horseman of the Year, recognizing his success as a developer of young horses, and winnings of over $4.2 million in career earnings. Kathy Carragher was awarded Horsewoman of the Year in honour of her professionalism and commitment to the industry in her role at the Red Shores Race Office. Leonard (Barney) McGuigan was selected as Most Dedicated Horseperson.
Not only was Marc Campbell awarded the leading dash winner and leading percentage driver, but he was also recognized by the PEISHOA with a special tribute to acknowledge his winning of the O'Brien Award for Horsemanship. Earl Watts nabbed leading percentage trainer of the year honours.
PEISHOA President Dr. Colleen Dickie made a special presentation to the Managing director of Red Shores, Tom Mullally, to recognize his many contributions to the Island's racing scene, and the fact that he announced this week that he will soon be retiring from Red Shores.
Meadowlands commentator Bob 'Hollywood' Heyden delighted the sold out crowd with stories about his entertaining experiences in harness racing over his career. He also described his appreciation for Prince Edward Island and its passion for racing, which he wishes he could package and distribute.
Other award winners are listed below.
Two-Year-Old Trotting Colt: Taliesin, owned by Buntainwood Farms
Two-Year-Old Trotting Filly: Irish Lullaby, co-owned by Boyd MacDonald and Dan Ross
Two-Year-Old Pacing Colt: Forever Paradise, owned by Reg MacPherson, David and Aaron MacKenzie
Two-Year-Old Pacing Filly: Dont Tell Cindy, owned by Tom McGuffog and Geoff MacNeish
Three-Year-Old Trotting Colt and Trotter of the Year: Sweetwater Rukkus, owned by Ralph Annear
Three-Year-Old Trotting Filly: Est Non Ila Duclis, owned by Buntainwood Farms
Three-Year-Old Pacing Colt: Touch Of Lightning, owned by Don and Peter Smith, Gerald Morrisey, and Larry Chappell
Three-Year-Old Pacing Filly and Pacing Horse of the Year: Malabrigo, owned by Buntainwood Farms
Claiming Horse of the Year: Le Fugueur, owned by Jennifer Trainor
Claiming Mare of the Year: Kaitlyn Rose, owned by Ralph Sweet
Aged Trotting Horse: Saulsbrook Balance, co-owned by Cindy MacDonald and Tanya MacKinnon
Aged Trotting Mare: Warrawee Jade
Aged Pacing Horse: Oakrock Almighty, owned by Jack Keenan and Joseph Dahl
Aged Pacing Mare: J K Special, owned by Joe Smallwood
Fan Favourite Award : Buck Barker, owned by Richard and Brent Campbell
Grooms of the Year: Rachel Andrew and Brian Hicken
Mr. Trot Challenge: Marc Campbell
Rookie Driver: Jack Panting
Standardbred Canada Owner of the Year: Buntainwood Farms
Appreciation Awards: Ronota Baglole and Gail Myers
(With files from PEISHOA)