Published:
April 5, 2018 03:39 pm EDT
After spending more than a year away from the races in an effort to resolve chronic foot issues, multiple-stakes-winner Sutton will return to action in Friday's first round of the Shiaway St Pat Series for trotters at the Meadowlands Racetrack in East Rutherford, N.J.
Sutton, who finished third as part of a photo finish with Marion Marauder and Southwind Frank in the 2016 Hambletonian, is the 2-1 morning line favourite in the second of two $15,000 Shiaway St Pat divisions. The five-year-old horse, trained by Julie Miller and driven by Andy Miller, has won seven of 26 career races and earned $440,263. He is owned by the Andy Miller Stable Inc., Jason Allen, and Doug Allen.
"We thought the four-year-old season is tough anyway for a trotter, so we wanted to give him all the time he needed," Julie said. "We thought turning him out for the year and bringing him back (at five) would be the best solution.
"We try to keep our expectations low so we're not disappointed, but he came back [nicely]. The issues had resolved themselves, and hopefully they stay that way. We're really happy with him. His attitude is super and he's most definitely matured; he's big and strong. We thought, 'let's go for this series and see what evolves.'"
Sutton is a son of 2007 U.S. Horse of the Year Donato Hanover out of the stakes-winning mare I Wanted Wings. He was purchased for $40,000 at the 2014 Standardbred Horse Sale. His victories include divisions of the Bluegrass and Tompkins-Geers stakes as well as an elimination of the Breeders Crown at age three. He has a lifetime mark of 1:51.2, which came in a qualifier at the Meadowlands in 2016.
His connections hope Sutton can return to a stakes schedule later this season.
"We staked him pretty heavily, but you just can't go off the high dive with the best horses in the older trot division," Miller said. "This series the Meadowlands has provided is very beneficial. We pointed him toward this series to get him back on the track. Hopefully he can have some success this year."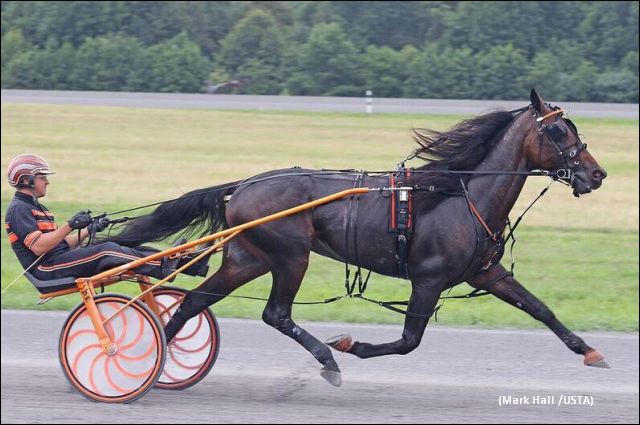 Sutton, pictured with Andy Miller (Mark Hall / USTA)
'Team Miller' will also send out seven-year-old gelding Opulent Yankee in the first division of the Shiaway St Pat Series. Opulent Yankee, who has won four of five races this year, is the even-money favourite on the morning line.
Opulent Yankee is owned by Little E LLC, Arthur Geiger, and David Stolz. He has won 22 of 86 career races and earned $418,795.
"I just call him the veteran warhorse," Miller said. "He's been a picture of consistency. He's a pleasure to be around in the barn; he's a good boy. He's one of those nice ones that you're really proud of. He does his job week in, week out, year in, year out. He's just a really nice horse.
"I don't think he's one of the top ones, but it looks like he should be able to compete in this series pretty well."
The Shiaway St Pat Series features two preliminary rounds followed by a final on April 20. Post time is 7:15 p.m. for Friday's first race. The Shiaway St Pat divisions have been carded as Races 2 and 4.
On Saturday, the Meadowlands will host a pair of opening-round divisions of the Burning Point Series for female pacers and one opening-round division of the Whata Baron Series for male pacers. Both series include two preliminary rounds followed by finals on April 21.
(USTA)