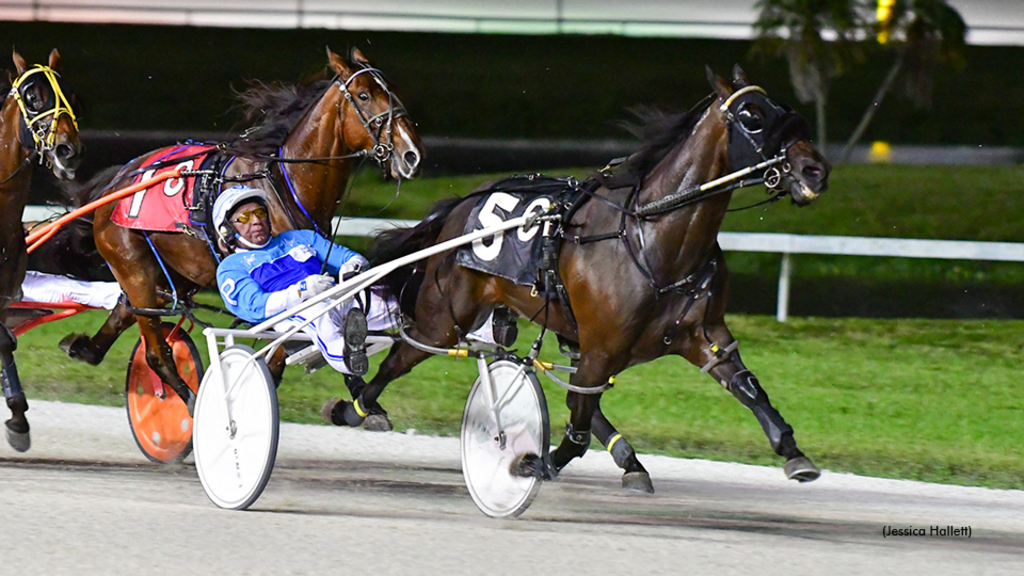 Published:
April 4, 2022 11:21 am EDT
Seeing Eye Single, catch-driven by Rick Plano, earned his third straight win at Pompano Park on Sunday night (April 3), taking the $14,200 Open Handicap Pace in 1:50.3.
The gallant seven-year-old gelded son of Dragon Again coupled a :55.2 opening half-mile with a :55.1 final half to report home 1-1/4 lengths the best of the pocket-sitting Agedchedar Hanover (John MacDonald), with JMs Delight (Greg Merton) third, another neck back. The 2-5 favourite, Prairie Panther, handicapped again with a second tier post in the field of six, was fourth while Actor Hanover was an evenly rated fifth in the contest.
As the wings folded, Agedchedar Hanover used his rail post to perfection by leaving with alacrity, with JMs Delight and Actor Hanover and Seeing Eye Single also floating out and looking for a spot a bit closer up as the leader was really motoring on. But no spot opened up back of Agedchedar Hanover and that forced Plano's hand with Seeing Eye Single to go on and he forged to the top a few strides after the :27 opener.
While he did enjoy a bit of a breather during the :28.2 second panel, Seeing Eye Single met a serious encounter from JMs Delight during a :27.2 third split but Seeing Eye Single still had a :27.4 panel under his girth in the lane and was in no danger in the late stages.
 "I noticed Wally [Hennessey] probably wasn't going to get away as close as he wanted from that second tier and so I thought I'd try and find a spot a little closer but what I thought would be a spot closed up, so I had to be either hung out or go forward," explained Plano afterwards. "I chirped once or twice and he accelerated like I've seen him do before for David [Miller] and, when we met some heat around the final bend, he seemed to grit his teeth and went on...like the good horse he is."
Seeing Eye Single is trained by Devan Miller for the Burke Racing Stable and Weaver Bruscemi The win was the fifth of the year for Seeing Eye Single with his earnings vaulting to $53,009 this semester and $579,242 lifetime.
He paid $6.20 as the second choice in the wagering.
The win was one of three for Plano on the Sunday program and it was a consecutive hat trick for the 70-year-old marvel as he also won with Trashytonguetalker the race before and VP Power the race after the Open.
 The $12,600 Open II Pace went to Scootnroll for John MacDonald in a snappy 1:50.4, a season's best performance.
The five-year-old altered son of Roll With Joe laid off the hot early pace as the lead changed hooves and closed with tenacity to score by a neck over Villiam (Joe Chindano Jr.). Warrawee Veloce (Tyler Jones), the longest shot on the board at 43-1, closed fastest of all to finish third. The early leader and 3-5 favourite, Real Peace, was fourth while Hard Rock Hulk picked up the nickel in the septet.
Trained by John Hallett for owners Rick Howles, Geoff Howles and Souren Hovsepian, Scootnroll paid $14.20 to win as fourth choice and sent his career bankroll to $164,373 -- $26,752 so far this young season.
Amateur Wins For Spriggs, Muggleston, Banting
Dein Spriggs, Billy Muggleston and Kevin Banting were the driving stars in amateur competition at Pompano Park on Sunday night, with Spriggs edging closer to 500 lifetime wins, Muggleston now within one of a milestone 100th win and Banting earning his first driving win in over 30 years.
Spriggs kicked things off by capping the early Daily Double at The Pomp, guiding his own The Big Muscle to a season's best 1:56.3 win.
This 10-year-old gelded son of Muscle Mass, a recent addition to the Spriggs roster, got picture perfect handing as Phoenician and Holton were one-two through fractions of :28.3, :57.2 and 1:26.4 with Spriggs sitting chilly in the third spot ready to pounce once they straightened away in the lane. By mid-stretch, he had them measured and went on to win by a neck over Holton (Steve Oldford) with Phoenician (Tony Dinges) third.
For The Big Muscle, trained by Allen Saul, the win was his third of the year and 26th lifetime, sending his earnings to $197,772 lifetime -- $20,316 this year. He paid $5.40 to win as the slight second choice.
 
Spriggs, by the way, now has 497 lifetime wins, including five wins overseas.
Muggleston, once a helicopter pilot for the great Herve Filion, must have learned something from Filion as he showed his prowess in the bike with a confident drive back of For A Dreamer, who he claimed just weeks ago.
The seven-year-old altered son of Cantab Hall was out and going around turn two and blasted his way to the front during a his :28.1 backside blitz to put the rest of the field at bay in scoring a 7-1/2 length win in 1:56. Left in his wake in the field of nine were Steel Reserve (Don Cromer) with Mr Houdini (Jamie Marra) third.
Also trained by Saul, whose UTRS (batting average is up near .400), For A Dreamer now sports a scorecard of 5-0-1 in 14 starts, good for $27,140 this year and $265,569 lifetime. He paid $6.80 to win.
Kevin Banting, who rarely appears in the bike, capped things off with a sharp drive back of Shoshie Deo to win his first race since 1991.
Shoshie Deo, trained by Banting for Annemette Minor, was third early on as Sumbodygetdisfool and Uncle Hanover traded places on the front end, joined the latter around the final bend, wore that one down in the lane and held off the flying Tech Titan (Tony Dinges) to win by a neck. Sumbodygetdisfool (Steve Oldford) finished third, less than a length away.
With a mile in 1:59.2, Shoshie Deo rewarded his faithful with $39 mutuel and, in doing so, sent his lifetime earnings to $256,701.
The Florida Amateur Driving Club has donated over $240,000 to worthy causes since its inception as its membership donated all earnings from driving in their events to charity, including a just announced stipend for the aftercare of retired racehorses in recognition of the Prewitt-Aiello Match Race to be held Monday, April 4, at Pompano Park.
Racing continues on Monday with a blockbuster 12-race programs featuring a pair of Pick-4 events, each with a $15,000 guaranteed
pool, highlighted by an industry low 12 per cent takeout, a  Super Hi-5 carryover now approaching $130,000.
But the Monday feature is, no doubt, the most anticipated event since the appearance of Niatross on December 27, 1980 -- the Prewitt-Aielllo Match Race, which will be contested between races four and five. Famed announcers Pete Aiello from Gulfstream Park and Pompano Park's own Gabe Prewitt will go at it in a highly spirited race benefitting equine aftercare for retired racehorses. Post time is set for 7:20 p.m.
(With files from Pompano Park)