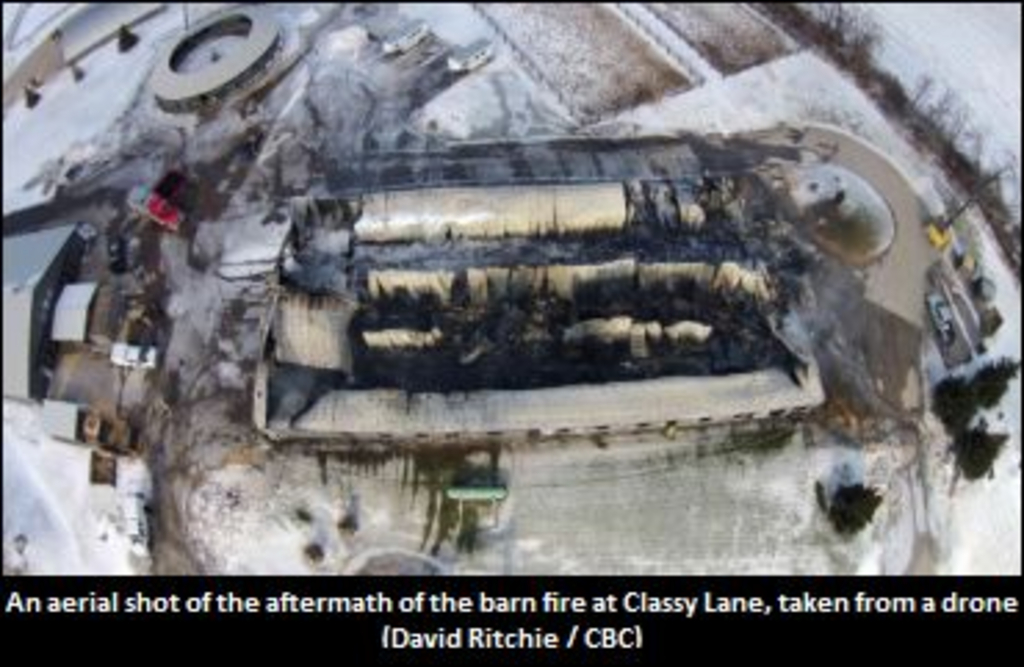 Published:
April 4, 2016 04:08 pm EDT
It has been reported that the Puslinch Fire and Rescue service is anticipating the Ontario Fire Marshall's report into the cause of the tragic January barn fire at the Classy Lane Training Centre any day now.
An article by the CBC has quoted Puslinch Fire and Rescue Service Fire Prevention Officer Jason Benn as saying, "We were told we should have it at the end of March, beginning of April."
In the aftermath of the fire, Trot Insider spoke with Township of Puslinch Fire Chief Steven Goode, who stated that the report will be released to the owners of Classy Lane, but he indicated that there is a possibility that all the information in the report may not be made public.
To read Trot Insider's interview with Goode, click here.
The tragic barn fire at Classy Lane started at roughly 11 p.m. on Monday, January 4 and claimed the lives of more than 40 horses – 39 Standardbred racehorses, 1 Thoroughbred, and 3 Miniatures, to be exact.
Firefighters from five departments – including Hamilton, Guelph and Cambridge – fought the blaze that destroyed Barn 1, which housed horses trained by Ben Wallace, Roger Mayotte, Chantal Mitchell, Kris Di Cenzo, Dan Lagace and Floyd Amos.
(With files from the CBC)