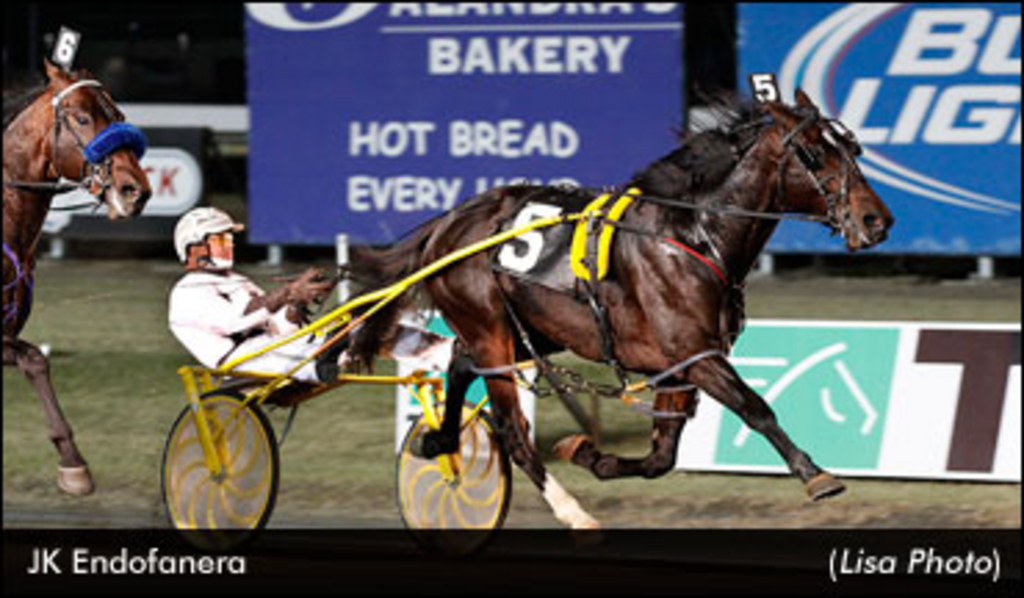 Published:
April 30, 2014 06:49 pm EDT
"Nobody knows how horses will come back at [age] three. You've got to stay sound and healthy and have some luck; a lot can go wrong. But you've got to be hopeful. Horses like him give you hope."
JK Endofanera was named to honour the past, but owner Alan Katz hopes the colt has a great future too.
The homebred pacer makes his 2014 debut Saturday in the $47,253 John Simpson Memorial Stakes for three-year-old male pacers at Meadowlands Racetrack. JK Endofanera, who finished last season by capturing the $534,500 Governor's Cup at the Big M, has won four of seven starts and never finished worse than second.
He starts the Simpson from post five with Yannick Gingras driving for trainer Ron Burke.
"We're looking forward to it," said Katz, who is joined by brothers Ron and Steve in making up the 3 Brothers Stables ownership group. "Hopefully, everything should be good. His qualifiers (wins in 1:53.2 and 1:52.4) were both good. But time means nothing these days. Time don't mean it's class."
JK Endofanera is a son of stallion Art Major out of the 3 Brothers Stables' mare Presidential Lady, who was a homebred multiple stakes winner. JK Endofanera is a full brother to JK Fine Art, who was second to Handsoffmycookie in both the 2011 New York Sire Stakes championship for two-year-old filly pacers and the 2012 Lismore Pace.
"We bred [Presidential Lady] to some other stallions, but the cross worked with the Art Major line," Katz said. "Once in a while, you get lucky. There's another full sister in training and so far she looks good."
All of the 3 Brothers Stables' horses are named with the initials JK in memory of late family patriarch Jack Katz. JK Endofanera was named to honour Jack Katz as well as veterinarian Dr. Stephen P. Dey II, who passed away the day the horse was foaled at the Dey family's Heritage Hill Farm.
"It was the end of an era," Katz said.
Katz said JK Endofanera is staked to all the major races for three-year-old male pacers on big tracks, including the North America Cup (15-1 seventh choice in the 2014 Spring Book), Meadowlands Pace and Breeders Crown. The colt will not race on half-mile ovals because of his size.
"He's a big horse," Katz said. "He needs to be able to stretch out."
Following is the Simpson field in post order:
1. Ideal Cowboy
2. Workandplayhard
3. Elite Awards
4. Stratos Hanover
5. JK Endofanera
6. Sweet Rock
7. Jet Airway
8. Allstar Partner,
9. Moliere Hanover
10. Somewhere Fancy
---
This story courtesy of Harness Racing Communications, a division of the U.S. Trotting Association. For more information, visit www.ustrotting.com.