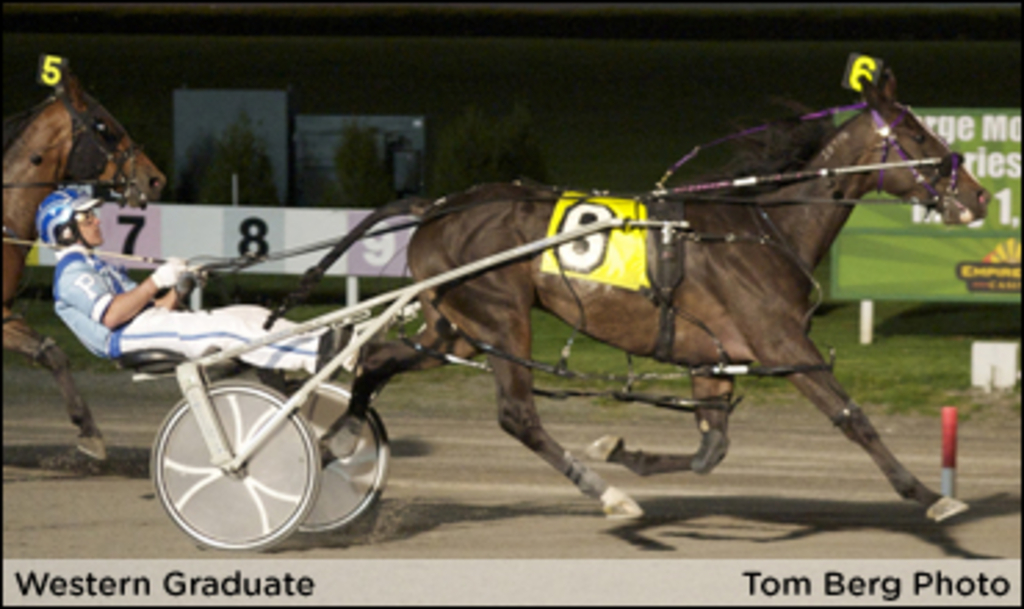 Published:
April 30, 2010 11:45 pm EDT
Newly-minted millionairess Western Graduate (Filly and Mare Pace) and Master Pine (Trot) led the limelight Friday night, winning Yonkers Raceway's pair of $32,000 Open Handicaps
.
Western Graduate (Jim Pantaleano), leaving from outside her five rivals, methodically moved first-up from fifth. She went after Headpoles R Us (Greg Grismore) as that one led through intervals of :28.1, :57.3 and 1:25.2. Western Graduate had advanced to second turning for home, but she was not about to settle for being the bridesmaid.
Western Graduate edged away through the stretch, defeated pocket-sitting, 6-5 choice Chris Cross (Jeff Gregory), by a length-and-a-half in 1:54.3. "Headpoles" faded to third.
For Western Graduate, a six-year-old daughter of Western Hanover owned by KDM Stables and trained by Lou Pena, she returned $5.50 (second choice) for her third victory (second consecutive) in 15 seasonal starts. The exacta paid $10.60, with the triple returning $35.60. It was her 38th career win in 123 starts, with earnings now at $1,015,907.
Leaving from post No. 3 after an inside defection, Master Pine (Jason Bartlett) stole a minute half. He then threw in a :56.3 back portion to keep the closers at bay. Master Pine, with three lengths to play with turning for home, defeated 4-5 favourite Victors Vicky (Cat Manzi) by 4-1/4 lengths. Bet To Win (Brent Holland) was third.
For Master Pine, a seven-year-old Mater Lavec gelding trained by Julie Miller for co-owners Mark Moger and Albert Delia Jr., he paid $8.10 (second choice) for his fifth win in 10 seasonal starts. The exacta paid $17.60, while the triple was cancelled (short field).
Special props to Shoeless White Sox (Gregory), whose 1:55.2 effort in the $20,000, second-race trot not only was a new track record under the category of "aged trotting horse," but also tied Garth Vader's North American record for aged trotting horses on a half mile track.
The five-year-old son of Mr. Lavec was trained by Mark Harder for owner Chris Alexander.
Friday's card also saw the first local appearance of young Canadian driving star Doug McNair, who finished second once and third once in six drives.
Defending champion Foiled Again (Bartlett) drew post position No. 5 for Saturday night's $460,000 final of Yonkers Raceway's George Morton Levy Memorial Pacing Series (eighth race). Saturday's card also features the $237,000 final of the Blue Chip Matchmaker (seventh race), with eight leading ladies on display.
(With files from Yonkers Raceway)