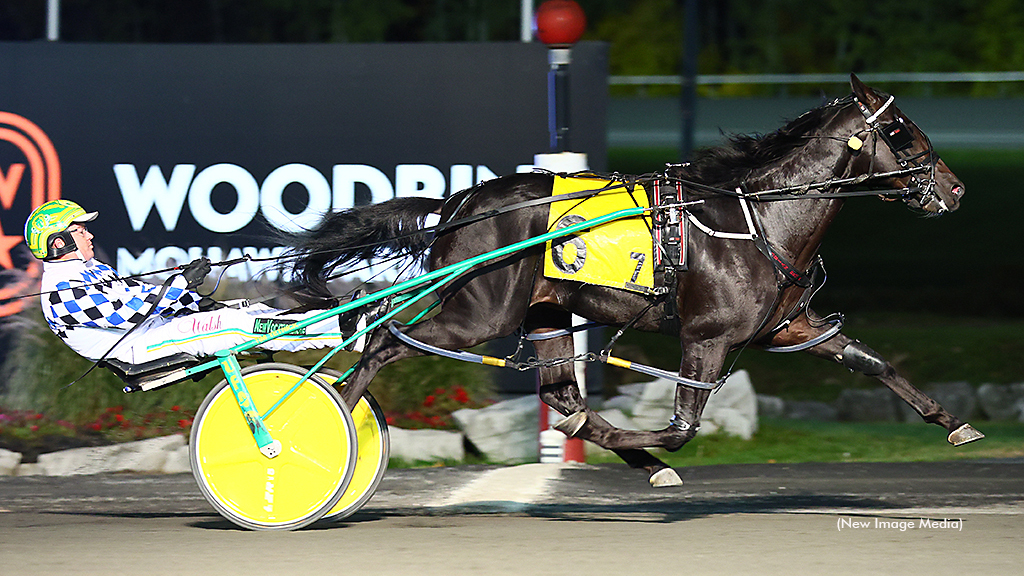 Published:
April 29, 2023 05:05 pm EDT
With the date of the 2023 Pepsi North America Cup less than two months away, Trot Insider will profile some of the race's top contenders as horses ready to compete for one of Canadian harness racing's biggest prizes.
At 4-1, Confederate tops the charts at #1 on the countdown in TROT Magazine's 2023 Pepsi North America Cup Spring Book.
Diamond Creek homebred Confederate banked nearly half a million dollars in just seven starts racing out of the Brian Brown stable during his two-year-old campaign. After turning heads with a :25.2 bullet in his career debut at Hoosier Park, the Sweet Lou-Geothermal colt won four races in a row at The Red Mile, including a pair of sub-1:50 miles. After capping off his successful Lexington stint by winning the Kentucky Championship Series and lowering his mark to 1:49.2, he made his Canadian debut a winning one in the Breeders Crown eliminations then used his late-closing speed to earn runner-up honours in the final.
Confederate joined the Brett Pelling stable for his sophomore season and leads a trio of contenders trained by the Australian native, who has won three editions of the North America Cup with Davids Pass (1995), The Panderosa (1999) and Rocknroll Hanover (2005). 
In addition to his Cup eligibles Confederate, #7 Spring Book choice Combustion and Blue Lou, Pelling has a star-studded stable primed for another big year.
"I think for us this year, this is probably the first year since I've been back -- this is my fifth year back now -- that is probably the most exciting for us because I don't think I could get ever a better balance of horses than what I have," Pelling told Trot Insider in a mid-April interview. "We only have 35 horses -- I don't have 100 like these other people -- but out of those 35, I've got Allywag [Hanover], I've got Test Of Faith, I've got three that are going to the North America Cup, I had two three-year-old fillies [Charleston and Earthwindfire] that both made $300,000 last year, and we've got 18 two-year-olds that have been in 2:18 and look the part. So, we've got a really, really good balance, and no trotters, which is great, so don't have to live through that anguish. We're excited."
Pelling shared an update on his top-ranked Cup colt Confederate as he prepares for the stakes season ahead.
Can you shed light on how Confederate came into your care?
"It was Adam [Bowden]'s decision. I'm sure they're very analytical, those guys. I mean, it's sort of like a three-headed monster [there's three guys] and they made a decision. They just kind of called me and asked me if I'd take him and I couldn't say no. I already trained for them, they are my clients."
When did he come into your barn?
"I've only had him for about three weeks [as of April 12]."
Where are you at with him in terms of his training?
"I haven't sort of stretched him out yet [as of April 12], but he seems kind of nice. I've spent the last three weeks just trying to really slot him in with kind of the 'A group' basically. With all the work that they've done, you know, they had been at work since basically January 15. And he's not there yet. But I expect in the next couple of weeks, he'll get where he's comfortable with those horses." UPDATE: Pelling told Trot Insider on Saturday (April 29) that Confederate would qualify on Tuesday (May 2).
Do you have a map planned out for him for his early three-year-old season? 
"Early, no. I know he's staked to everything. His first big race is the North America Cup. As we know these days, there's not obvious races out there. You can't just sort of put a date on the calendar and say I'm going to race here, here and then I'm going to go there. It used to be like that, but unfortunately, it's sort of not like that anymore. I don't want to get him ready too quick. I'd like to believe that there's a race for him two weeks before the elims."
What are your early thoughts on him? What do you think you've seen in him so far that made him the successful colt that he was last year?
"He's pretty quick-footed and he's very, very light on the ground and free. He seems like a Sweet Lou colt with very, very good manners. He's sort of got a good way about him. He's a very happy horse. You know, he's not big. But, you know, when you sit behind him, you sort of get that feeling that he can't wait to go quick because that's what he wants to do. He just really wants to go fast. Combustion is quite different. He just wants to be strong over the ground and he wants to show his power, his strength off but, you know, this horse is just legitimate high speed." 
Do you have any other horses in your barn that are North America Cup eligibles aside from Confederate and Combustion?
"I have another one [by Sweet Lou] called Blue Lou. He was a very good two-year-old. I think he paced [1]:50 in June or July or something last year and he was third to Confederate in the Sire Stakes final in Kentucky… and he got shut down after that. But you know, they could be twin brothers. They're very similar to look at and they kind of move the same way but the Confederate horse is a lot calmer. He's just more, kind of with you, that would be really the difference. So, you know, a horse who's nice and calm like that, I mean, it tells me he's got quite a bit of class about him. Hopefully, it'll show up.
"He's a very simple horse. Like he doesn't wear rigging and stuff like that, which sort of makes him a pleasure to be around. I would imagine I'll probably go and qualify him in the same gear that he goes and jogs in. That's just the type of horse he is."
As someone who has won the North America Cup before, how does it feel to have not just one legitimate shot but a handful of legitimate horses that look like they have a chance on any year, especially a year like this where that race seems so wide open?
"It's exciting to get back there. We had a very quiet winter this winter, so we haven't really been racing. I think I've had 15 starts for the year or something, I don't even know what we've had, but it's has been super quiet, so I know that it's going to be busy quickly. And as soon as it gets busy, it's going to be full on. I mean, ask me how I feel in two months time going up and down the highway -- I might have a different answer -- but right now we're looking forward to it."
Previous 2023 TROT Magazine Pepsi North America Cup Spring Book profiles: