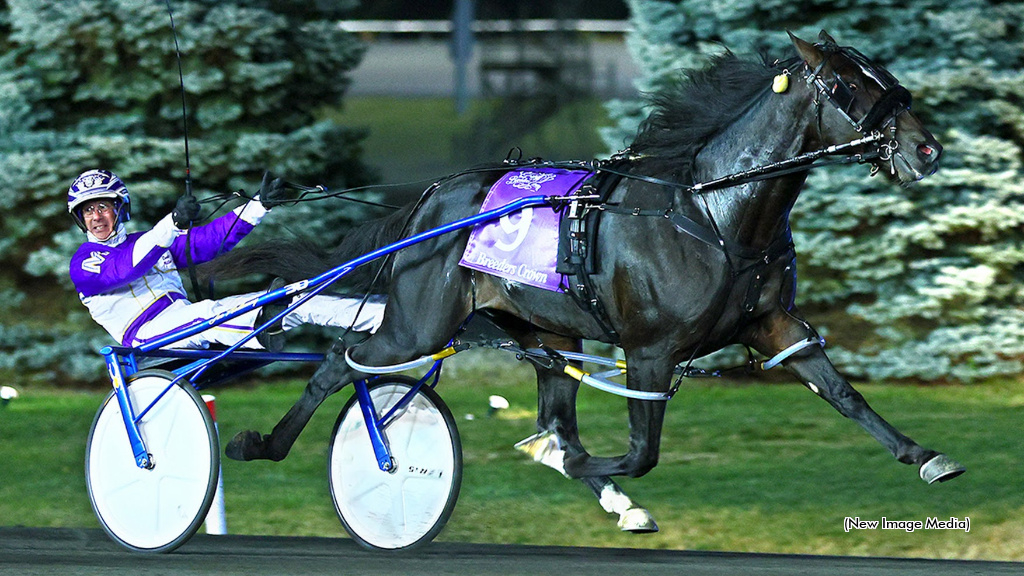 Published:
April 22, 2023 09:50 am EDT
With the date of the 2023 Pepsi North America Cup less than two months away, Trot Insider will profile some of the race's top contenders as horses ready to compete for one of Canadian harness racing's biggest prizes.
At 12-1, Ammo comes in at #6 on the countdown in TROT Magazine's 2023 Pepsi North America Cup Spring Book.
Ammo didn't miss a cheque competing as a freshman for owners Val D Or Farms of Okatie, S.C. and Ted Gewertz of  New York, N.Y. The son of Sweet Lou - Beach Gal posted a summary of 2-2-2 from seven starts with a fifth, beaten by less than three lengths in his only off the board finish. His late start came as a result of issues with lameness that trainer Joe Holloway couldn't quite pinpoint until a pest provided some welcome insight.
"He qualified extremely well but then he came up lame in behind. Couldn't figure it out. We kind of got lucky one day, and it's mid-summer by now. The horseflies were really bad one day, and he was jogging good. One landed on his back, and he bucked and when he did that, he came down sore. 
"Once we had that figured out, and stopped turning him out, he came along. And then we got him racing down in Lexington and you know the rest."
The rest included a 52-1 shocker in the 2022 Breeders Crown, paying $106 to win for the biggest upset ever in that division. All told, Ammo ended his rookie season with $497,145 in earnings and a mark of 1:50.4 taken in that Breeders Crown final at Woodbine Mohawk Park.
The three-year-old season starts today (April 22) for Ammo, who is entered to qualify at The Meadowlands. Trot Insider caught up with Holloway for an update on the colt in advance of his sophomore debut.
Where did he winter and when did you start back with him?
"We turned him out here in New Jersey at New Jersey Equine. Turned him out there and brought him in February 1."
Have you noticed any changes from last year to this year?
"Seems to have filled out some and grew a bit taller. He seems really good."
What will his tentative early schedule look like leading up to the Pepsi North America Cup?
"I've got time built in. Two qualifiers, and then he fits so well -- he fits non-winners of three. I'm not planning on starting him in a real serious race until the second leg of the [Pennsylvania] Sire Stakes at Pocono.
"There's another Sire Stakes at [Harrah's Philadelphia] so I'll either stay for that or come up for the Somebeachsomewhere."
What does his tentative schedule look like after the North America Cup?
"After the NA Cup I bring him home and wait for the [Meadowlands] Pace. I didn't put him in the Messenger. He has the Adios if I choose to go there, Tompkins-Geers...he has choices. I'll race him on a half in the [Little Brown] Jug.
"I raced Always A Virgin the Messenger, and he won it. But it went for $750,000. Now it's estimated at $250,000. At 250, I can afford to skip it."
"It's hard because you have to get to November to get to the Breeders Crown, and that's way more important."
What's his biggest asset / strength?
"He's got high speed and he tries. Definitely need high speed nowadays. And at three, you have to be versatile. I did just change his bridle; we're going to go with a kant-see-back because, like I said, what I really think got him beat in the Governor's Cup was that fast third quarter. David [Miller] made the move to get to the front, it had to be done, but he should have been shut down. Basically he paced his middle half in :54, and you're bringing everybody into the race and keeping them fresh. I didn't want that. You want to make that move and slow back up."
At what point last year did you think this horse was North America Cup material?
"Early on when we baby raced him we thought we'd be putting him into major events at two. Then along came the issue with the back and it looks like we're losing the summer then all of a sudden he came along. I started training him here before we headed down to Lexington to qualify him and I told David 'we're going to win the Breeders Crown with this horse.'"
Any three-year-old stablemates in the barn right now that are paid up and also looking promising?
"Sheer Terror; a high-priced colt, didn't pan out last year. So far he's racing better ... he's better than he was last year. One Eight Hundred (his brother) was better at three. I'm hopeful."
As someone who's won this race before, how does it feel to have another legit shot at the North America Cup and think about winning it again?
"That would be good; we just missed out with Perfect Sting [in 2021]. He did beat Bulldog Hanover but he got caught by Desperate Man...he got a great drive and a great trip."