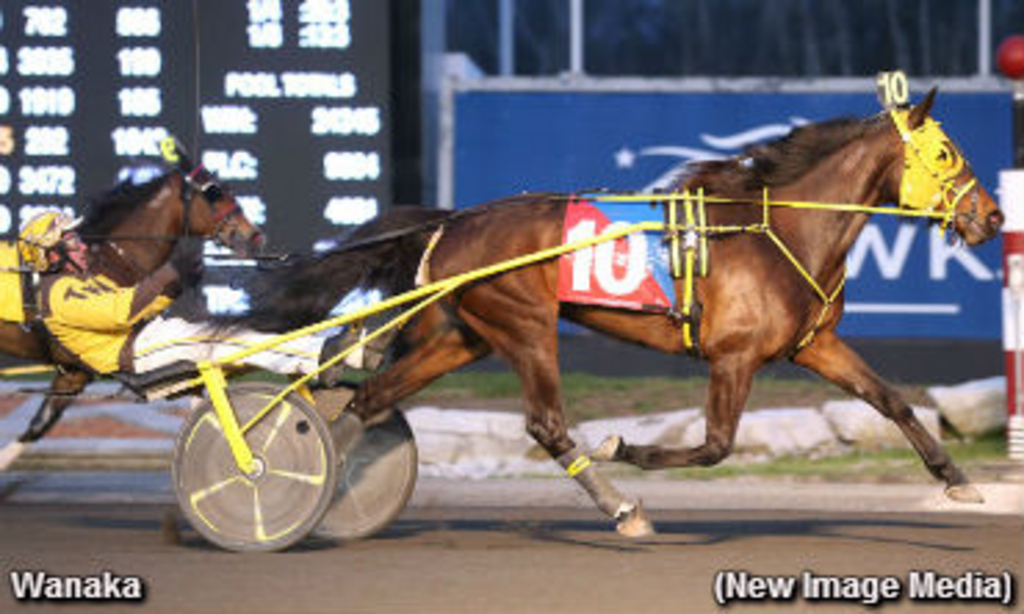 Published:
April 28, 2016 09:24 pm EDT

Despite being parked every step of the mile from Post 10, Wanaka was a driving away winner in Thursday's $33,200 final of the Celias Counsel Series at Mohawk Racetrack.
Trevor Henry was in no rush with Wanaka when the starting gate sped away, but the same couldn't be said for Moonlight Cocktail and Hills Angel. Those two battled to the quarter pole in :28.3 before the latter worked her way to the top. Hills Angel was promptly overtaken by Windsong Magic, and that filly soon gave up the position of command to Treasure Gifts K.
Treasure Gifts K was parked while rushing to the top at the half in :58.2, and she was later passed by race favourite Flowers N Songs. That one was a clear leader at the three-quarter pole in 1:27.4, but the lead was a short-lived one. Wanaka, who never saw the pylons, inched closer to the leaders at every interval. She eventually used a :28-second kicker to win by 1-1/2 lengths over Flowers N Songs in 1:56.1. Smash Hit rallied well to grab the show dough.
"I didn't really want to leave, there was a big entry to the inside of me and I knew there would be no favours," said Henry. "Doug's (McNair) filly I know (isn't) a big leaver, so I thought I would try and get to follow her and it just worked out. I figured if I was at least six or eight lengths off at the half she would win"
Shannon Henry trains the three-year-old daughter of Manofmanymissions-Classic Belle for Arthur, Ont. partners, Trevor Henry Stables Inc and 1035840 Ontario Inc. The victory was a career-best for the trotting lass who is 5-for-11 this season. She's stashed away more than $68,000 to date.
(With quotes from WEG)
To view results for Thursday's card of harness racing, click the following link: Thursday Results – Mohawk Racetrack.