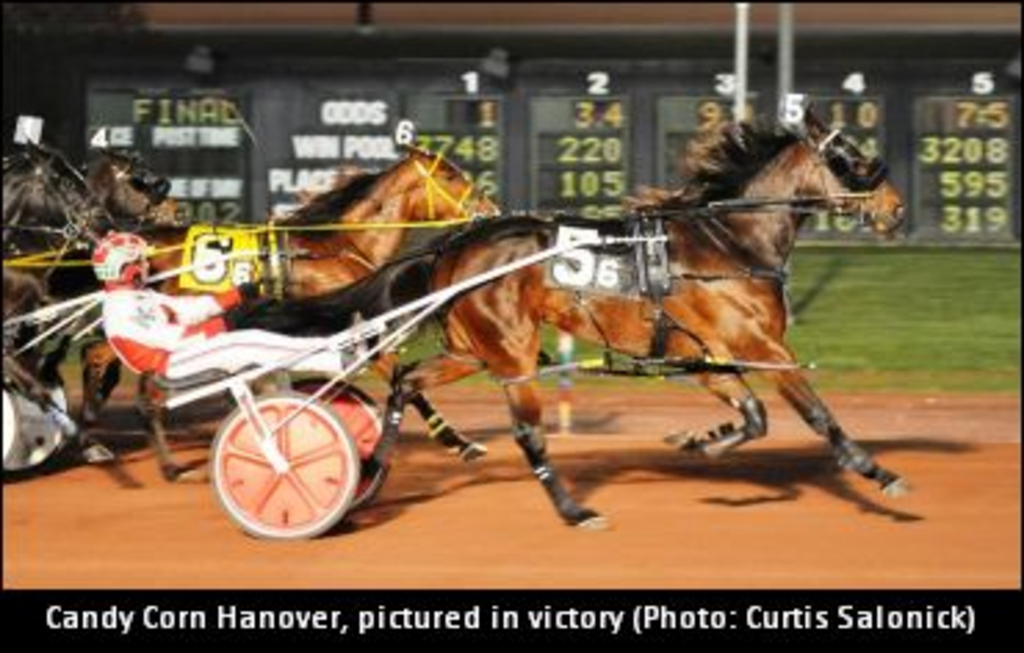 Published:
April 28, 2016 01:25 pm EDT
"She is just so willing, is two fingers to drive and has an incredible amount of desire. She will go in 2:40, but if you ask her to jump into a nice fast half from that she is right on it. I think this filly is as good as Eternitys Delight and I really believe in her because she reminds me so much of that mare."
He has conditioned the likes of North America Cup consolation victor Western Cyclone and two fillies that brought home the Jugette hardware in Just Wait Kate and Eternitys Delight, but Travis Alexander has always wanted to put the progeny of Dragon Again through their paces. He finally possesses that opportunity with the undefeated Candy Corn Hanover and like everything else he has undertaken in life, he plans on making the absolute most of it.
"I have always wanted a Dragon Again," said the 37-year-old Lansing, Mich., native. "It has just not ever worked out. Something has come up or the circumstances did not go my way, but we had a credit from Hanover (Shoe Farms) who bred her and she was circled in my book before I ever saw her. When I did, she was so impressive, not only because of her pedigree, but she was so athletic and racy looking.
"We got another filly, Raver Hanover, who is from Captaintreacherous' family, from that same sale and although she hasn't made it to the races yet, I am very, very pleased with them both."
Candy Corn Hanover, a daughter of the Artsplace mare Clouding Over, is owned by Fiddler's Creek Stables. After only three career trips to the post, all of which are triumphs, she will illustrate what forms her constitution when she takes on the likes of last year's divisional champion Pure Country (2-1), the extremely talented Darlinonthebeach (5-2), the Three Diamonds winner Yankee Moonshine (7-2), the Matron winner Newborn Sassy (5-1) and the promising Kiss Me Onthebeach (6-1) on Saturday (April 30) in a $20,000 elimination for the $313,800 Miss Pennsylvania at The Downs at Mohegan Sun Pocono.
Although many individuals viewing the program might feel the three-year-old filly is in far, far over her head with only three lifetime tallies, all this season in Weiss Series competition, and with a mere $22,500 in the bank, Alexander is pleased with how the draw came out and believes Candy Corn Hanover, the longest shot on the morning line at 10-1, can definitely keep pace with her more accomplished and distinguished rivals.
"I hemmed and hawed with Anthony (Napolitano, her regular pilot) over whether we should go for the big money or keep her in the Weiss Series final," he said. "Obviously I did not think we would get in the elimination where the four best fillies in the country would all be, but I'm happy it happened that way. I wouldn't trade this spot with my filly with anyone in the world.
"She's a stone cold closer and Anthony even said when he has gotten her to the front she stops because she doesn't know what she is supposed do. Also, I'm being told these 'Dragons' see all kinds of stuff like ghosts in all types of shadows. With those fillies in there she will never be on the lead early and it sets up for her to come home strongly, which I know she will. After this race we will know exactly what we have on our hands and she will come out of it with learning something."
Candy Corn Hanover did not debut as a freshman because Alexander wanted to exercise patience with her. He realized she had ability, but also acknowledged she needed more time to grow into both her body and mind.
"I am so glad we waited with her," he said. "When we brought her in this year she was leaps and bounds ahead of what she was the year before. Taking our time with her is going to pay off and it already has. We just have to make sure we manage her correctly throughout the year and have a nice horse for next year as well. Besides, the Dragons only improve with age, so this is a filly with tremendous potential which is something I really like. All she has is upside and when her career is over, she will join the broodmare band Fiddler's Creek is putting together."
There is another reason, in addition to Alexander's own penchant to overcome long odds, such as when he defeated cancer at age 18, that he is of the opinion Candy Corn Hanover belongs with the elite within her age, gait and gender.
"I have been very fortunate to be around some really nice pacing mares during my career," he said. "When I worked for Joe Holloway I was around (Dan Patch Award winner) Lady McBeach and when I was the head trainer for that short time at Fashion Farms, as well as when I worked with Jim Campbell, there was Eternitys Delight. This filly reminds me such much of her.
"She is just so willing, is two fingers to drive and has an incredible amount of desire. She will go in 2:40, but if you ask her to jump into a nice fast half from that she is right on it. I think this filly is as good as Eternitys Delight and I really believe in her because she reminds me so much of that mare."
Despite what transpires this weekend, Candy Corn Hanover already has an agenda meticulously planned for her sophomore campaign.
"She is eligible to everything here in Pennsylvania," Alexander said. "We also staked her to the Shady Daisy, but that is it. There will be no Jugette for this filly. It's really expensive to stake horses, but when you have one that did not race at two it is difficult to put out that kind of money when you don't know what is in your barn.
"I think she still needs time to mature throughout the year and I also want to keep her on a larger track until she is more experienced. She is intelligent and will do anything to please you, but I don't think the half(-mile track) is for her because she crossfires a bit. It's not serious and something I think will rectify itself the more she races. I just don't want to take any chances with her.
"I do have to be honest though, she is a real pleasure. We always knew she had talent, but you can never tell what kind of desire they have. This filly has so much of that and it is something you cannot give them, train into them or even be assured of because of their pedigree. I had no real expectations with her in that regard and she has amazed me how much she wants to race and win.
"She has been a special surprise and in this business when you have something like that happen it is a very, very great thing."
(USTA)