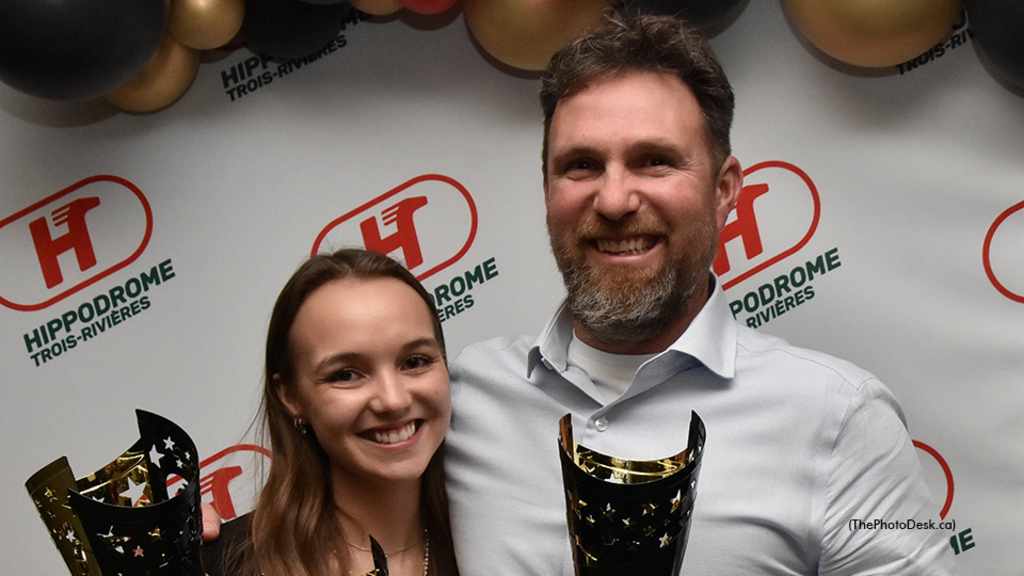 Published:
April 26, 2022 10:45 am EDT
Sometimes it takes years of hard work and a little luck to make it to the top in any profession and, after just four years, that goal was reached by Quebec harness racing trainer Sylvain Tremblay.
In 2021, Tremblay had his breakout year at the Hippodrome 3R, soundly defeating five-time champion Francis Richard as the leading trainer for the race meet with 31 wins to Richard's 19.
Tremblay, who resides on his training farm in Metabetchouan, Que., ended the 2021 season with an amazing Universal Training Rating of .436 at H3R. He also bred, raised and trained Quebec champion Stella Alpha and top stablemates Platine Alpha, Archimed Alpha, Ritchie Alpha and Titanium Alpha.
That was in 2021. What does Sylvain Tremblay have in store for 2022?
"Of course, I am ready to defend my training title," said Tremblay. "First of all, I want to have fun doing my job and racing my horses. I believe that is how success will come. It is also work that is done as a team.
"Daniel Potvin, Yves Corbin and Emma Bouchard give me a solid helping hand to hopefully make this season as beautiful as 2021," added Tremblay.
How was it at the recent Gala de Champions at H3R? He won trophies as not only the leading trainer, but also for Stella Alpha as the Quebec champion two-year-old trotting filly.
"I had many emotions during the gala," explained Tremblay. "A great season that ended very well. A great evening with my family and my team."
And another member of his excellent team was also honoured as Emma Bouchard was awarded as the Caretaker of the Year.
"Emma helps me a lot at the stable," explained Tremblay. "I'm really proud of her, especially the night she was awarded as the Caretaker of the Year.
"Daniel Potvin is my right arm and blacksmith," said Tremblay. "Now he has become a precious friend with whom I have a lot of fun. Because in conclusion, the pleasure of success is very important for me and my team."
How does the Alpha Stable stack up with young horses for the 2022 season?
"I train five two-year-old babies," explained Tremblay. "Three are pacers and two are trotters.
"One pacer is Albert Alpha and he is a Hes Watching from my broodmare Stirling Breeze. Then Neptune Alpha is a Control The Moment from my broodmare Draconian Prophet. And I also have Apocalypse Alpha, a Wheeling n Dealin trotter from my Natural broodmare. The three really show talent. If all goes well, we should see them at H3R this summer.
"I also have Carbon Alpha," said Tremblay. "He is a Shadow Play of my broodmare Materre. The Alpha Platinum half-brother, he is very tall, and I had to give him time to mature. The talent is definitely there for the future with this colt.
"And then there is Alpha Cassiopeia," added Tremblay. "She is a Prestidigitator and Stella Alpha's half-sister. A small operation delayed her, but her talent is also quite present. These last two will be hopefully ready to race later in the season."
Last season, he ruled at H3R with some top two-year-olds that are now age three.
"'Stella' is ready to defend her title," said Tremblay. "Ritchie Alpha is much matured and even more ready for his season. 'Archimed' and 'Platine' are also ready and can't wait for H3R to start its season. I also have Maracasso, Yankee up and Keepall ready to continue their preparation. In all, I have 12 horses in training."
The Alpha Stable had H3R's leading dash-winning driver Pascal Berube on their horses in 2021 and in 2022.
"Pascal is part of the team," noted Tremblay. "A big piece, a trust has settled between us, and I love the teamwork with him."
It takes Tremblay 3.5 hours to drive one way to the Hippodrome 3R. That's seven hours of total driving time just to get to the races. But if Sylvain Tremblay's stable is as good as it was last season, each of the trips to the track will be well worth the drive and then some.
And where did the stable name Alpha come from?
"Difficult to explain," said Tremblay with a laugh. "First letter of the Greek alphabet. 'Alpha' equals 'first.'"
We shall see how the Alpha Stable does at the start of the racing season in Quebec.
"We are ready for action starting this Sunday at H3R," said Tremblay. "If all goes well, we will have three or four horses racing on the opening day card. We hope to race 'Platinum,' 'Stella,' Ritchie Alpha and 'Archimed.' It will be a great way to start off the season at H3R."
(With files from Quebec Jockey Club)